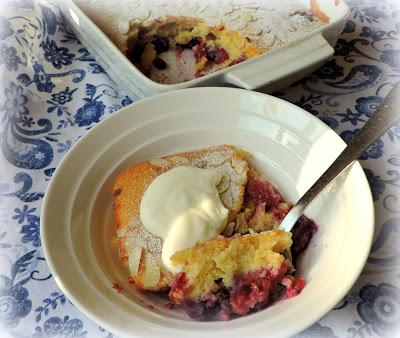 Before moving over to the UK, Pudding to me was something rich and creamy, milky, and rich. Like a thick custard you could eat it with a spoon, best served ice cold, and coming in flavours like butterscotch, vanilla, chocolate, lemon . . .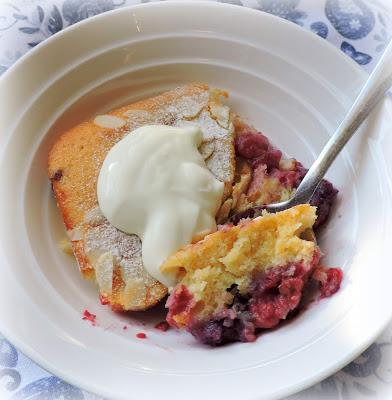 This was the pudding I grew up with and it came in packages that my mother added milk to and cooked on top of the stove until it thickened.  She would pour it into individual bowls. We each had our own color of bowl. My favorite part was the skin that formed on top and I loved butterscotch pudding best of all.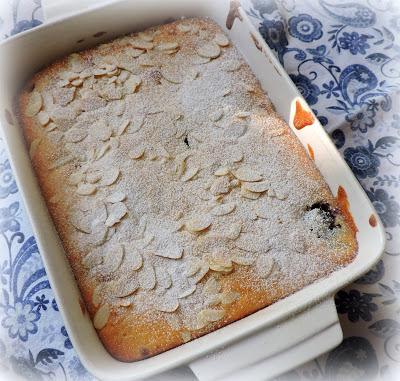 I remember being really surprised when I moved over here to the UK and was asked if I wanted pudding . . .  expecting a choice of vanilla, chocolate, or butterscotch at the very least, of the creamy milky concoction of my younger years but was presented instead with a whole menu  . . .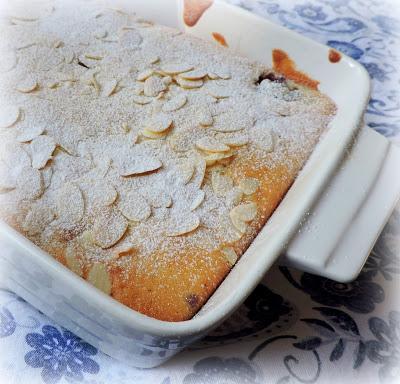 A menu filled with delicious sounding collations . . .  such as sticky toffee pudding, roly poly pudding, bakewell pudding and the like . . .  all substantial, and served warm with cream or warm custard . . .  which was the only thing even remotely resembling the puddings of my childhood.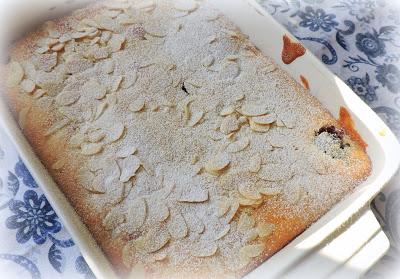 And not only that but the word "Pudding" was designed to cover a whole variety of dishes . . . "Desserts" . . .  "Afters" . . . a cornucopia of wonderfully tasty delights to tempt the palate.  Each one designed to make your eyes light up and your lips say howdy!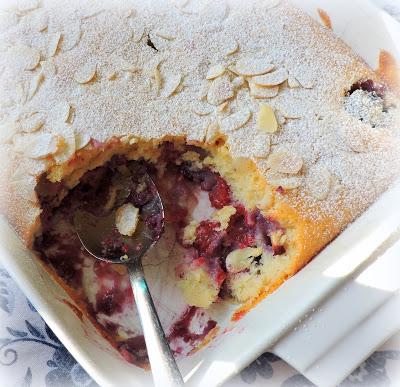 Pies and cakes and bakes . . .  oh my!  So I must apologize if you have come here today looking for something like jello . . .  this is not that kind of pudding.  This is a British pudding  . . .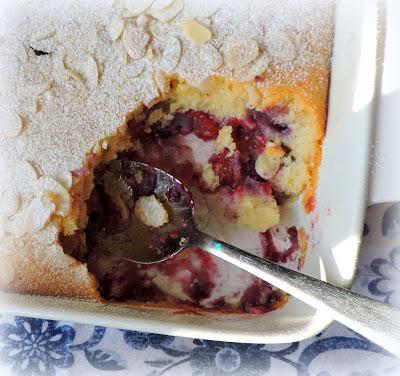 Rich, hearty, warming and delicious  . . .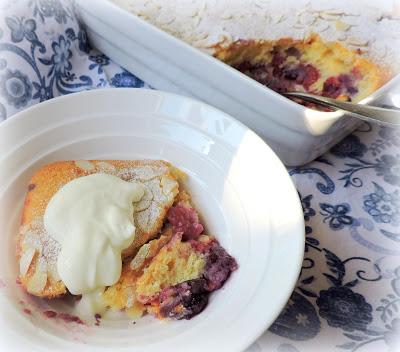 consisting of stewed summer fruits  . . . berries  . . .  blueberry, raspberry, blackberry . . . baked at the bottom of the dish   . . .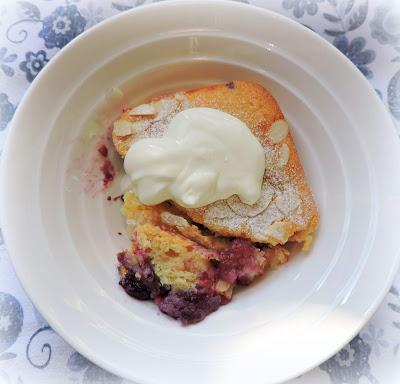 with a light blanket of cake baked on top  . . . buttery and rich . . .  with a moist yogurt batter . . .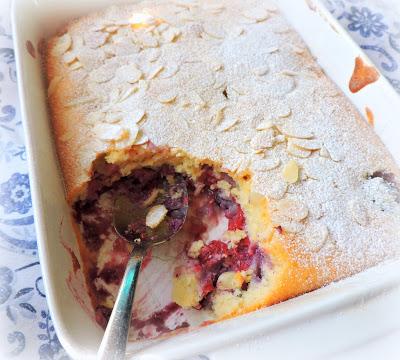 sprinkled with flaked almonds . . . .   the fruit stews and bubbles away in the oven while the cake puffs and the almonds toast  . . .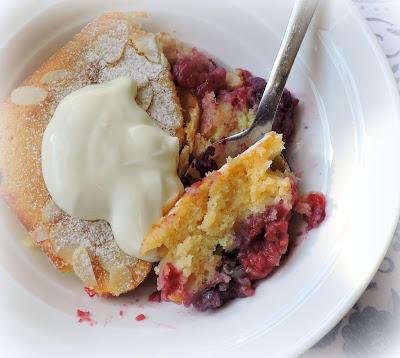 Delicious served warm and spooned into bowls  . . .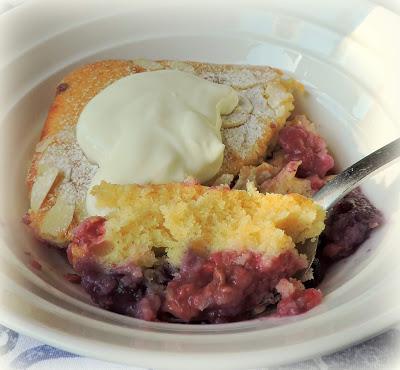 and topped by dollops of icy thick yogurt . . .  or lashings of rich pouring cream if you would rather . . .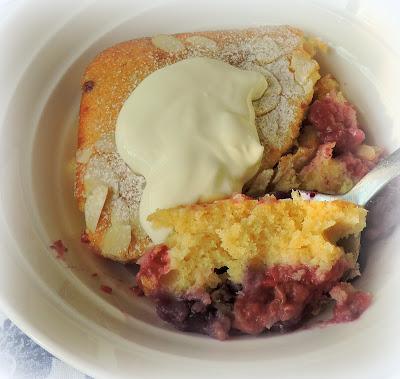 The perfect Autumnal dessert  . . .  for those nights when you desire an additional bit of comfort as you sit by the fire and toast your toes.  Delicious! 
Yield: 6-8
Author: Marie Rayner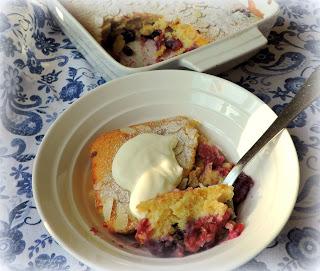 Mixed Berry Pudding
prep time: 10 mins
cook time: 45 mins
total time: 55 mins
I had some berries needed using up and so I made a type of pudding cake with them.  Moist and delicious.  Serve warm with some pouring cream or plain yogurt spooned on top.
ingredients:
50g butter, softened (3 1/2 TBS)125g caster sugar (2/3 cup)300g fresh or thawed frozen berries (3 cups)2 medium free-range eggs100g thick Greek yogurt (6 1/2 TBS)125g self-raising flour, sifted (1 cup minus 2 TBS)2 TBS flaked almondsicing sugar to dustPouring cream or plain yogurt to serve
instructions:
Preheat the oven to 160*C/325*F/ gas mark3.  Butter the bottom of
am 800ml (4 cup) baking dish.  Mix 2 TBS of the sugar with the berries
and scatter over the bottom of the dish.  Set aside.
Cream
 together the butter and remaining sugar until pale and creamy.  Beat in
 the eggs, one at a time, beating well after each addition.  Fold in the
 flour and yogurt, alternately in three batches, until smooth.
Spoon
 the batter over the berries and smooth out. Scatter the almonds over
top.  Bake for 40 to 45 minutes until the sponge is golden brown and
springs back when lightly touched.  Dust with icing sugar and serve warm
 with the cream or additional yogurt.Created using
The Recipes Generator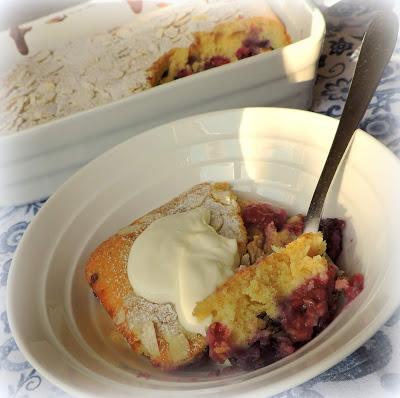 Todd really,
really
enjoyed this.  He is a pudding fiend, and these types are his favorite kinds  . . . he would actually prefer custard with his, but today he had to make do with yogurt.  He was licking his chops afterwards with a deep smile of satisfaction on his face.  I love it when that happens.  Bon Appetit!