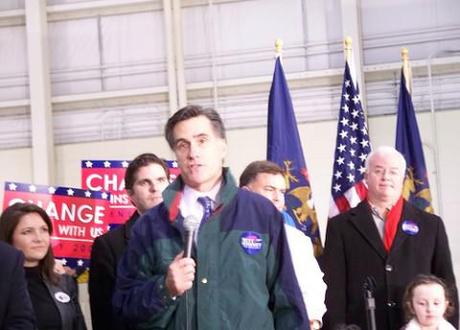 Mitt Romney: On the rise? Photocredit: Rawmustard http://www.flickr.com/photos/rawmustard/2188884385/
Things are on a knife edge again in the GOP race for a Republican presidential candidate to run against Barack Obama in the forthcoming US elections. Millionaire Mitt Romney played a blinder in the Jacksonville, Florida debate, the 19th so far, knocking Newt Gingrich into the most cocked of cocked hats. This comes before the key Florida primary next week. If Gingrich wins Florida, then he'll be a serious contender; if Romney does, then he'll resume his position as favorite.
Polls by CNN/ORC put Romney only 2 per cent ahead of Gingrich. Losing South Carolina to Gingrich was a devastating matter for Romney, as every winner of that state's primary in the modern age has gone on to become the nominee. The other two candidates are Rick Santorum and Ron Paul. Whilst Gingrich is known for his debating skills, Romney hired a new debating coach after Iowa – and perhaps the results show it's working. Gingrich's camp, however, deny that it was down to that.
Commentators agree that whilst Paul and Santorum both put in fine performances, the real showdown was between Gingrich and Romney, leaving Gingrich looking decidedly worse off in face-offs about immigration, investments, and his plans for space travel – he wants, said The Washington Post, to put a permanent base on the moon by the end of his second term.
Space travel? Whilst Romney branded Gingrich ridiculous for his space travel plans, Tim Stanley on The Daily Telegraph wrote that Gingrich is right – "America should be making space a priority." Otherwise, China might get there first. Gingrich's plan is to incite private investors with prize money. It's a key issue on the "Space Coast", where, since the shuttle programme was closed down, many jobs have been lost.
"I'm not anti-immigrant. My grandfather was born in Mexico. My wife's father was born in Wales. They came to this country. The idea that I'm anti-immigrant is repulsive," said Mitt Romney, quoted on The Chicago Tribune.
Immigration. According to The Guardian, Romney  was "confident and feisty," and revealed a "pugnacious side" to his character, whilst poor old Newt was misfiring "all night", despite his reputation as a better debater. They clashed over immigration: Gingrich had put out an advert which dubbed Romney anti-immigration – a charge Romney called "repulsive." Gingrich withdrew the ad after Latino politicians called it "offensive", but stood by it in the debate, causing Romney to ask Gingrich to "apologise." Gingrich, however, insisted that Romney was the "most anti-immigrant" of the candidates – pointing out that Romney's suggestion of "self-deportation" was not practical for people such as grandmothers.
"When I am shot at, I will return fire. I am no shrinking violet," Romney told CNN in a post-debate interview.
Money, money, money. Gingrich also tried to "hit Romney" over his investments, said CNN – but it backfired. Gingrich said that he'd found out Romney owned shares in Fannie Mae and Freddie Mac, and had made a "million dollars" off selling them. It appeared to cause some shock in the audience– but Romney said that his investments were in a blind trust, and were in "mutual funds and bonds, not stocks." He then said that Gingrich ought to check his own investments – which included mutual funds that invested in Fannie Mae and Freddie Mac. Ouch.
But Gingrich is still a player. Tim Stanley on The Daily Telegraph said that Santorum won – "with a couple of beautiful flourishes about God and healthcare", whilst Ron Paul "scored points for sanity." It was "refreshing", though, to see Romney fighting back against Gingrich, who seemed "defensive and whiny", not to say "hypocritical and craven." But, even when he's bad, Gingrich is "appealing." Gingrich "isn't a joke" – he's a "visionary conservative." Gingrich is the "only man standing between Romney and the nomination" – if Gingrich got the nomination, it would mean Obama and Newt battling about "philosophies" and "ideas", rather than just " 'the cool guy who shot bin-Laden' vs 'the geek with a Swiss bank account.'" Floridians would do well to pick old Newt.
No he's not – Romney still has the edge. It's all about performance now, said Gary Younge on The Guardian. Gingrich was "jabbing the air, clutching the lectern and waiting for applause", whilst Romney was "taut and tense." Santorum was "animated and frustrated"; Ron Paul was "calm and unscripted, enjoying every minute." Gingrich didn't get the "game-changer" he wanted at all. His chat about the moon sounded "crazy." The best performance was Santorum – but he "has no money, no organisation", and probably won't get a double digit vote. Ron Paul was "the most entertaining", challenging the candidates to a bike ride in the desert to prove his health. But Romney's edge over Gingrich has not been eroded.
Nobody won. The LA Times had a different view:  Romney and Gingrich are neck-and-neck; Santorum's a "distant third"; Ron Paul, though he "slammed both frontrunners", is coming last. "If anyone won Thursday evening, it may have been Barack Obama."