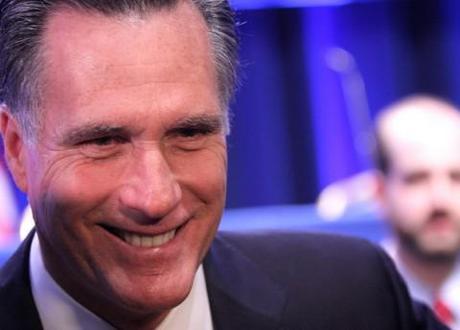 Mitt Romney: The Republican nominee. Photo credit: Gage Skidmore, http://flic.kr/p/9itVJF
The background
Mitt Romney has clinched the Republican presidential nomination, after his Texas primary win pushed him over the 1,144 delegates barrier. The former Massachusetts governor will now take on Democrat incumbent President Barack Obama in the November 2012 election.
Some commentators suggested Romney's victory was overshadowed by his association with property mogul Donald Trump, whose Las Vegas fundraising event he attended on the day of the Texas result. Trump is a major voice in the highly controversial birther movement that insists Obama is not in fact a US citizen, despite the President having produced his birth certificate.
Does Romney have what it takes to beat the incumbent President? Recent polls put Obama ahead, but the result is far from certain.
Mitt Romney campaign scored a rather spectacular own goal by misspelling America on its new election iPhone app, reported Mashable. The app calls for "A better Amercia."
Romney needs to start showing some presidential qualities
Romney's appearance at the Trump fundraiser shows that despite finally securing the nomination, he is "still being held hostage by the right wing reality-show primaries", wrote Jon Avlon at The Daily Beast. This right-wing embrace could hurt him in the presidential election: "It's his responsibility to stand tall and set a tone that shows a capacity to be president of the United States.  Failure to confront and condemn ignorance and hate indicates precisely the opposite."
Obama's reelection rests on economy and American mood
"Mr Obama may be the favorite. But making it back to the Rose Garden is by no means assured," said a Times (£) editorial. Part of the problem is that Obama needs the economy to improve is he is to gain the upper hand over Romney. And there is also an issue of a pessimistic national mood to overcome: "Americans worry that the days when they were a nation apart, growing inexorably, a beacon of power and prosperity, that those days may be behind them… Such fear, difficult to put your finger on, even harder to conquer, is a threat to any incumbent."
GOP Super PACs set to outspend Obama
US voters should brace for an autumn of non-stop ads: "Republican super PACs and other outside groups shaped by a loose network of prominent conservatives – including Karl Rove, the Koch brothers and Tom Donohue of the U.S. Chamber of Commerce – plan to spend roughly $1 billion on November's elections for the White House and control of Congress," reported Politico. Obama-supporting Super PACs look rather threadbare by comparison, with Priorities USA Action planning a $100 million spend. "The consequences of the conservative resurgence in fundraising are profound. If it holds, Romney and his allies will likely outraise and outspend Obama this fall, a once-unthinkable proposition," said Politico.
Challenges ahead but Obama team confident
Obama's Chicago-based reelection team is confident of victory but still aware of the challenges ahead, said Mark Halperin at Time's Swampland blog: "The Obamans are quite aware of challenges bred by three years of incumbency. Among voters, disappointment has replaced hope; change has been as rare as good economic news. Those job and fuel numbers are especially toxic." However, the team considers Romney a weak candidate who is especially vulnerable due to his past right-wing statements. What's more, said Halperin, the Obama campaign is confident that electoral maths is against the Republicans.