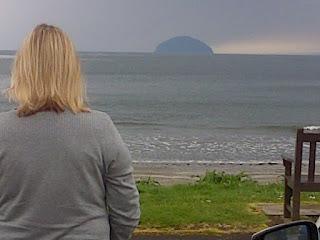 There's something mesmerising about watching Ailsa Craig emerging from the mist. The island isn't moving at all, but the constantly changing cloud gives the illusion of her creeping forwards. Trips to this bit of Scotland always include a visit to Ballentrae and further along, Girvan. I could stay on this stretch of the Ayrshire coast all day, in all weathers. In fog, in misty rain, in low cloud, I'm comforted to know Ailsa Craig is there, exactly where she belongs.Eventually I'll witness how she looks in the perfect sunset of a clear day. I don't mind waiting, fortunately.
Music has always figured in my life. I grew up with the beat of a juke box resonating from the pub downstairs, the radio, or wireless as it used to be when we listened to the Light Programme, and my mum's records. We would set them up together, six or eight, I can't remember exactly, but they sat at the top, held in place until it was time to drop on to the turntable. I knew all these 45s. Before I could read I could recognize each record and decide which order we would play them from Billy Fury, Anthony Newley, Cliff Richard and many more. Tommy Steele's Little White Bull would be put back on for Singing Time on the flip side. A favorite was Misty, Johnny Mathis.
Years pass. My mom passed, too. I have my own place, my own records and with some reluctance, I learnt to play piano in my childhood and in a strange way, an hour or two playing Chopin or Mozart can bring comfort. There's a film out called 'Play Misty for Me' with Clint Eastwood. I loved it and wished my mom could have seen it, for the song and to see how well Rowdy Yates was doing.
Many more years pass. We're into CDs – not moved into MP3s or whatever – anyway, the radio is always on keeping music in the air. There's a box of records in the attic. I still have my mum's 45s. Some are older than me, or pretty close, and Misty will be in there. Cherished.
Look at me
I'm as helpless as a kitten up a tree
And I feel like I'm clinging to a cloud
I can't understand,
I get misty, just holding your hand.
Walk my way,
And a thousand violins begin to play
Or it might be the sound of your hello
That music I hear,
I get misty the moment you're near.
You can say that you're leading me on
But it's just what I want you to do,
Don't you notice how hopelessly I'm lost
That's why I'm following you.
On my own,
Would I wander through this wonderland alone
Never knowing my right foot from my left,
My hat from my glove,
I'm too misty, and too much in love.
Lyrics by Johnny Burke
Music by Errol Garner
Thanks for reading, Pam x
Email This
BlogThis!
Share to Twitter
Share to Facebook