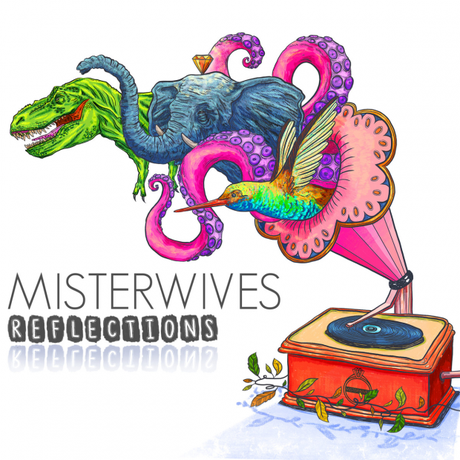 MisterWives – Reflections EP
SoundCloud
My first exposure to MisterWives was through their amazing cover of Drake's, "Hold On, We're Going Home." My interest was piqued primarily by frontwoman Mandy Lee's crazy vocal range and power that managed to retain a more subtle tone that commonly doesn't follow such vocal prowess. Though the overall production of the song was good, the instrumentation was overshadowed by her voice and perhaps by the fact that it was a cover. With the release of their new EP, Reflections, the band shows their true colors, which definitely still have a lot to do with Lee's voice, but also demonstrate that they're more than just a one-woman show.
One track that displays their cohesiveness particularly well is "Twisted Tongue." Lee's voice is emotive and beautiful, but wouldn't be much more than that were it not for drummer, Etienne Bowler. From the get-go, the track pops with rhythm, building into the chorus where Lee's repeating "Do ya['s]" layer perfectly into the lively percussion. This energy is present throughout the EP, save for their only downbeat track, "Coffins." The melancholy tone of this song is accentuated by the addition of strings and a prominent piano, allowing Lee's expressive vocals to reign through with their somber lyrics. "How do you soften/The thought of carrying coffins/We were so alive/Only to see us wither and die." This is some downcast stuff, but it's a welcome and beautiful change relative to the rest of the EP.
This EP's addictive choruses are like candy for anyone who appreciates indie, pop or anything in between. The lyrics are sometimes repetitive with the theme of relationships and being lost in them, but in the end, this is just an EP, and it's challenging to condense all they would like to say into only six tracks. Reflections gives a great taste of the tremendous skill coming out of MisterWives, and begs you to get on the bandwagon before it takes off.