It seems I'm on lonely lane again this week. Maybe the theme -
mistakes
 - was an error in itself? It has signally failed to trigger the enthusiasm of my fellow bloggers. Their keyboards have remained silent, their energies and thoughts elsewhere - I hope they've been out enjoying some sunny days.
It must be my Protestant work ethic, but I can't let the week go by unblogged, so let's see what can be cranked out on topic this evening. It beats watching the horrendous Eurovision Song Contest! But first the disclaimer: I'm not going to dwell on any of my own errors (which are legion, by the way). Instead I'm going to write about fame and the great mistake of ever thinking it is a route worth pursuing...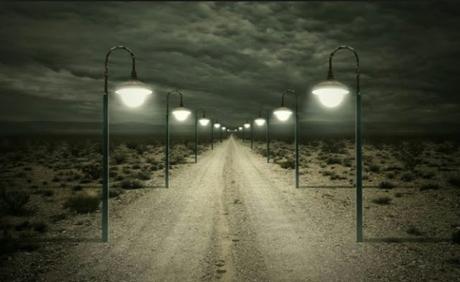 Fame's Allegorical Highway
Many a soul has come to grief as a consequence of the pressures consequent upon being public property. Even if they craved the adulation in the first place, such 'stars' usually come to realize it doesn't guarantee their own happiness; on the contrary, such constant attention can endanger mental health and even life itself.
John Lennon, perhaps the most famous member of the most famous group of all time, may have looked forward to being 'toppermost of the poppermost' in pre-Beatlemania days but once success arrived all four Beatles realised they were on a dehumanising road-trip that nearly destroyed them as people. They may have helped set us free and provided us with some of the greatest music of the twentieth century but it came at enormous personal cost and for those on the inside it was anything but a magical mystery tour - and certainly one they would never choose to repeat.
Others weren't so lucky: Marilyn Monroe, Janis Joplin, Peter Green, John Belushi, Kurt Cobain, Heath Ledger, Amy Winehouse and many more I'm sure you can name.
So how does one achieve the recognition for one's art without the adulation and the madness that the fame-machine brings with it?
I believe a healthy anonymity is the answer. In the realm of great literature, Thomas Pynchon and J.D. Salinger have done pretty well as reclusive authors while in the world of contemporary music, The Coral have proved a point. When their debut album was nominated for the Mercury Music Awards they just refused to turn up! It hasn't done them any harm.
Now near-neighbours from just down the north-west coast on the Wirral, The Coral are by a long way my favourite post-millennial band.  I've rated half a dozen of their albums as 'best of the year' ever since that Mercury-nominated eponymous debut in 2002. (The others, for the record: 'Magic And Medicine' 2003, 'The Invisible Invasion' 2005, 'Roots & Echoes' 2007, 'Butterfly House' 2010 and 'The Distance Inbetween' 2015).
I visited lead-singer James Skelly to interview him for a music magazine a decade ago. He was living in an unassuming red-brick house on an unassuming terraced street in Hoylake and yet he had gold discs hanging on his living-room wall for every album The Coral had made to date (which was four at the time, including a number one record). It was one of my favorite interviews. We talked for a couple of hours about music, films, the industry, books, football and philosophy and he played me an acetate of some new songs the band was working on. Amongst other things he had this to say:
"Anonymity, yeah. There's builders who are more famous round here than we are. Some of the really good plumbers round Hoylake are like Johnny Depp. It's the Hollywood of the building trade!
I love music and I'm looking for new stuff all the time. You're either a geek or you're a lazy twat, it's one or the other. I think I'd rather be a geek - better than ending up in London on a round of coke parties. We've visited London and that's okay, but once you're on that trip, you've lost it.
We've got a permanent practice room up in the industrial estate in Hoylake. We live for the music, you know what I mean? What else is the point of being in a band?"
Exactly.
Okay, one mistake: I had meant to take a book of poems written by Nick Power (The Coral's keyboard player) to the Dead Good Poets' open mic night yesterday, intending to read a few of them. I'd chosen the ones I was going to read and had stuck those little coloured tabs onto the appropriate pages only to leave the book behind on my over-cluttered dining-table. I'll make amends by reproducing two of them here. I am intending to produce something original on topic,
Moths To The Fame
, but it's a long way from ready, so in the meantime I hope you will find something to like in these two poems by Nick Power, from his 2017 collection 'Caravan'.
The first simply and beautifully observes that moment (which I'm sure we've all experienced) when we're not sure if we've made a mistake or not:
Morning Eyes
Your black eyes
in the morning
marble eyes
ancient granite eyes
doll eyes
of a doll
for three seconds or so
you are not entirely
sure
if it's me
      Nick Power, 2017
The second, which seems very much in the spirit of the Merseybeat poets (Henri, McGough and Patten), acts as a potent reminder that love - although it is not all you need - remains the most powerful foil against the darkness:
And No Light Shall Falter
I will make you a pallet-bed
cardboard and eiderdown
for your return
I will allay joint pain with diazepam
scored from a man in a clamping yard
I will lurk about the hospital until
you are released
when you are free
I will run between the gables of every building
illuminating them with fire
part rainclouds with roped
ploughblades
to let the new sun through
I will bring a thousand beams to your dulled eyes
and no light shall falter
and no light shall falter   
Nick Power, 2017
Thanks for reading. I wish you all a splendid week, ;-)
Email This
BlogThis!
Share to Twitter
Share to Facebook
Reactions: