So, did you miss your favorite blog a lot?
(*Coughing*)...
Oh my God, it's so great to be back, I was so depressed without...
Dear Readers,
Lime Reviews is back after a terrific adventure in the arctic. I've had a wonderful time, but I've also missed blogging and especially watching movies like a mad one. Well, I did watch five films up in Kalaalit Nunaat (is that the way it's spelt?). But you'll have to wait for more about that until July edition.
I didn't want to publish the June edition of Mission AFAD before leaving, because I thought I might watch some films on the hotel in CPH or something (and yes, it turned out I did).
I coincidentally published the (yet blank) July edition, and The Bolly Hood asked me, what AFAD was, so if you are new here, you can either click on the button to your right, or just on
this link
.
Voilá: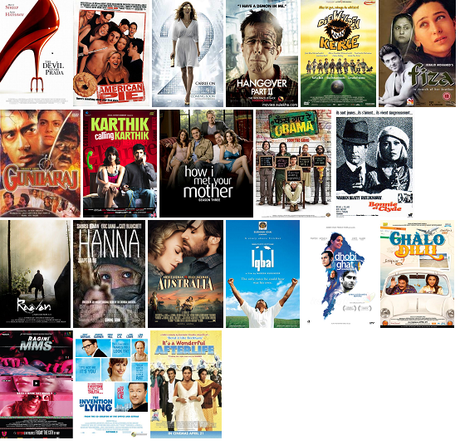 20 - veinte (my Spanish is getting better and better)
The Devil Wears Prada
(2006) David Frankel
USA, English
This one and the next two films are the remains of our DVD night in May (take a look at the May edition to know more).
Maybe you know, maybe you don't, but I've been a real fashion freak once, and I'm still quite into it. Not in a fanatic kind of way, but I do spend a lot on clothes, and I read a lot of fashion magazines. There are a lot of bad fashion flicks around in the filmic universe, but The Devil Wears Prada is actually one of the good ones, in my opinon. Even though I hate the end. Meryl Streep rules the film as a fictive version of Anna Wintour (chief-editor of US Vogue), and Anne Hathaway is also nice (though really a supporting actress here). Believe it or not: this was the "serious" film at our DVD-night.
American Pie
(1999) Paul Weitz
USA, English -
second view
Maybe you believe it now. It might be a rescue though, that this was only my second time to watch American Pie (okay, I've seen the 2nd part more often). But to be honest, I actually think that American Pie belongs to the better teenage-sex-comedies. It doesn't really take itself to serious. Somehow. Ah, let's not write more about it.
Sex and the City 2
(2010) Michael Patrick King
USA, English -
second view
... You must believe it now (if you still now, what I'm talking about). But hey, come on, it is a little entertaining. If you're a female person. Even though it was the only film where I fell asleep a little. Because it's also boring.
The Hangover 2
(2011) Todd Phillips
USA, English -
first view (cinema)
One of the best cinema-experiences I've had in the last few months. The largest of the cinema halls of our cinema was filled up (and it's really big) - I love that! I went to watch it with a couple of friends and my sister, and we had so much fun. It's so great when the whole audience is laughing and everything. No, it's not as good as the first part, but it does come near it... The wolfpack is back!
Die Wilden Kerle (= "The Wild Boys")
(2003) Joachim Masannek
Germany, German
These films were s
o
cool when I was like 9 years old! They are about a couple of boys (and one girl) who play football together, and they're like so cool and wild. I watched them a thousand times with my little sister and her best friend. So, we decided to rewatch them - and oh my gosh, how cute
are
they! If you like child films, you might check them out, at least the first two.
Fiza
(2000) Khalid Mohamed
India, Urdu -
first view
I had watched the beginning a couple of weeks ago (yes, on the internet, I admit *shamonme*), but I then decided to buy the DVD to watch the whole film. It's much better than I though to begin with. It was the first time I was actually impressed by Karishma Kapoor. Jaya Bachchan is wonderful as well, and Hrithik is... lala. Recommmendable, especially if you're interested in Indian terrrorism-films.
And by the way, it convinced me to take up my arabic-learning again (don't ask me, why, though). Shukran.
Gundaraj
(1995) Guddu Dhanoa
India, Hindi -
first view
Oh, I've almost forgotten what this film is about. I remember that Ajay looked rather handsome though, and Kajol was terrific even though the role was horrible. The whole film has a tendency to the horrible side (can you say that?). Some songs were okay, but that's all. Watch it if you love Kajol.
Karthik Calling Karthik
(2010) Vijay Lalwani
India, Hindi -
first view
I only got interested in this one after reading some very positive reviews on the internet, and it was  much better than expected. Farhan once mores prooves he's as talented an actor as a director, and Deepika surprised me by not being quite fake. Who knows, maybe there's hope for her?
The film works well as a thriller, there's a lot of tension and you're never bored.
(PS: I was thinking of getting Karthik's telephone-"tune"... hehe).
How I Met Your Mother - Season 3
(2005- ) Carter Bays, Craig Thomas
USA, English -
first view
I. Love. HIMYM.
Phas Gaye Re Obama
(2010) Subhash Kapoor
India, Hindi -
first view
Funny new addition to "actually-funny-Indian-comedies", though not overwhelming. I was maybe expecting a second "Tere Bin Laden". But I can recommend this one, too.
Bonnie & Clyde
(1967) Arthur Penn
USA, English -
first view
The monthly classic... I know I'm not watching many classics, but I'm trying. Bonnie & Clyde may not seem to be more than just a funny, entertaining action-flick, but if you know the background of it, it's extremely interesting. How it changed the American film industry and allowed more violence and realism on screen. Definitely a must watch.
Raavan
(2010) Mani Ratnam
India, Hindi -
first view
Well, just
read my review.
Hanna
(2011) Joe Wright
USA/ UK/ Germany, mostly English -
first view (cinema)
How I just hate to get a head ache in cinema. I can feel well for months, and then just on that day, my body decides it doesn't feel well. Watching "Hanna" in cinema was worth the pain though - I
loved
it. Saoirse Ronan is my favorite teen actress, also because she's very down-to-earth and natural, and plays the best roles in some of the best films. "Hanna" is better than every party I've been to (no, I'm not a big party-goer), the electric beats to the tough teenage girl fighting all those muscle-men - vavavoom! One of the best 2011-ers yet.
Australia
(2008) Baz Luhrmann
Australia, English -
second view
The last weeks of school are such a waste. You mostly have vicars and you watch a lot of movies. I had seen "Australia" before, and yes, I liked it. Baz Luhrmann is a very dramatic director, but I like dramatism - not to be confused with kitsch or soap-opera. I also like Nicole Kidman. And which Bollywood-fan doesn't like Hugh Jackman?
Iqbal
(2005) Nagesh Kukunoor
India, Hindi -
first view
What a cute film. Bollywood isn't major in doing sports films (no, I haven't seen "Lagaan" yet), so this is one of the better ones. I didn't know it was such a simple, low-budget production before, as it earned a lot of awards (and yes, that was and is still, rather unusual for low-budget) - j'adore.
We need to see more of Shreyas Talpade! Shreyas, don't waste your talent on average roles.
And Nagesh Kukunoor: get back to your "Iqbal"-roots, I'll forget everything about "Aashayein".
Dhobi Ghat [Mumbai Diaries] 
(2011) Kiran Rao
India, Hindi/ English -
first view
See here
. (
You don't want to know, what happens, if you don't. And WATCH the film, if you haven't yet, for heavens sake).
Chalo Dilli
(2011) Shashant Shah
India, Hindi -
first view
It won't be the end of the world, if you miss this one, though. It is very cute. And it has an important female main character. But it drags along at times. Especially the end is like... is it over now? Is it over now? Not over yet? Akshay was also annoying. But otherwise, you can have some laughs, and fun...
Ragini MMS
(2011) Pawan Kripalani
India, Hindi -
first view
The worst thing about this one is, that even though there's tension, the potential is never fully used. What is supposed to be the "really scary part", matlab where we see where the danger comes from, is rather laughable, even though I watched the film in complete darkness. I'd rather recommend to watch last year's "LSD".
The Invention of Lying
(2009) Ricky Gervais, Matthew Robinson
USA, English -
first view
If you need a light, but still funny and not bland, romantic comedy, do check out this one. The idea is good, and the makers manage to keep a balance between fun and... well, philosophy. Kinda.
It's a Wonderful Afterlife
(2010) Gurinder Chadha
UK, English/ Hindi -
first view
Admittably, Gurinder Chadha has made better films (ah, Aaron Johnson), but this one is... okay.
I mean, you never get bored. Sometimes you think "this is just ridiculous", but you're never really able to turn off the telly.
Buuut... it's nothing you
need
to watch.
---------------------------------------------
Thank you for reading,Mette M. K.