As you know, I've been away from home for a long time, almost three weeks in July.
Therefore, the yield of cinematic experiences for last month is
tiny.

Barely 18 films to talk about, and a lot of them is just trash, trash, trash...
Explanation? There is one: I lived with my Danish guest family (if you are a frequent visitor, you will know whom I am talking about), and well... they have a quite simple taste for movies.
That's not bad. It's what most people have - at least these do have a little sense for good films... But, well, we also watched a lot of trash.
And by the way, the first row of movies (on the picture) is what I watched in Greenland, meaning in the first three weeks of the month.
That's also why I didn't watch any Bollywood films, for the first time in... 1 year? (There was a time when I didn't watch as many films as I do now).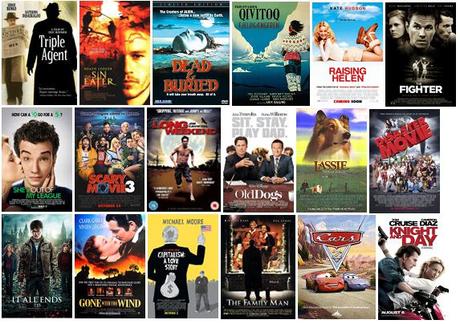 18 - attarah (yes, I do miss you, Hindi speaking people in my favorite films...)
Triple Agent
(2004) Eric Rohmer
France, French -
First view
This was the only DVD laying around where we lived, and there was only one TV-channel, so off course, we watched this film some time. But only once. It's a good example for how you can make a good film without much effort, it all looked very simple - editing, shooting, directing. However, it didn't fully catch my interest, somehow, also because the characters stay "cool". You don't really get into the film. And at the end, I didn't understand it - the story.
The Sin Eater
(2003) Brian Helgeland
USA/ Germany, English -
First view
We had to wait two days to get out of Saqqaq, so I was incredibly bored and we borrowed some DVDs from a brother of my guest mom. This is the first one. The most interesting things about it were Heath Ledger and the fact that a German actor was in it (Benno Fürmann). What I like about films like these is the knowledge you get about history and religion. Otherwise... well, an un-scary horror film.
Dead & Buried
(1981) Gary Sherman
USA, English -
First view
Now this is a real oldie horror film. What I like about
these
 kinds of films is, that you can see how much film makers were capable of doing in a horror film at that time.
At least it was scarier than The Sin Eater - but not much.
Qivitoq
(1956) Erik Balling
Denmark, Danish/ Inuit -
Second view
I already wrote about Qivitoq in
April
. It was interesting to watch the film a second time after having been to the places it was filmed, and having seen many of the people that were in it.
Raising Helen
(2004) Gary Marshall
USA, English -
First view
Well, Gary Marshall, Kate Hudson... you can't expect anything new from a film with those names. It was... okay. Maybe. I honestly don't remember.
The Fighter
(2011) David O. Russell
USA, English -
First view (on flight)
This was one of the last 2011-Oscar-films I hadn't yet seen, and I don't even really know why... Maybe it was because of the title - it sounds a bit macho-esque, and then the plot... But the film is so much better than what I had thought! All actors are brilliant - my favorite being Christian Bale, who blew me away with his performance. I loved his role, I hated his role, I... think I went through every stage of liking with it. This film once again proved that 1) boxing films are great, 2) sports films can be about more than sport (and no, we're not talking team work or friendship or any of those old-chewing-gum-topics), and 3) but not least: action films that are maybe supposed to be "men's films" can turn out to become some of my favorites. Aside from
Harry Potter
 (sorry, fan-ship counts more),
The Fighter
 is the best feature film I've seen this month.
She's Out of My League
(2010) Jim Field Smith
USA, English -
First view
Films like this can easily turn out to be either boring, porno-esque, embarrassing - or maybe even a mixture of these. However, there's something about
this
film. It doesn't take itself too seriously, for instance. It has some almost black (or at least grey) humour, and at the same time, you feel there's a heart in it. The actors are also mainly quite good - my personal "pearl" being Krysten Ritter. I'd love her in anything.
Scary Movie 3
(2003) David Zucker
USA, English -
First view
Very formula-orientated filmic slapstick/ scorcher. But still better than the first film (haven't seen the second one).
Long Weekend
(2008) Jamie Blanks
Australia, English -
First view
Starts quite promising and manages to build up some tension, but then slowly dies away. You never really get shocked, except for the scene where the guy finds a dead girl in a car, and in the last scene, before the guy runs away (I don't want to ruin the film for anyone who wants to watch it). As a self-declared horror film specialist (well, not really, but I've watched a lot of horror films, love them, and basically watch everything I can get my hands on), I cannot recommend this film whatsoever.
Old Dogs
(2009) Walt Becker
USA, English -
First view
I love Robin Williams and I love John Travolta (as actors, at least). I also had a lot of fun with 
Wild Hogs
.
Old Dogs
takes the fun a little further, I think, I mean we all laughed
a lot
. And that's rare these days. I don't laugh at many comedies, most are just boring, especially the "romantic" ones. My favorite comedies are still the rather black ones, but I do like a family-friendly comedy that is actually funny - if it
is
 actually funny. This one is, I can assure you of that. Watch it with your family.
Lassie
(1994) Daniel Petri
USA, English
Lassie
is such a nice movie for children, much better than all those loud and fancy... I-don't-know-what-to-call-them. My favorite children films will forever be the Disney classics and the Pixar films, but right after those comes
Lassie
. I didn't really watch the whole film, though, the grandchildren of my guest mom did.
Disaster Movie
(2008) Jason Friedberg, Aaron Seltzer
USA, English -
First view
This film really is a disaster. I don't really know what to do about those mass produced film parodies. On one hand, they do have some fun scenes, but most of it is just... well, a disaster. Made for the only purpose of luring masses of teenagers into the cinemas and get their money.
Date Movie
 was actually quite funny - the other ones? Forget about them.
Harry Potter and the Deathly Hallows: Part II
(2011) David Yates
UK, English -
First view (cinema, 3D)
I - am - a - sucker - for - Harry Potter. I am
fanatic
about these series. The books and the movies. When I was a little kid, I couldn't wait to turn 11, because I was so sure an owl would come and bring me an invitation to Hogwarts. My favorite film, and probably also book, will forever be the third one, but in a filmic view, the last one was probably the best one. Filmic-ally. Do you know what I mean? Well, that's what all the grown-ups and critics say. The 3D effect was nice, but as often unnecessary.
Harry
doesn't need any "amplifier" - it is magical enough. Oh, I can't believe it's over, it's really over...
Gone with the Wind
(1939) Victor Fleming
USA, English - F
irst view
Whoever spread the rumor that
Gone with the Wind
 is one of the best films ever made, and one of the best love stories ever told is a badass liar. I didn't understand any freaking bit of it! Okay, it is a story about the southern states and how people lived and how the civil war changed everything - but that's it? That's f***ing it? (Sorry, but I was more than disappointed after 4 hours of nothingness). No love? I mean, if I got the end and the whole story right, then she doesn't love him (yeah, they say she does, but I can see she doesn't), and he loves her but hates her and leaves her. The kisses were awful, too. All of the "emotional" scenes were awful. Hey, I was expecting another
Dirty Dancing,
or
Titanic
, or
Romeo + Juliet
. So I decided now, to take a very drastic and maybe never before seen step. I will not recommend this film. No, I will even warn all of those who haven't seen it yet. Do watch it, if you must, but be aware of what this film
really
 is, under the 11-oscars mask... : nothing.
Capitalism: A Love Story
(2009) Michael Moore
USA, English -
First view
Michael Moore, I want a child from you. Okay, I don't want to have it myself, but I want you to have one. America, the whole world, would be different, if it weren't for you. You brought me awake, shook the naïve girl inside of me, made me shed tears and shake my head in anger and disbelief. The world needs to see this documentary.
I'm personally very cautious when capitalism is denounced, because it automatically makes me think that the only other way is communism. Which wouldn't be democracy. The idea of a democratic economic system never even crossed my mind. But it is wonderful. It's what I had been searching for, the perfect idea, a solution. Of course, it would never change everything, all problems can never be solved - but it would be so much better than now. This film also reminded me of how fortunate I am, we all are, to live in Germany or Denmark, to live in Europe. Our system is working, more or less.
I am shocked - I am shocked - I am shocked.
The Family Man
(2000) Brett Ratner
USA, English -
First view
Hm, I like
Rush Hour
. It's funny. I also liked this film, but only a little, little bit. It has these ambitions of being a "serious" film, that makes people think. But it's too commercial for that.
Cars 2
(2011) John Lasseter, Brad Lewis
USA, English -
First view (cinema, 3D)
I already told you that I'm a big Disney Pixar lover, and
Cars 2
 once again proved this. It might be a little senseless and very guff-y, but I need that once in a while. It's so sweet, so full of details, so enchanting.
Knight and Day
(2010) James Mangold
USA, English -
First view
As a real person, I hate Tom Cruise. The fact that he's scientology is enough for me. But I have to admit that he does a decent job in mainstream Hollywood films, especially action comedies. Same for Cameron Diaz - with the difference that she also did some not-totally mainstream films, in which I liked her. This could have been a quite mediocre action flick that you forget after one week, but there's something about it that makes it a bit more special. I can't really put a name on it... whatever, it's fun.
------------------------
Thank you for reading,Mette M. K.