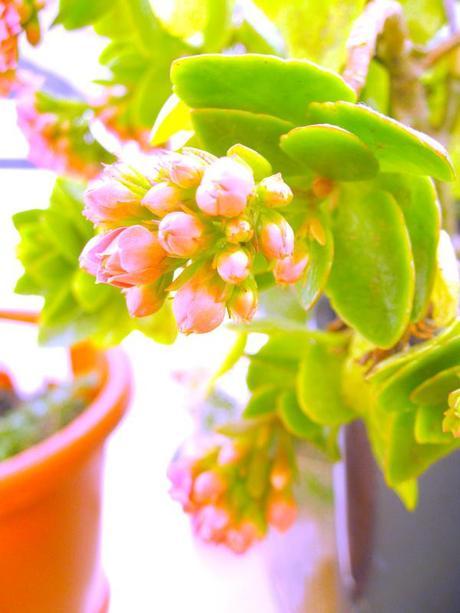 While many of you are enjoying the warmth of sunny days—I could only dream about it…Indeed!

It is winter time down here

and even though I don't dislike cool days I have to confess that my heart belongs entirely to the beautiful spring-summer season :)
I love summery mornings with clear skies…don't you?
Fortunately after many days of heavy

raining

the sun came out during the weekend-and my soul felt revive once and more. First thing I wanted to do was re-arrange my pots of flowers and herbs, which I did!
My hands became impregnated with the fragrant leaves of basil and I discovered that my lovely

kalanchoe plant flower

is already giving its fuchsia winter bloomers.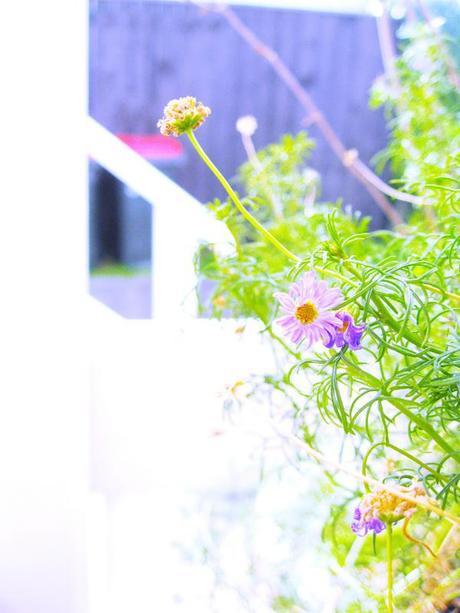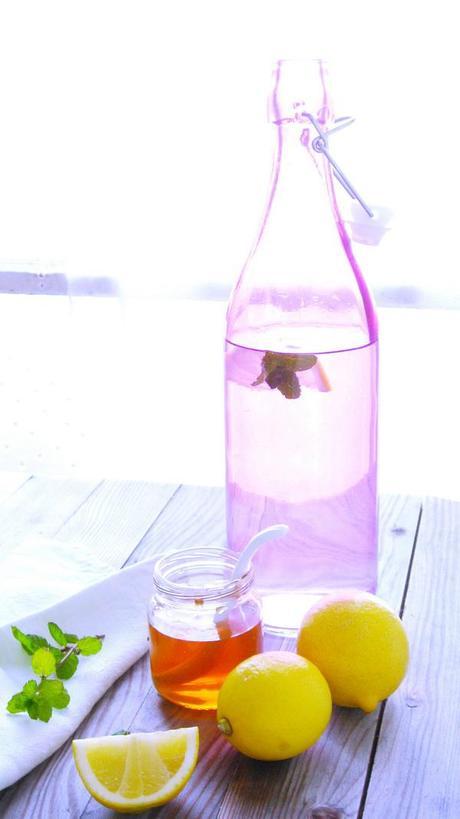 We've already began to feel thirsty J. while doing our gardening so J. went inside the house
and squeezed some lemons to make lemonade with honey and mint leaves from our little herb garden--It taste heavenly.
And I have to tell you that doing this little gardening were truly a joy…because I miss it so much! 
And soon was time for lunch-

Time certainly flies when you are doing something that you love...

 
I prepared some broccoli flowers with tomato slices, garlic cloves with olive oil and sea salt.  I roasted them for about twenty minutes and  served it with feta cheese and slices of whole wheat focaccia.
It was such a lovely morning.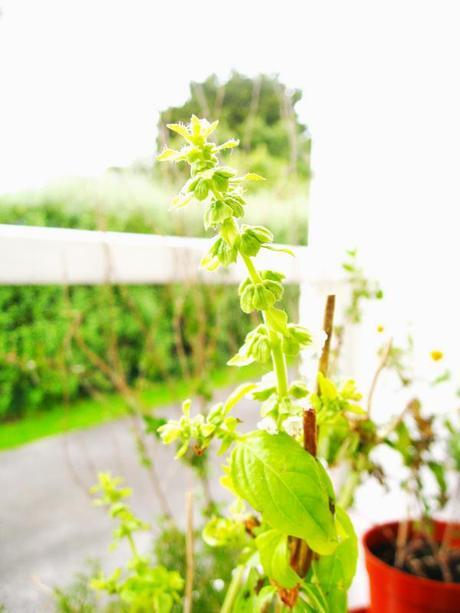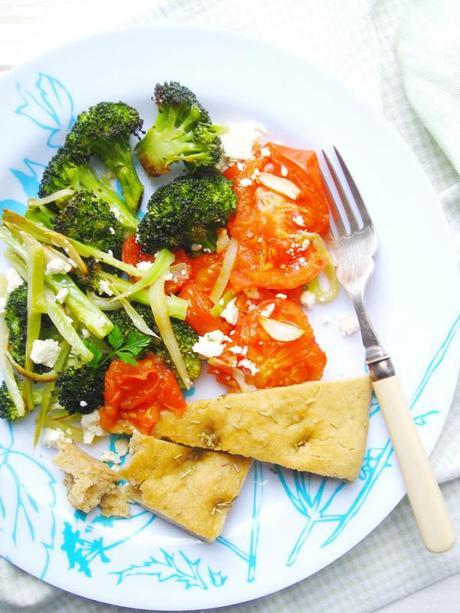 Soon after lunch J. and I started planning a long walk by the harbor and decided to postpone our weekend food-shopping for later on. 
I packed some

vanilla cappuccino cookies

that I baked the day before and headed to the harbor.
The breathtaking blue color of the water inspired us and filled our minds with a sense of magic energy-and we were so happy and amazed that we couldn't resist having a walked by the beach too.
We've got there… sat on a rock and say nothing...

just listened to the foamy waves crashing on the beach.  
I started to watch at the sky as seeking for an answer to such a natural beauty while watching the various shapes and figures I saw in the clouds –some of them seemed to have the shape of giant horses but to J. they looked like men with big muscles :)
The color, smell and sound of the sea water seems beautiful than ever to us…after so many days of bad weather.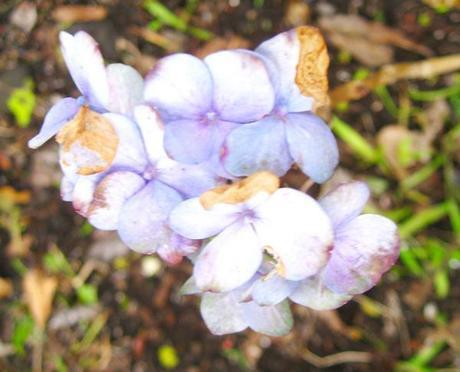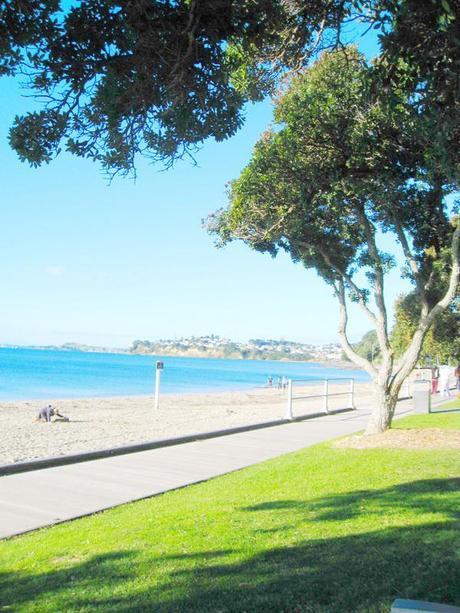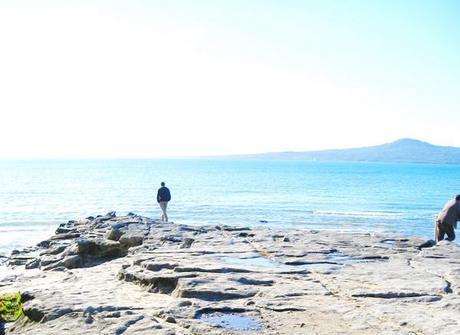 It was a warm afternoon with a cool breeze but it felt so relaxing and rewarding that it wasn't easy to leave that to do our food shopping for the week.
Once we've got home, I made
some polenta with mushrooms and parmesan cheese
and I (also) served it with the rosemary focaccia.Our house was warm and smelled lovely.
We ate same of the focaccia with our dinner and saved the rest for our next morning breakfast.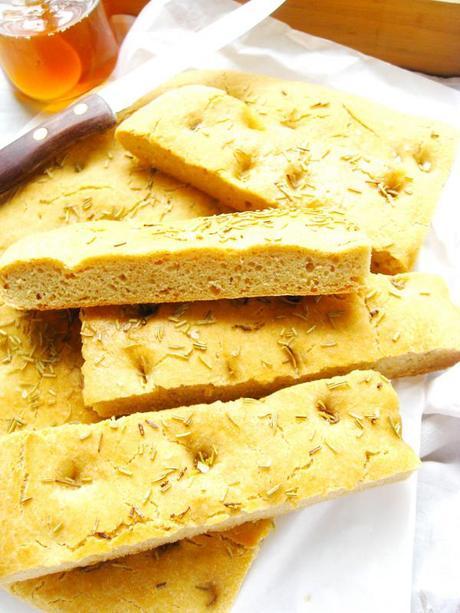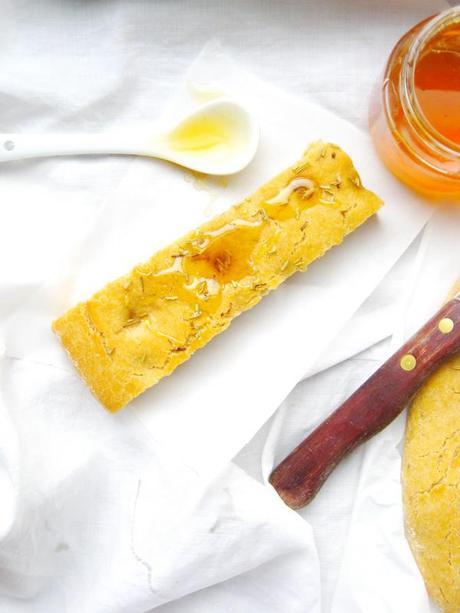 Sunday, we woke up early and enjoyed the focaccia I baked the day before and we ate it with some runny honey :)
And it was simply a harmony of flavors dancing in our palates.
Whole Wheat Flour Rosemary Focaccia Recipe
2 3/4 C. Whole wheat flour
3 tsp. dry yeast
1 C. warm water
1 tsp. sugar
1 tsp. olive oil
Pinch of salt
Dry or fresh rosemary 
Preparation:
Preheat oven at 200 C/ 400 F.
In a medium bowl combine flour and salt-mix. Take a small bowl. Add yeast, warm water, sugar--mix well and cover with a plate.Wait (about 10 minutes) for bubbles to appear in the yeast. Once the bubbles have appeared, and using a wooden spoon start to mix together the ingredients to form the dough and add olive oil.
Using your hands work the dough until is smooth and elastic. Cover and set in warm part of the kitchen-let the dough rest for 40 minutes. When ready, just punch down the dough over a floured surface and shape into a rectangle. Transfer the dough into lightly floured baking tray. Brush the dough with olive oil and sprinkle with rosemary and sea salt. Bake for 15 minutes and serve warm.