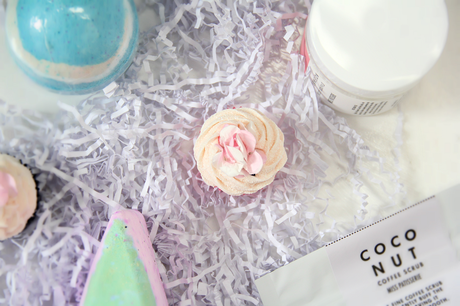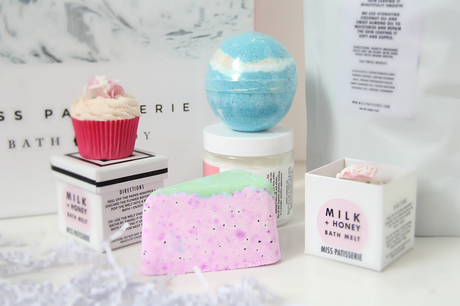 I don't often do hauls, for a few reasons. Sometimes I feel a bit showy-offy, and that's not really my style. I do however, LOVE to read them. I like pretty things. If I'm really passionate about a brand though, I will make an exception and overwhelm y'all with a good old-fashioned hauling, like I'm about to do. Sometimes it's just gotta be done.
Miss Patisserie have had an amazing year. They've recently started being stocked in Boots, so you don't have to live near Cardiff to try out their stuff. I'm really excited and proud to see them doing so well; I remember going to their first blogger events in their Castle Arcade store, and falling in love with this super-friendly, Instagrammable home-grown company. The founders and staff are all genuinely lovely people who really care about providing luxurious products that work without compromising on ethics. Everything they make is vegan, cruelty-free, with no parabens or GMO ingredients. Basically, they're just an exceedingly awesome company that I love buying from and working with over and over again. I hope they reach even greater heights in 2018.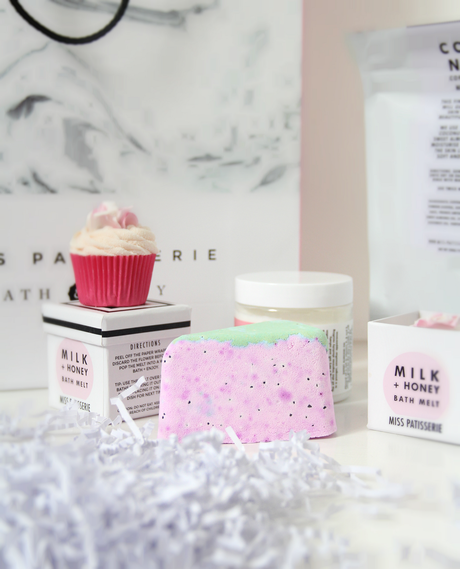 Some of this stuff I bought myself, and some was gifted to me at their most recent press evening, one of the most fun work events I've been to in recent memory. The prosecco was flowing and it ended up like a festive night-out with my girlfriends, everyone taking selfies and enjoying vegan rose-shaped cupcakes by Blanche Bakery. As usual they were beyond generous to us guest,s and I left with a big bag of goodies to try, all of which were gorgeous in their own way.

The fresh coffee scrub has become one of my all-time favourite products. I was thrilled to see they'd given me a new one as the one I have is running out and I've grown quite dependent on it. Long-lasting and effective, it's usually the first body scrub I recommend to anyone. It leaves your skin feeling supple and baby-soft rather than raw or dry; I use it multiple times a week to keep my skin in tip-top condition. The only downside is this scrub does leave a bit of a mess after you've used it and you'll have to give the place a quick once-over with your shower head, but I think it's worth it. If you need something to really give you a boost on winter mornings, this is a great choice.
I did get another familiar product, the watermelon body souffle. This moisturiser has a kind of "whipped" texture and improves the tone of my skin with regular use, as well as smoothing dry patches and providing a bit of softness. I think it's a really hard-working body cream and have used it with nice results on razor burn, keratosis, and scars. It also comes in a huge range of scents if watermelon isn't your thing. Watermelon is VERY MUCH my thing, so while I was there I also picked up a watermelon bath slice that caught my eye. These retail at £2 and I think they're only available instore, but they can be broken in half to last two baths, which is an absolute bargain. I don't know about you, but I'm getting a bit tired of paying through the arse for bath bombs these days. Two quid seems mind-bogglingly cheap.
I got a few more bath melts and bombs to test out, which hopefully will tide me over until Christmas. I need lots of decadent baths during the winter to function as a person. The cupcake-shaped melts are a combo product, which is always nifty; half of it dissolves in the water and the rest can be used as an exfoliant in the tub. I like the rose and lavender ones best, but as with almost all Miss P products there's a big selection of fragrances to pick from. If you've never tried anything by this brand then do correct that asap; they are one of my ones-to-watch for the year ahead.