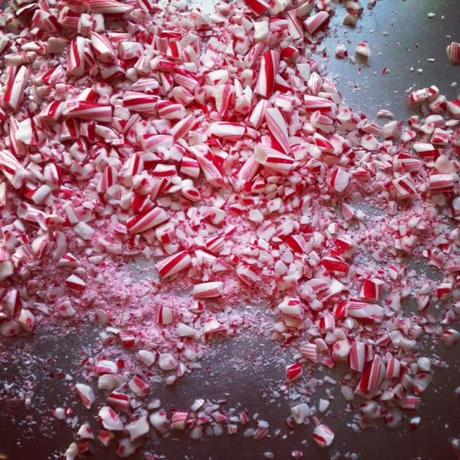 This wasn't for a recipe. I just hate candy canes so much I had to destroy them.
I am both pissed and in awe of the mint lobby. They have locked and loaded the flavor for almost everything we put in our mouths that isn't actually food. 
Toothpaste, breath fresheners, mouthwash, gum, Skoal, McDonald's shakes during the month of March – aren't we a little old to be overwhelmed with one flavor? I am guessing that it's a large but secret mint PAC, which is working hard in the smoke-filled rooms in the Capitol and in the 701 bar, ensuring that there's a Mentos in every mouth and a Girl Scout Thin Mint cookie in every pantry.
They took over St. Patrick's Day a while back and they've almost nailed down Christmas. And I just saw peppermint Peeps, so they're moving in on Easter.  They won't rest until every major holiday is fresh and cool like an Arctic breeze.
I'm not a fan of mint. I enjoy a nice cup of mint tea occasionally, but if there's another choice, even alfalfa – which tastes like a barn where the animals have not been well tended to and the hay got wet and almost caught fire before it turned into moldy compost – I'll take it.
I like a nice mint julep, too, but only on Derby Day and if there's another drink offered, even a martini with cheap vodka made in someone's backyard in Kentucky, I'll take it.
I'm not as anti-mint as this girl I found on the Internet. She said (and the caps are hers):
I hieve (sic) when I smell mint, even when someone has just brushed their teeth, I have to open the car window and stick my head out of it. … I CANNOT have it in or on ANY food, or else I won't eat it at all! – Even if it has been removed…And as well as this, My dentist keeps saying not to rinse me mouth out with water after I have brushed me teeth, but I can't exactly help it, because otherwise I have to spit, and spit, and spit it all out over the next few hours, and get really agitated! … So after all the explaining about my GIGANTIC HUGELY COMPULSIVE problem Hate for Mint, and everything, absolutely EVERY ASPECT of mint, in any substance, area, or scent – Does anyone else HATE mint in EVERY WAY like i do?!
Well, no dear, I don't hate mint that badly. But I do think the mint lobbyists should put your name on some kind of list. Just for their own safety.
I know what you're thinking. Toothpaste companies have offered other flavors. There is cinnamon Colgate and a couple fruits from Crest. Cinnamon? Come on. Don't even. Cinnamon is just mint in a red parka. And there is something extraordinarily artificial about Crest Citrus toothpaste. There is no orange on earth that tastes like that.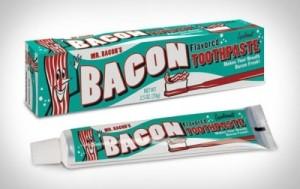 That bacon strip on the box looks pretty happy. What could possibly go wrong?
If you happen to live in a foreign country or another planet altogether, you can find toothpaste in flavors like eggplant, pork, whiskey, and other delicious reminders of meals gone by. Here's a list of 20 bizarre toothpaste flavors, none of which are available in the continental United States, I assure you. I've looked.
Can you imagine if we could take the mint faction out? Toothpaste flecked with Baco-Bits. Ghiradelli chocolates with caramel filling on your pillow at the nicer hotels.  Listerine yellow would be the signature for Kraut Dog With Spicy Mustard flavor.
I recently bought a bottle of concentrated mint breath freshener at my hair salon. (Don't ask. The scalp massage messes with my brain and if there had been an old encyclopedia sold at the counter I would have paid $8 for that, too.) This breath freshener was billed as offering me a splash of mild mint, rosemary and thyme. That doesn't suck, I thought. Except it did. The mild mint was so overwhelmingly not mild, I couldn't taste any rosemary or thyme. I also couldn't taste my food for 6 hours afterward.
A lingering bacon cheeseburger flavor would have been so much more palatable.
~ ~ ~ ~
Read more of Diane's Just Humor Me columns anytime. We're open 24 hours a day. Feel free to post and share with your framily.  Sign up for our weekly e-newsletter and get new blog posts and other neat stuff. And if you like her blog, you'll love her book, Home Sweet Homes: How Bundt Cakes, Bubble Wrap, and My Accent Helped Me Survive Nine Moves.