Mink lashes have a luxurious ring to them. Maybe because celebs like Jennifer Lopez and Kim Kardashian swear by them. You would never see them on the red carpet or a photo shoot without them.
So then I looked them up thinking I could grab a pair for myself. I quickly realized that mink lashes were way beyond the normal-person-like-me budget. They were over $100 a pair.
I decided to stay loyal to Ardell wispies, a budget-approved $5.99 at my local drugstore.

This was two years ago. Now, I am happy to report things have changed. Woohoo!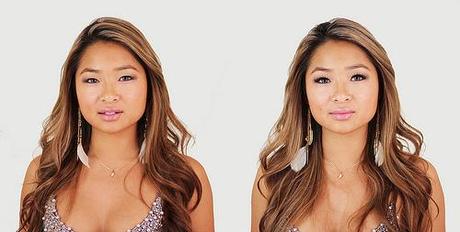 You can find a pair of mink lashes for $24.99 – checkout playlashes.com. Thankfully, a pair that's within a normal-person-like-me budget.
So why mink lashes in the first place?
Mink lashes are more natural looking than traditional lashes. And they last longer. They can be worn up to 25 times. They are premium lashes that are extremely light and soft. You'll barely know they are there. Not to mention, having similar lashes installed at your beauty salon can range from $80 to $100.
Celebrities have been wearing mink lashes for years. Now we have a chance to enjoy some of these luxurious eye-enhancers on our own.
How to apply mink lashes
Let's talk application. Applying lashes – whether they're mink are synthetic – can be a task. Here is a step-by-step tutorial with tips on how to get the most out of your lashes.
Curl eyelashes
Hold the lashes up to your eye and measure them. Trim them to fit.
Make the lash band more flexible by rolling them around your fingers or around a pencil. This keeps lashes from lifting at edges.
Apply glue to lash band (I strongly recommend DUO). Use a toothpick or another small thin object for an even application.
Wait 15 to 20 seconds for the glue to become tacky.
Rest the center of the lashes on the center ridge of the lash line.
Use tweezers or fingers to adjust and fix, start at the outer corner and work inwards.
If you choose, apply mascara afterwards to blend in gaps. Keep in mind that Urban Decay has mascara for falsies. Or you can use your fav – check out the many mascara reviews here, too.
Have you ever tried mink lashes? Applying lashes can be a science, have you got the hang of it? Do you have any steps you'd like to share. I'd love to hear your thoughts. Drop me a line below.