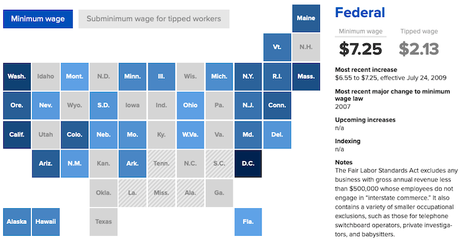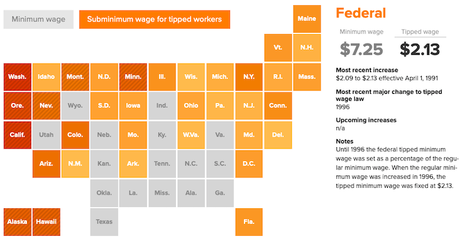 The charts above are from the Economic Policy Institute. They show the federal minimum wage (the gray/blue chart) and the minimum wage for tipped workers (the gray/orange chart). The states in gray have the minimum wage at the federal level -- $7.25 an hour and $2.13 an hour for tipped workers. The darker the color in other states, the higher the wage.
As you can see, the minimum wage is not a livable wage in far too many states -- for either tipped or non-tipped workers. It needs to be raised at the federal level to at least $15.00 an hour (which would still be only about $28,800 a year -- well below the average wage in the United States).
Unfortunately, it looks like the Senate may stay in the hands of Republicans, and they have shown they will not raise the minimum wage at all. In fact, many of them would like to abolish the minimum wage and allow employers to pay even less than $7.25 an hour.
This makes the two Senate run-offs in Georgia very important. If the GOP holds on to those seats, many American workers will have to continue working hard for a poverty-level wage.