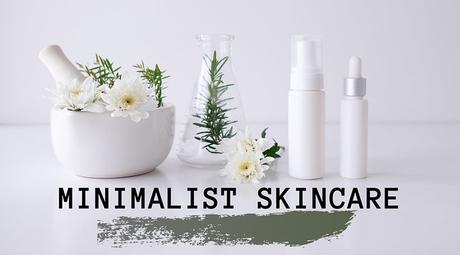 My COVID-19 project has been simplifying all aspects of my life. It started with my kitchen, then wardrobe (clothes, shoes, jewelry) and then skincare. I do not want any one aspect of life to rule the majority of my brain or my day. My idea of balanced life is balance in all aspects.
Beauty industry is a little out-of-control though. Packed shelves and too-good-to-be-true claims often make beauty and skin shopping more confusing than helpful. I mean, how many must-haves does one person really need? If you're committed to keeping your skincare routine as simple as me, below are a few helpful suggestions to follow:
Five Suggestions
1. Use a gentle facial cleanser
Wash your face before you go to bed. You must get the days grime off your face to help your skin repair itself and prep for another day while you sleep. I recommend the Derma E Ultra-Hydrating Alkaline Cloud Cleanser ($13.95, ulta.com). Gently removes makeup, impurities and excess oil without stripping the skin of its healthy moisture. Enriched with a unique blend of ultra-hydrating Hyaluronic Acid and adaptogen Snow Mushroom Extract to help moisturize and condition thirsty skin for a softer and healthier-looking complexion.
2. Always apply & re-apply sunscreen
One habit I have formed during COVID is to religiously apply sunscreen every 3-4 hours regardless of whether I am going out or not. The sun is responsible for 90 percent of skin's aging, so SPF (between SPF 30 and SPF 50) is the best anti-aging product money can buy. UV damage affects skin all year round, not just in the summer. You have heard it over and over again, but it remains true: SPF is necessary when it comes to your skincare routine. Not a moisturizer with SPF or a foundation that includes SPF—you need to apply an actual sunscreen product. I recommend Neutrogena Hydro Boost Water Gel Sunscreen Lotion SPF 30 ($4.74, ulta.com) Perfect for daily use, the non-greasy sunscreen layers invisibly under makeup. Just make sure to keep it out of your eyes but that burns like hell.
3. Moisturize generously
... and twice a day! Skin loses hydration throughout the day, hydration that keeps your skin plump and youthful. Apply moisturizer twice a day, once in the morning and once at night. Hot tip: a moisturizer for sensitive skin can be used as an eye cream. 
If the moisturizer you're using on your entire face is just made to simply moisturize the skin and protect the moisture barrier, it is totally fine to use around the eyes. It's when you start using acne products or anti-aging creams that you probably want to avoid the eye area, as those products can be irritating.
I recommend FACTORFIVE Anti-Aging Cream ($189, factorfiveskin.com). A hydrating cream visibly improve signs of aging such as redness, wrinkles, tightness, thickness, and texture. It is worth the investment.
4. Exfoliate
While you should exfoliate, it shouldn't be done every single day. I try and do it no more than twice a week. Exfoliating frees your skin from dead skin buildup that can cause irritation, dullness, and acne. I recommend

Paula's Choice 2% BHA Gel Exfoliant

 ($29.50, paulaschoice.com) This leave-on gel exfoliant is a completely non-abrasive way to remove layers of dull skin to reveal younger skin hiding underneath. It also shrinks clogged pores, diminishes the appearance of wrinkles, and improves skin tone.
5. Use Anti-Aging Serum
To optimize even the simplest skincare routine, include an anti-aging product to help prevent wear and tear generated by environmental aggressors. I recommend

FACTORFIVE Regenerative Serum

($199, factorfive.com) This serum target the signs of aging: wrinkles, sun spots, tightness, thickness and texture.
Four-Step Routine
Step 1: Facial cleanser.Step 2: Serum. Step 3: Moisturizer/Eye cream.Step 4: Broad-spectrum sunscreen.
The basic fundamental for skin care for me in my 30s has been to not overthink and keep it simple but consistent. As long as it is working and part of my self-care I do not get stressed out by all the beauty noise. The basics of good skincare remain the same no matter what.
____________________
Disclosure
: FACTORFIVE Products were provided to be to test with no obligation to review. The two full size bottles of the moisturizer and serum lasted me a little over three months. I used the pair for my night time routine. I wish I could report a before/after but having a consistent skin care routine for years and a diligent use of sunscreen in 2020 had already improved my skin. However, I can report that the use of FACTORFIVE products continued the improvement of my skin tone, and over all health. The skin feels dramatically soft and hydrated.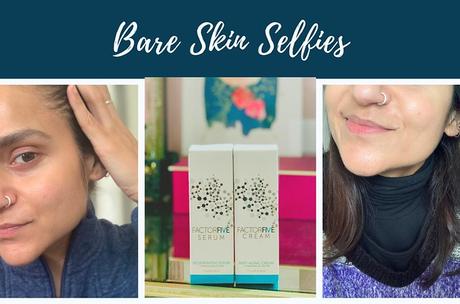 FACTORFIVE

uses biological technologies to change skin at the cellular level and trigger it to act likes it's only twenty years old or younger.
Composed of concentrated human stem cell growth factors and copper peptides, the effective FACTORFIVE serum formula deviates from traditional methods of anti-aging skincare and targets the 5 signs of aging: wrinkles, sunspots, tightness, thickness, texture, and more. The rich anti-aging cream combines powerful human stem cell derived growth factors with a comprehensive array of moisturizing ingredients to leave your skin feeling rejuvenated and youthful.
FACTORFIVE is free from parabens, phthalates, urea, DEA or TEA, vegan, hypoallergenic and never tested on animals.