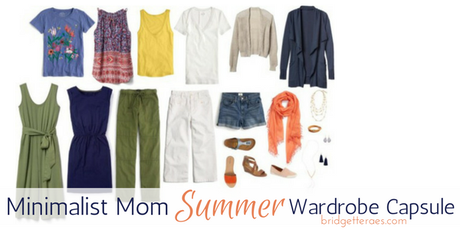 Last season I wrote a post on how to create a minimalist mom wardrobe capsule. It was a success. Many readers got great ideas for their wardrobes and one client told me she bought all the pieces from the capsule for her own wardrobe. Since writing that post, I also got a lot of requests to do a summer version of this capsule.
You don't have to be a mom to benefit from this wardrobe capsule. Essentially, it is a good casual grouping that is easy to dress up or down through the use of accessories and mixing and matching. Let's take a look at the capsule pieces, how I built it, how you can modify it, and all the outfits I put together.
Minimalist Mom Summer Wardrobe Capsule
These are the pieces I decided to use for my summer wardrobe capsule. These are just examples. There are lots of ways you can change it up to your liking. However, there are some things to keep in mind when building your own that I used when creating mine.
Keep your color palette tight
As you can see above, I kept my color palette tight using olive, navy, orange, white and yellow. I chose two neutral colors (navy and olive) as my base neutrals and selected accent shades that work together and with these two neutral bases.
What is also important is that your base neutrals work together. For example, it wouldn't be helpful to create a capsule using black and navy as your base neutrals because they don't work well together. Instead, black and grey or black and camel, would be better combinations because they can easily be paired together.
Build off of a print
A very easy way to create a capsule is to build it from the colors found in a print. For example, I used the printed top to set the direction of the other colors in my capsule. You don't have to use a printed top, you can choose a scarf, dress or skirt. If you don't like prints you can still build a capsule without them. Prints are just like little cheat sheets to make it easier.
Have a variety of shoes and jewelry
What is critical when building a successful wardrobe capsule is having a variety of shoes and accessories. These are the pieces that can change up your outfits from more casual to dressier. You will get more with less and will also be able to change your the look of your outfit without changing the whole thing; a particularly helpful thing when you are a busy mom.
Before I get into the outfits I created from this minimalist mom summer wardrobe capsule is how to modify pieces.
Don't like shorts?
Shorts are either a love or hate. I used them in this capsule because I think they can be practical for moms, even if they are just something to wear when in the backyard with the kids. However, if you hate them you can easily swap them out for another pair of pants, a skirt or a skort.
Jumpsuits
I get it, jumpsuits aren't practical for everyone. After suggesting them for moms on this blog I received a comment that they are the last thing a mom can wear with very small children. This reader told me that trying to use a public bathroom while wearing a jumpsuit and a baby on a hip is a nightmare. So if jumpsuits are a no you can definitely swap it out for another dress or something else you prefer.
Okay, let's get tot he look because I created over 20 of them using just the summer wardrobe capsule pieces above.
Outfit #1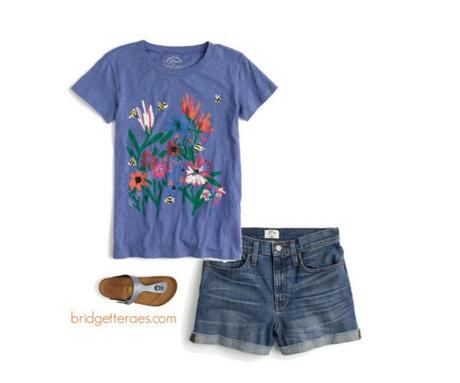 Let's start here with something incredibly basic. This outfit isn't winning any major style awards, but when it is hot and sticky and your kid doesn't want to go inside it can be easy. I styled this J. Crew t-shirt with denim shorts and Birkenstock sandals.
Outfit #2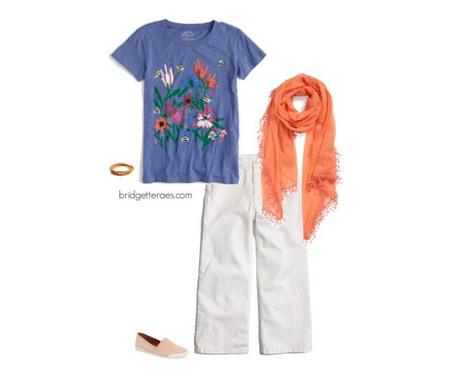 Outfit #3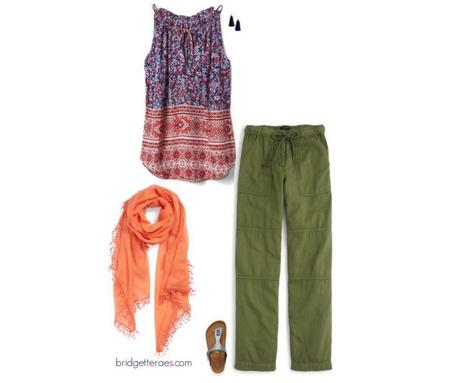 Outfit #4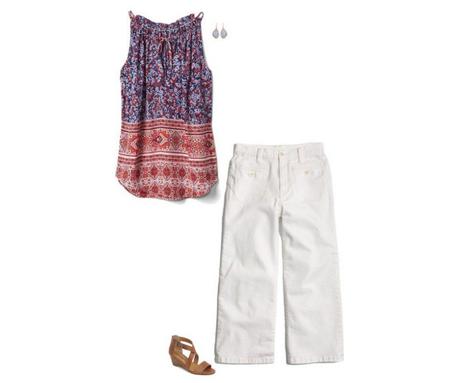 Outfit #5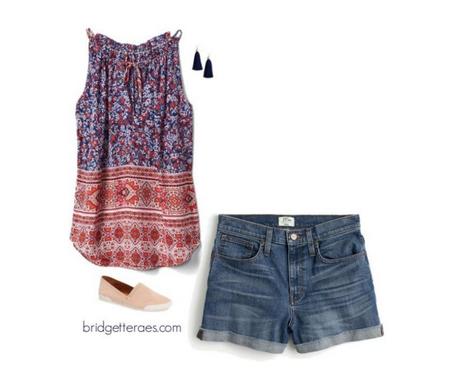 Outfit #6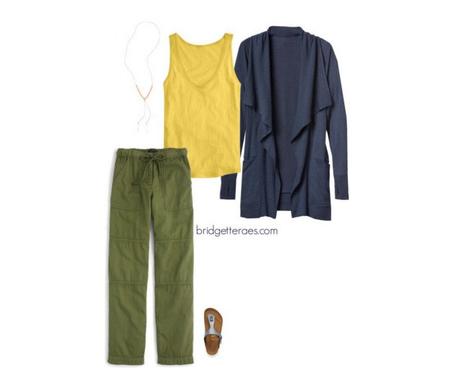 Outfit #7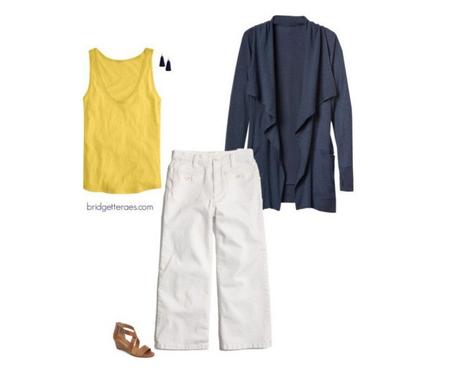 In this outfit I just swapped out the pants for the white pair, added dressier sandals and the tassel earrings to complete the look.
Outfit #8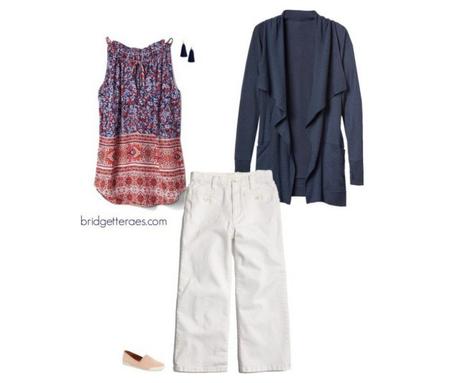 Outfit #9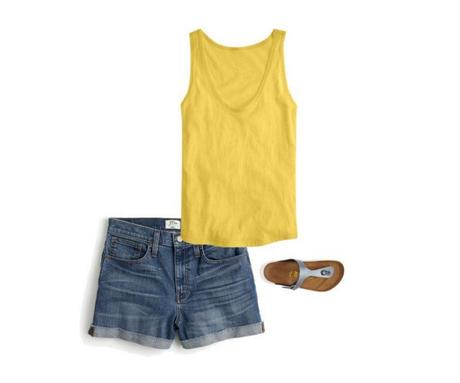 Here I created another super casual outfit using the yellow tank, denim shorts and Birkenstock sandals.
Outfit #10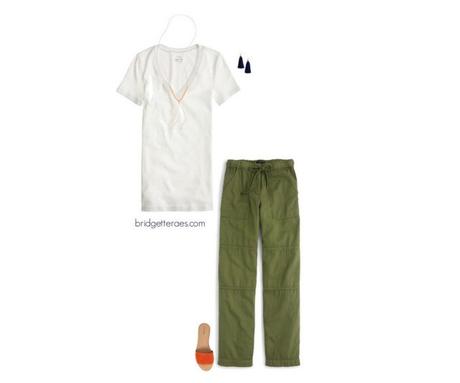 Outfit #11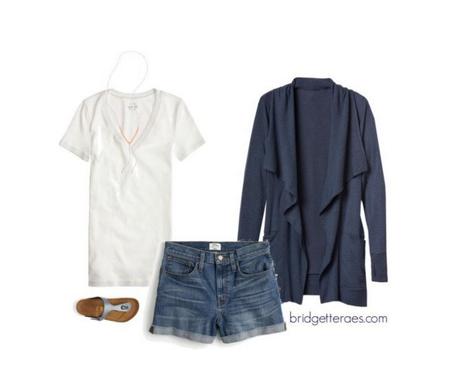 Outfit #12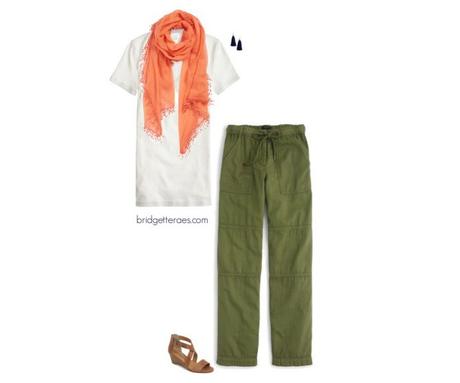 I made these cropped green pants a bit dressier by adding these wedge sandals from Lucky Brand, used the basic white t-shirt and finished the outfit with color using the orange scarf and navy tassel earrings.
Outfit #13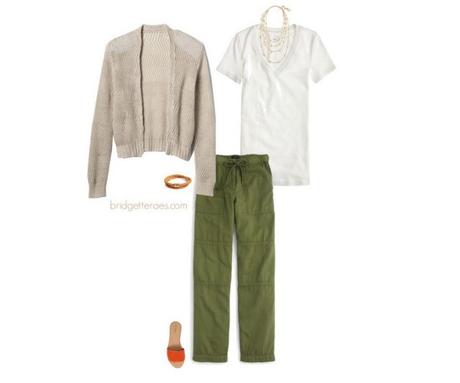 Another elevated look using the white t-shirt and green cropped pants. I added the orange slides, a summer cardigan from Banana Republic, orange leather bracelet and multi-strand necklace from Karine Sultan.
Outfit #14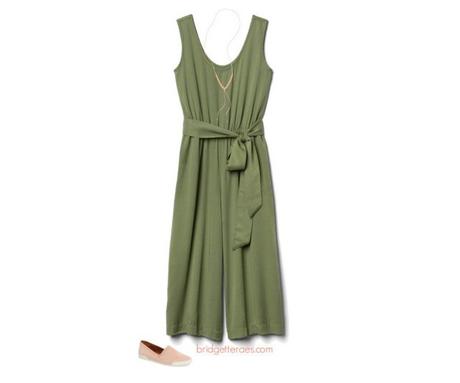 Using this jumpsuit from The Gap I am going to create a variety of outfits. While I mentioned that jumpsuits can be tricky for some moms, if you have that run around a lot, you may find the ease of a piece like this easier than a dress.
I styled this look using the Frye slip on sneakers and long Y necklace.
Outfit #15
Outfit #16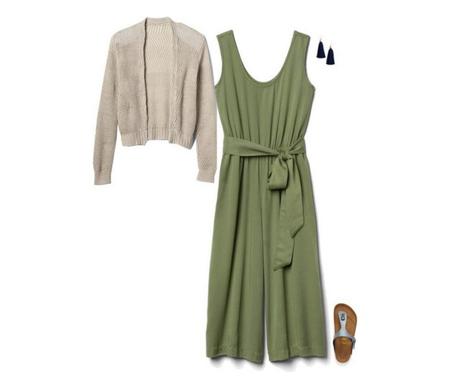 In this look I added the comfortable Birkenstock sandals, navy tassel earrings and summer cardigan to the jumpsuit to change up this piece once again.
Outfit #17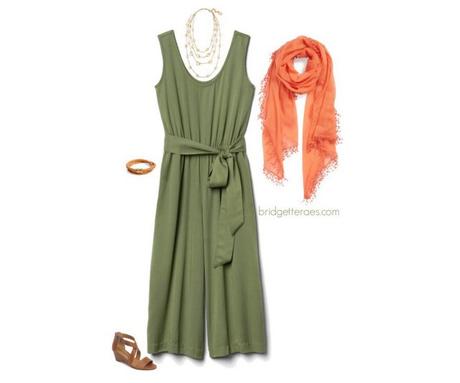 The reasons I like pieces like this jumpsuit is because they are easy to dress up and down. You can wear it casually with the kids but with a few tweaks this can be a great piece for a dinner out, get together with friends, and more.
Outfit #18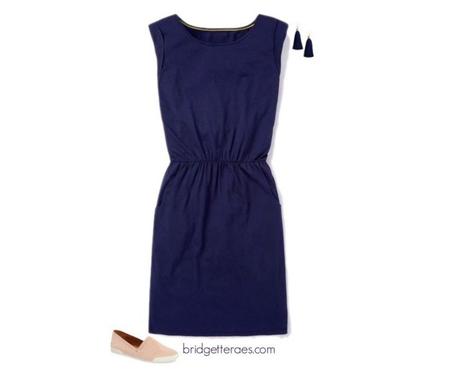 It was important to include a casual summer dress like this. I think every summer wardrobe capsule needs one. I rely on my styles heavily in warm weather for casual and also dress them up with ease. They're typically easy to care for and look smart without a lot of effort.
Using this one from Boden, I styled it for casual days with the slip on sneakers and tassel earrings.
Outfit #19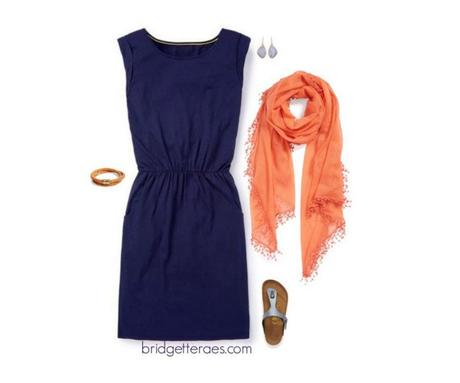 Outfit #20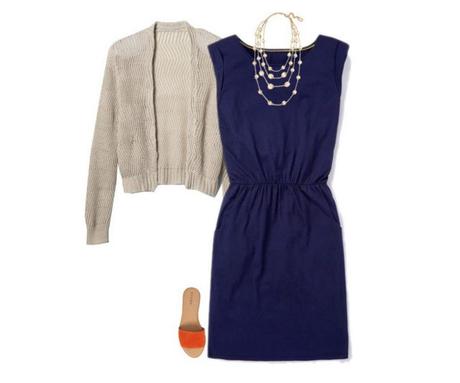 Outfit #21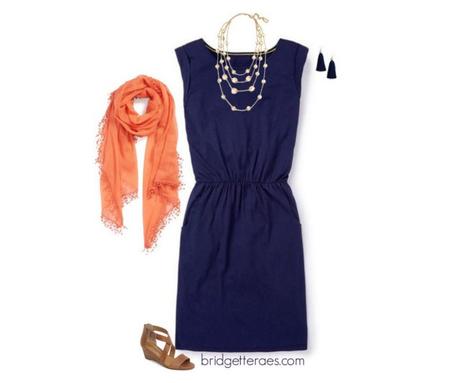 If you follow these tips and outfit examples you'll be able to create your own minimalist mom wardrobe capsule yourself.