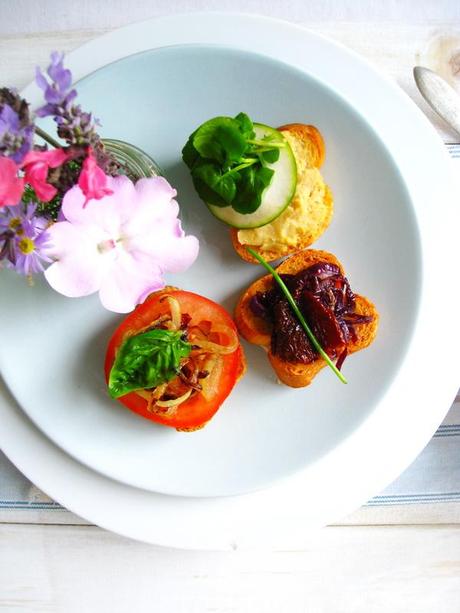 This week is all about Small Bites-Canapes-Mini Tapas, yes!  I felt instantly inspired after buying my usual french baguette for the weekend.
Last Saturday after being treated to a lunch of french toast bread, fresh tomato and Spanish ham sprinkle with olive oil and spinach salad my palate became purely in joy. I actually felt revive by such delightful flavors. 
Days later a mini-tapas party -for two- at home :)
Toasted baguette slices topped with three delicious

vegetarian

topping--

What could be better than this? 
Happy Mother's Day!!! 
Remember to Heart your Mom this week!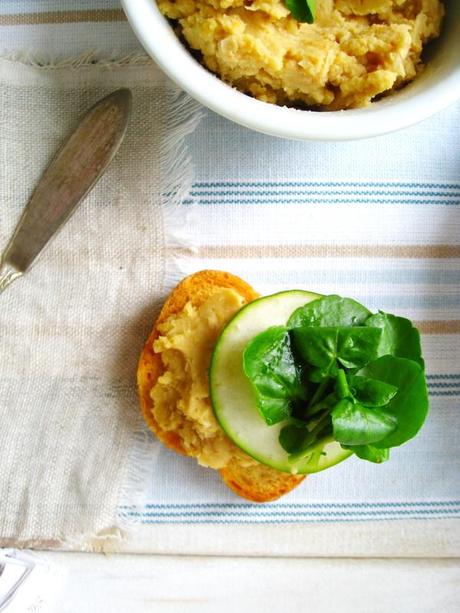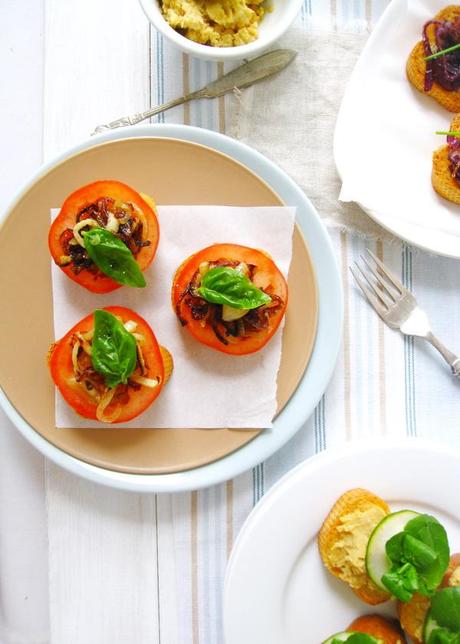 Colorful Bruschettas Recipe
1 French Baguette, Sliced Olive oil Garlic Salt
Preparation:

Preheat oven to 180 C / 355 F .




Brush each slice of bread -both sides-with olive oil and sprinkle with garlic salt. Place slices on a baking tray and bake for 10 minutes or until golden brown.


1-Caramelized Red onion-Sun-dried Tomato and Chives
2 medium red onions Olive oil Salt 1 Tbsp. Brown Sugar Sun-Dried Tomatoes Fresh Chive to Garnish


Preparation: 




In a medium frying pan add oil and onions. Saute for a couple of minutes and add the sugarcook for a couple more minutes or until onions become soft and brown. To prepare the bruschetta simply top with caramelized onion--about 1 tbsp-- add sun-dried and garnish with chives. Sprinkle with salt and pepper.


2-Fresh Tomato- Caramelized Brown Onion and Basil
2 medium brown onions Olive Oil Tomato, cut into thin slices

Fresh basil to garnish




1 Tbsp. Brown sugar




Salt




Preparation: Same as 'above'.


3-Chickpea Pate-Cucumber and Watercress Salad
1 1/2 C. Chickpeas, cooked and drained 1 Garlic clove 1 Tbsp. Balsamic vinegar  4 Tbsp. Oil 1 Tsp. water Salt to taste Cucumber Slices Watercress
Preparation: In a blender or food processor add chickpeas, garlic, vinegar, oil, water and salt. Process until smooth and creamy. Keep in the fridge until ready to use.

To prepare the bruschetta simply spread with chickpea pate, top with cucumber slices and add watercress. Sprinkle with salt and pepper.