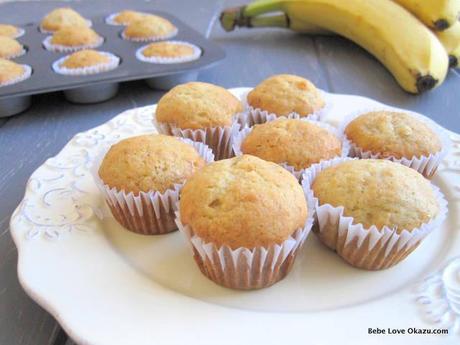 I am really enjoying my daughter's nursery school experience, and honestly I'm not sure who is having a better time: Bebe E or Mama. I was so worried about Bebe E having separation anxiety as she used to cry when I would leave her with my parents, a family friend, or even my husband, but it seems she is growing up.
Since school started last month, Bebe E hasn't shed a single tear when I dropped her off at school. Every time I pick her up from school she tells me she had fun at school. Perhaps its the nurturing teachers, kind parent volunteers, the comfortable classroom with engaging activities and the nice outdoor playground with the view of the ducks nearby.
From a mother's perspective, I am growing to appreciate the community feeling of our little school, getting to know other parents in our neighborhood, and watching my little one engage in activities that she enjoys. Both Bebe E and I are really looking forward to upcoming local field trips with our class and truly enjoying every moment of "our" nursery school journey.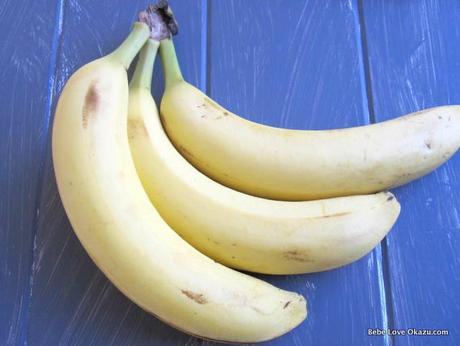 I volunteer at Bebe E's school about once a month and this week my volunteer responsibilities included snacks. Yep, I was the snack mom! Bebe E asked if I was going to wear the yellow apron. I did indeed wear the yellow apron! There are four parent volunteers, each wears a different color apron, but the snack mom always wears the yellow apron. Last month I was the red mom, I think it was, and I was in charge of a craft/activity station, but I learned today that being the snack mom is a bit more laborious. :) I had a great time though.
In addition to my snack responsibilities, I helped the children make music shakers (maracas) at my designated activity table. If you have little ones and want to make music shakers see below. As for the little ghost ring, that came with a special treat from school and Bebe E insisted it be included in the photo spread with her shakers. :) Daddy says the maracas remind him of watermelon and tacos. We laughed over this.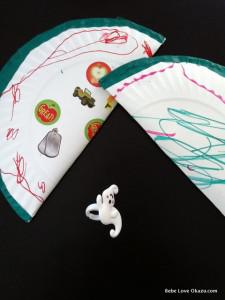 Reicpe for Music Shakers
paper plate
markers, stickers, or crayons
dried beans
stapler
colored masking tape
1. Decorate bottom of paper plate (this will become the outside of the shaker). Fold the plate in half.
2. Staple the edges of the paper plate together forming a semi-circle (I call it the pita pocket since that's what it resembles) but leave a 2 – inch opening so your child can put the beans inside.
3. Staple the opening close. Cover the staples with masking tape. Voila! Music shakers!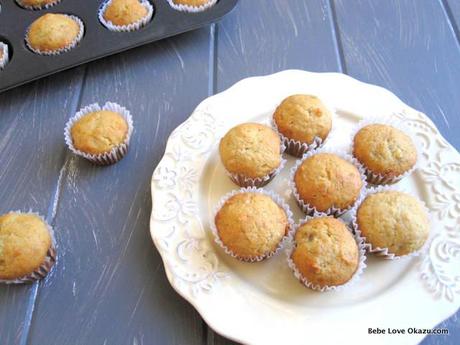 Getting back to today's snack, I brought string cheese (the protein), orange slices (the fruit), and the mini banana muffins (the carb) you see above. These muffins were a special request from Bebe E. She helped me mash the bananas and mix the batter. She's a good helper. :)
If any of you ever wonder what a day in my life is like, this is it!
It was raining today but it cleared up enough so that the children could play outdoors after their snack. After school we headed home for lunch, and as is the usual pattern on school days, Bebe E was exhausted and enjoyed a nice 1.5 hour nap. Sometimes my friends ask what I do during her naps. Usually I pick-up around the house a bit, do some laundry, have a snack, blog, get a head start on dinner prep, or enjoy my quiet time, and yes, if I am exhausted or not feeling well, I'm guilty of napping with Bebe E.
As far as the rest of our afternoon, it consisted of princess dress-up where Bebe E was Princess Aurora, complete with pink dress, tiara, wand, and silver slippers. She pretended she was in a parade with Mickey Mouse and the other princesses while we listened to the music of Beauty and the Beast. After this, she cooked "food" for me in her kitchen, made me tea, and she played with her little doll house.
That's it. A day in my life on a Thursday.
To some, it might be a boring day, but to me, today was rewarding. These pre-school years won't last forever but I'll certainly remember them as one of the best times of my life. AND, never mind the fact that Bebe E unravelled a full roll of toilet paper today (I actually had to hold in my laughter at this when I saw the humongous pile of paper) and got in trouble.  She is still our little princess.
I hope you'll enjoy these banana muffins as much as Bebe E does.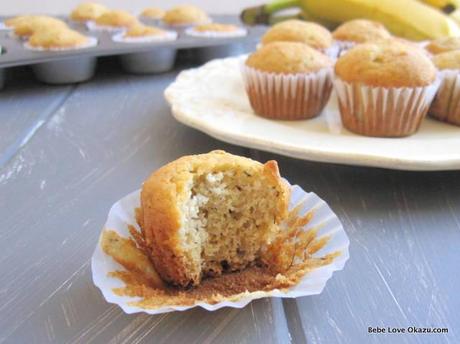 Print
Mini Banana Muffins Author: 
Judy | Bebe Love Okazu
Recipe type: 
Breakfast
Serves: 
48 mini muffins
  Ingredients
1½ cups all-purpose flour
1 teaspoon baking powder
1 teaspoon baking soda
½ teaspoon salt
3 large bananas, mashed
¾ cup white sugar
1 egg
⅓ cup butter, melted
1 teaspoon vanilla extract
Instructions
Preheat oven to 350 degrees F.
Coat muffin pans with non-stick spray, or use paper liners.
In a small bowl sift together the flour, baking powder, baking soda, and salt; set aside.
In a large bowl, combine mashed bananas, sugar, egg, and melted butter.
Fold in flour mixture, a little bit at a time and mix until smooth. (I prefer mixing by hand versus using a mixer).
Using a teaspoon hand-scoop, place batter gently into muffin cups.
Bake at 350 degrees F for 10 to 15 minutes until golden brown. If you are making regular size muffins, bake for 20 to 25 minutes.
Notes Recipe adapted from Allrecipes. 3.1.02