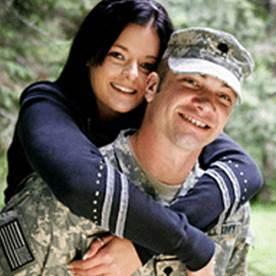 Image: Getty Images
The Friday before Mother's Day (in 2014, May 9) is the day set aside to officially recognize the role of military spouses. President Ronald Reagan started the tradition of Military Spouse Appreciation Day in 1984, and the date was standardized by the Secretary of Defense.
This post is my gift to my fellow military spouses. My husband served for over 20 years in the U.S. Navy, and I know how challenging it is to find and keep meaningful employment when you follow your spouse across the country – or the world – when he or she transfers to a new duty station.
According to the Institute for Veterans and Military Families, ninety percent of military spouses are underemployed, and the unemployment rate for female spouses between the ages of 25 and 44 is 15 percent, more than twice the rate of the general population. Neither number is surprising if you understand military families. Duty station transfers require an enormous amount of organization and energy, and the spouse may have to make moves by herself if the military member is deployed. Often the spouse quits her job early to get things ready for the relocation to the next city. Just ten years ago, only 11 states allowed military spouses to file unemployment claims, since they "voluntarily" left their jobs to follow the military member. Today, 45 states and the District of Columbia allow spouses to file for unemployment based on a transfer. (They must still meet eligibility requirements under state law about hours worked, etc.)
Finally, after she enrolls the kids in their new school, gets everything unpacked and finds the services she needs in a new city, the spouse can turn to looking for a new job. Here are my job search tips based on years of experience and nine transfers.
Take full advantage of online social networks, especially LinkedIn. LinkedIn has revolutionized your ability to connect with people, companies and jobs before you move to your new home base. You can start to follow companies you'd like to work for and connect with people in your industry. In my experience, people are very supportive of military families, and if you personalize your invitation to connect with a message explaining that you'll be transferring soon, you'll get a warm response.
Connect in person with people as soon as you hit town, and diversify your network. Many spouses rely mostly on their military peers for advice and support, but they may not be the best source of job leads. I've written about the power of weak connections before, and I believe that spouses must have a wide and diverse network to be successful. Your next job lead is almost certainly going to come from someone you don't know today. That means you have to get off base and connect with as many people as possible in your new town.
Volunteer in the community, using your job skills. Volunteer experience gets you out of the house and expands your network. It's also legitimate work experience that you can add to your resume to help minimize employment gaps. If you consider volunteer experience to be work experience, it makes sense to volunteer at the highest level you can. If you're in sales, sell memberships or do fundraising. If you're an accountant, offer to help with an audit. If you're a manager, recruit, manage, or train volunteers. You get the idea. You'll be keeping your skills sharp and showing people how talented you are. My best job leads have come from people who met me through community service; it's how I got my job with CareerSource.
I was underemployed for years as my husband's career took us to Boston, San Diego, Virginia, and Europe over the course of almost 20 years of our marriage. Landing in Jacksonville and deciding to stay here after his retirement meant that I could finally build a network and create a career that I love. If you're a military spouse who could use some help in connecting with a great job, let me know.
Here's more information on how CareerSource Northeast Florida can help you connect with your next job.