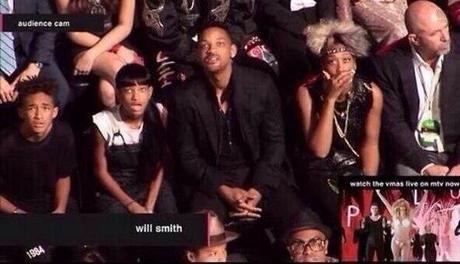 Will Smith's Family Reaction To Miley Cyrus' Performance
People will never forget 2013 MTV Video Music Awards show because of the weird, x-rated performance of the teen-pop star, Miley Cyrus. Singing her new song, "We Can't Stop" Miley Syrus went on to violate all MTV viewers by stripping down her dress and inappropriately using a foam hand while grinding on Robin Thicke.
This immediately started to go viral over the Internet and is trending on all social networks. Redditors are also busy making meme's while Tumblr's are making funny GIF's.
Clearly she seems to be way too high to perform live at the time. Anyway, you can watch the weird thing after the jump.
Get More:
2013 VMA, Artists.MTV, Music, Miley Cyrus
[Via: Mashable / Buzzfeed]
(All the images, trademarks, logo's shown on this post are the property of their respective owners)
Roshan Jerad Perera