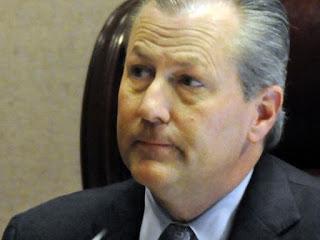 Mike Hubbard
(From USA Today)
The chief attorneys for indicted Alabama House Speaker Mike Hubbard (R-Auburn) are seeking to withdraw from his criminal ethics case.
This turn of events,
first reported by Alabama Political Reporter (APR) on New Year's Eve
, is so stunning that it almost raises more questions than we can even formulate. But we will give it a shot.
As with much that appears underhanded or sleazy in Alabama politics, our attention immediately turns to the Riley political machine, headed by former Governor Bob Riley and largely run by his oily son, Birmingham attorney Rob Riley.
Hubbard faces 23 counts of ethics-law violations, with a trial date set for March 28, and the Rileys have been players from the case's earliest days. Rob Riley reportedly is Hubbard's attorney of record and helped line up the Birmingham firm White Arnold and Dowd to craft Hubbard's primary defense. Now, less than three months from the trial date, the White firm wants to bail out, per a Motion to Withdraw that can be read here.
Attorney J. Mark White filed the motion under seal, but Lee County Circuit Judge Jacob Walker III determined that most of the document would be a public filing. Here are just a few of the questions that quickly come boiling to the surface:
* Will Judge Walker approve the Motion to Withdraw?
* If he does, who will represent Hubbard?
* Will the trial be delayed once again?
* Can Hubbard afford to hire another attorney?
* What led the White firm to seek an exit strategy?
* Since documents show that Hubbard agreed to the attempted withdrawal, does that mean this is just another stalling tactic from the defense team?
Bill Britt, of
ARP,
shines light on some of those questions:
A defense attorney speaking on background said, "A lawyer leaving a case this high profile a couple of months before trial is odd. As a lawyer, there's really only two reasons you would withdraw at this late stage, and you'd need both reasons to justify it in your mind. One, you think you're going to lose. And, two, you're not going to make any more money. If you're not going to make any money off of a losing case, withdrawing may be the best route."
For months, rumors have circulated in the legal community that Hubbard was hundreds of thousand of dollars in arrears on his legal fees. The cost of his representation so far has been estimated at around $1.7 million and counting. Money for Hubbard's defense has primarily come from campaign donations and perhaps a legal defense fund. Hubbard used almost $400,000 in campaign contributions to pay White and his other lawyers.
(I love the quote above from Bill Britt's anonymous lawyer. It shows what many lawyers are all about--winning and making money, not necessarily in that order. Justice isn't even a consideration.)
White seemingly has done little to defend Hubbard, and mostly has heaped embarrassment on the Speaker. White took steps that led to the release of e-mails between Hubbard and Bob Riley. The Speaker came across as desperate for money and favors, even begging Riley for a job with the former governor's lobbying firm.
In
a second set of e-mails
, Hubbard told Riley that he needed to impress the Southeast Alabama Gas District (which was paying him $12,000 a month as a consultant) but was clueless about how to go about it. When Riley suggested one possible tactic, Hubbard almost spewed all over himself, according to an
al.com
report:
"That is a great plan! I will make it happen," Hubbard wrote. "I don't know what I'm doing, Governor, so I'm thankful for the guidance. I'd love to make a splash early."
In another e-mail. Hubbard dispensed with all pretense of dignity and made it clear he has an incurable man crush on Riley:
"I am thankful for my Risen Lord," he wrote to Riley. "Especially today. And also for you – my friend, mentor and role model."
As for who might be left to represent the Speaker, a document filed on his behalf last March lists R. Lance Bell, of Pell City, and Phillip E. Adams, of Opelika, as joining the White firm on the Hubbard defense team.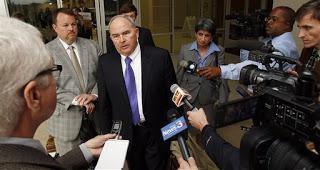 J. Mark White
(From al.com)
But who really has been pulling the strings? According to published reports, that would be Rob Riley. And we've reported that Rob Riley has been extremely nervous at times, especially when the Hubbard investigation showed signs of enveloping members of Team Riley. From a
Legal Schnauzer
post, dated December 16, 2014. The post is titled "
Rob Riley appears to be in desperation mode as Lee County probe threatens the family political machine
."
Members of Alabama's Riley Political Machine appear to be on the verge of panic as a state criminal investigation comes closer to focusing on their unsavory activities.
Birmingham attorney Rob Riley, son of former Governor Bob Riley, reportedly reached out to current Governor Robert Bentley and a sitting federal judge in an effort to derail the ongoing Lee County grand-jury investigation. Our research indicates the federal judge in question is Bill Pryor, who sits on the Eleventh Circuit Court of Appeals but perhaps is best known for nude photographs that tie him to 1980s and '90s gay pornography, via the Web site badpuppy.com. . . .
We strongly suspect that Rob Riley and Pryor have collaborated on dubious activities before, including my unlawful arrest in October 2013.

At least one investigative journalist has reported that Pryor essentially serves as a "fixer" for conservative interests represented by former Bush White House strategist Karl Rove. The journalist reports that Pryor's ties to gay porn are well known among Republican factions, and they use that knowledge to essentially blackmail him into making sure key cases turn out in their favor.


Would a sitting federal judge actually interfere with a state criminal probe? When you are talking about Bill Pryor, the answer probably is yes--and it's likely that Rob Riley knows that.
How does a greasy lawyer like Rob Riley operate? We provided insight on that issue in late 2014, with assistance from Bill Britt:
In an article released yesterday, titled "Is Conspiracy At Play To Thwart Justice in Hubbard Case?" Britt reports that Rob Riley and others are taking extraordinary steps to undermine the investigation. At the heart of the scheme is a game of legal musical chairs, with Rob Riley and Bill Baxley representing multiple clients in an apparent effort to use attorney-client privilege as a way to get inside information. Writes Britt:
"The public face of Hubbard's legal team has been J. Mark White, but the attorney of record is, and has been, Rob Riley. This was confirmed by Riley's office. It is believed that Riley is the one who suggested that White represent Hubbard and that Baxley defend (former State Sen. Barry) Moore."
Is the White firm's effort to withdraw part of a plan designed to leave Hubbard hanging by his fingertips off a cliff, like Wiley E. Coyote, as the trial date approaches? Is the plan designed to help the Rileys get off with a freebie, while Hubbard takes a long fall and crashes in a cloud of dust at the bottom of a canyon?
Will Mike Hubbard, as he twists in the wind, continue to see Bob Riley as his Lord and Savior . . . I mean, his mentor and role model? Or will Hubbard come to his senses at the 11th hour and realize the Rileys have been his enemies, not his friends, throughout this process?
Maybe it's time for Mike Hubbard to turn the tables and spill his guts about all the ugly Riley secrets he has kept under wraps. The Rileys are probably assuming that Hubbard will not be smart enough to figure this out--or bold enough to take action against them.
Will they prove right about that?