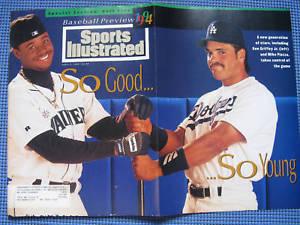 It was no big surprise that both Ken Griffey Jr. and Mike Piazza were elected to baseball's Hall of Fame yesterday.
Of the 440 votes cast, Griffey got all but three. He broke Tom Seaver's record for the highest percentage of all-time, with 99.3%. I'm sure the three who didn't vote for him have good reasons for not putting him down. (I wonder if any of them kept him off with the idea that he was such a lock to get in they kept him off so they could vote for someone else not getting enough support. This happened a few times last year, and there's a great way to avoid this. Make the number of candidates you can vote for unlimited.)
On social media yesterday, I saw more than one knucklehead suggesting that those three voters who left him be stripped of their voting privileges. Why? They did nothing wrong, and violated none of the voting bylaws. Almost no one gets 100% of the vote in any election, unless you are Kim Jong Un.
Mike Piazza received 83% of the vote, and becomes the second Mets player to enter the Hall.
Jeff Bagwell finished third, with 71.6%. He came up just 15 votes shoprt of enshrinement, should be elected next year. Tim Raines was next with 69.8%, and has an excellent chance next year as well.
Trevor Hoffman had a strong first ballot showing, getting 67.3% of the vote, and Curt Schilling was right behind him. His support grew by over 13%, and he finished at 52.3%.
The Steroid Boys, Barry Bonds and Roger Clemens, both increased their totals by more than 7% over 2015, but still have a long way to go. They both have six years left on the ballot, but neither cracked the 50% margin.
Old Friend Nomar Garciaparra got only 8 votes, or 1.8% of the vote on his second go-round, so he will no longer be considered by the writers.
Here are the complete vote totals from Wikipedia.
Griffey and Piazza will be inducted at Cooperstown on July 24th.