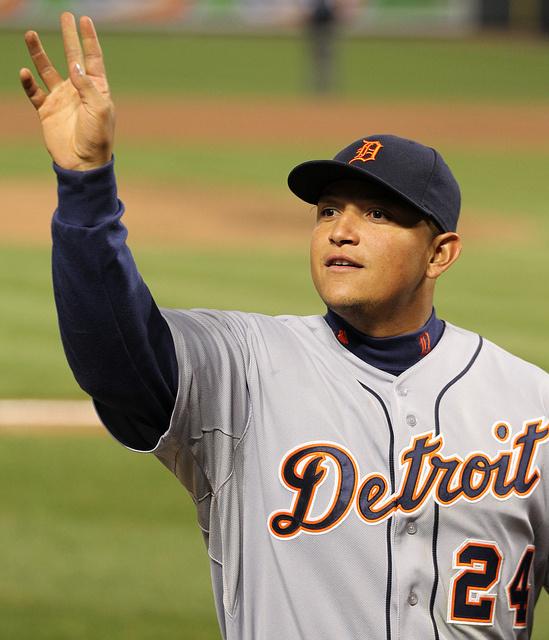 Miguel Cabrera (Courtesy of Keith Allison on Flickr)
The Baseball Writers of America caste a decisive vote for the 2012 MVPs, and they nailed it. Miguel Cabrera and Buster Posey were  hands down the best players in their respective leagues. Whether you agree with it or not, sometimes it does matter whether the candidate's team made it  to the playoffs or not. It didn't matter this year. Cabrera and Posey were just that far above the rest, not only statistically speaking, but what they meant for their teams as well.
Let's start with Mr. Triple Crown in the American League. Some say that Cabrera winning the first Triple Crown since 1967 shouldn't factor into the MVP vote. That notion is preposterous. The fact that Cabrera was good enough to lead the league in home runs, RBIs and batting average is simply astounding. Oh and by the way, he also led the league in slugging, OPS, and total bases. What more do you want from the guy? He's been the most consistent hitter in baseball the past eight seasons, and this year he was simply the best. He not only has earned this MVP award, but he deserves it. Sorry to the Mike Trout lovers out there, but the vote wasn't even close. Cabrera received 22 first places votes compared to Trout's six. Not only did Cabrera play in 161 games for the Tigers, but he was their best hitter when they needed him most. He batted .420 with two outs and runners in scoring position. Trout on the other hand hit .286 in the same situation, which is respectable but not close to Cabrera. The case for the 2012 AL MVP is closed, and the rightful winner has been chosen.
The voting for the NL MVP was even more decisive, with Posey beating out Ryan Braun in a landslide. Posey's performance this season, coming back from a broken leg, is not just good news for the Giants but good for baseball as well. He is one of the great young talents in the game today and is well-deserving of his MVP award. Posey led all of baseball with a .336 batting average, an incredible feat for a catcher as he is the first in 70 years to do it. He also led the NL in OPS+. Yes his 24 home runs and 103 RBIs contributed to the Giants' success this season, but what makes him so valuable are the intangibles. His ability to call a game and be the leader in the clubhouse are qualities invaluable in a player, especially for a catcher. Of course the Giants have one of the best pitching staffs in baseball, but not enough can be said of Posey being that staple out there every night behind the plate. He earned every single one his 27 first place MVP votes.
Thank you, Baseball Writers of America, for getting it right this season.