As the summer solstice approched, I was inwardly lamenting that New York didn't have anything like Paris' annual 
Fête de la Musique
. And then I discovered that, actually, it does: the local chapter, so to speak, is called
Make Music New York
. Although considerably smaller than the parent festival, it's a similar composite event: free
music performances in a variety of genres almost as great as its variety of locations. So, on Tuesday, the Beloved Flatmate and I enjoyed 
great Vietnamese sandwiches
, and heard ukuleles in Washington Square Park, harmonicas on Lafayette, and a rock band on MacDougal Street. We also discovered that bohemia is alive and well in a cafe called L'Orange Bleue (I couldn't help humming "Momus! Momus! Momus!" under my breath.) Predictably enough, though, my favorite part of the afternoon was a clever collaborative program by members of
Amore Opera
and the
Art Song Preservation Society of New York
. Admirably engaged with their appreciative audience, their presentation assumed that their shifting crowd of listeners might not know either the operatic or art song repertoire well, but would be perfectly capable of enjoying it. And we did!
Due to academic obligations, alas, I wasn't able to arrive at the beginning of the event, taking advantage of (and contributing to) its informal nature by wandering in (or rather, purposefully speeding in) late. I followed the sound of opera from the entrance of Tompkins Square Park, and what should I find but Sophie and Octavian (Melissa Gerstein and Courtenay Schowalter) singing about
Zeit und Ewigkeit in einem seligen Augenblick
. And if that's not a good omen I don't know what is. This was followed by 
La Toya Lewis
 delivering "Allerseelen." I was hugely impressed by the rich creaminess of her tone, and scarcely less so by the fact that she accomplished an elegant delivery of this introspective, bittersweet
Lied
 directly after arriving from the subway.  The program's whimsical title, "Aria vs. Art Song Smackdown" (!) turned out to refer to an interesting organizational strategy: alternating selections from each genre within the oeuvre of each featured composer. By the time I arrived, the audience, it seemed, had already received a number of tidbits of information about characteristics of art song and aria; after each composer's music had been heard, a vote was taken as to which genre was preferred within their work. The half a dozen or so small children in front of me were among the most vociferous voters, though the audience as a whole seemed responsive.
R. Strauss was followed by Gershwin (Porgy & Bess,) Verdi, Wagner, Mozart, and Bellini (I missed Barber and Donizetti.)  The small children in front of me danced to most of it, and successfully begged not to be taken away to supper before "Niun mi tema." Each of the singers gave a small introduction to the context and content of their arias; in the case of the art songs, context and background, e.g. "This is Verdi's setting of Marguerite's prayer from Goethe's
Faust
, very popular with nineteenth-century composers," or a description of the Wagner/Mathilde Wesendonck relationship. These were delivered not in a sententious, lecturing manner, but with vivid enthusiasm. Too often I've heard similar introductions given in a pleading manner, as if trying to jolly the audience into trying the musical equivalent of castor oil. Here there was no talking down to the audience, and the implicit assumption that of course we'd find it engaging because... well, who wouldn't be engaged by the stories of Zerlina, or Otello, or Cherubino, or Elvira?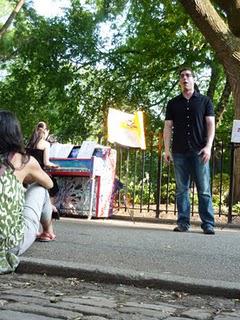 Adam Juran, "Io l'ho perduta... Io la vidi"
Also impressive to me were the rep choices. I didn't get the impression that my fellow audience members would have sighed inwardly at being served chestnuts of the operatic canon, but I was thrilled to get to hear Don Carlo (with recitative, no less) instead of the Duke of Mantua.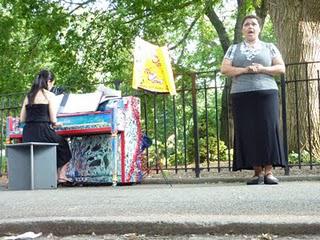 Michelle Pretto, "E Susanna non vien... Dove sono"
The Beloved Flatmate and I grinned at each other during the intro to this one, and our anticipation was not disappointed. Pretto's vividly acted, beautifully sung Countess was a treat to which the audience responded with enthusiasm. More of Rosina's saucy determination was visible here than I sometimes see in the Countess; I liked it.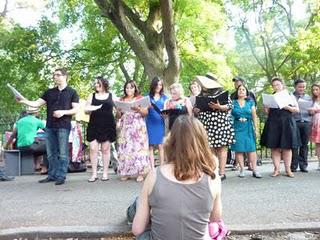 "Libiamo..."
Another courageous offering was "Niun mi tema" from Benjamin Sloman; perhaps without some of the subtlety or intensity that would come with a full performance, but compellingly sung, with a fierce dignity. Elizabeth Mondragon, who delivered "Come scoglio" with defiance and generous 
fioritura
, is another singer I'll be hoping to hear more of. After many musical delights, then, things were joyously concluded with a lighthearted rendition of
La Traviata
's Brindisi, with audience participation for the chorus part optional but encouraged. ("You'll know it. Trust us. It's in pasta commercials.") Needless to say, I took one of the proffered copies of the sheet music, and joined in with a will. "Perfect transition to the next part of the evening!" said the Beloved Flatmate. Indeed. And also a great introduction to two institutions, and a number of singers, from whom I look forward to hearing more.