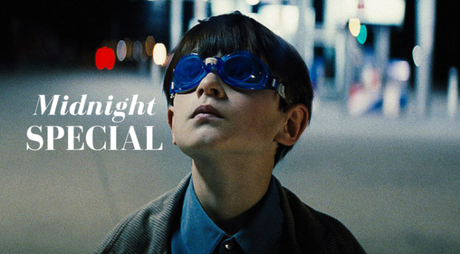 Review: Jeff Nichols' Midnight Special might, in the surface, look like a cat-and-mouse family thriller; only it is not. In his fourth film, Nichols combines a great volume otherworldly force (similar to Nichol's Take Shelter) and a serious parenthood issue (as in Mud), crafted into his usual 'small' slow-burn sci-fi. As a lite version of Spielbergian family blockbuster; it sometimes alienates the audiences, but it mostly holds them close with a full pack of mystery.
Mystery is an essential part in Midnight Special - the whole plot is moved by layers of it. Mystery revolves around a father, Roy (Michael Shannon), and his friend, Lucas (Joel Edgerton), as they're on the run while protecting Alton (Jaeden Lieberher), Roy's gifted son from a religious sect and the govt, which pursue him with their own agenda.
From the beginning, Midnight Special reveals too little information for audiences to fully grasp the reason why Roy and Lucas are on the run or why Alton is wearing blue goggles. The more we delve into the story, the more questions embark as Alton's inability to tolerate sunlight or ability to hack police radio communication.
The further the party runs, the more new characters introduced on-screen, the more obscure it's been. That's the best part of it. From Adam Driver's geeky NSA specialist to Sam Shepard's cult leader, then straight to motherly Kirsten Dunst; each probes new questions. Yet, the epicenter of this film is the father-son relationship, which slowly untangles the web of oblivion.
Only through Shannon and Lieberher's quirky bond, audiences get real picture of what has happened in Midnight Special universe. Nichols as writer-director has put the audiences into Edgerton's Lucas' shoes along with his confusion, only to gradually unravel answers delightfully.
The delight of solving Midnight Special puzzle-board from pieces to pieces might compensate the lack of action sequences in this non-comic-book super-human origin story. There's indeed a visually perplexing burst of action, a most notable one, where Alton uses his supernatural power to bring down a satellite and causing a meteor rain to neighboring gas station. As much as the visual bravura and optimum use of lens flare (for the first time I saw lens flare moves the plot, instead of being visual gimmick) might ensure the sci-fi degree at high, Nichols tends to keep the super-human factors at limited exposure, and highlight a more human approach as its main enjoyment.
However, Midnight Special is never been flawless. It's indeed thoroughly crafted in revealing answer by answer patiently; yet, Nichols' decision to keep some of it open-ended might be unlikely to casual audiences. Moreover, the underwhelming third act really is a letdown in concluding the terrific built-up.
Midnight Special often fails to hit the right spots, but it compensates the issue with thorough writing and directing as well as stark performance delivered by the ensemble of cast.
Midnight Special (2016)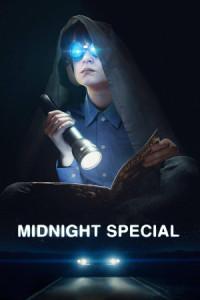 Adventure, Drama, Sci-Fi Written & Directed by: Jeff Nichols Starred by: Michael Shannon, Joel Edgerton , Kirsten Dunst, Adam Driver, Jaeden Lieberher Runtime: 112 mins Rated PG-13