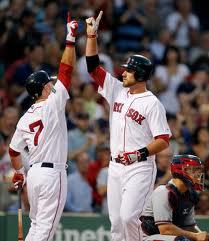 As the Kevin Youkilis trade rumors continue to swirl, Will Middlebrooks continues to impress at the bat.
His third inning home run was among three hits he had against the Braves, and it was ninth on the season. He is now an amazing 10-for-his last-14. Dustin Pedroia appears to be busting out of his slump, as he had three hits and two RBI, and Daniel Nava had two RBI as the Red Sox coasted to an 8-4 win over the Braves.
Franklin Morales gave the Sox six good innings, struck out eight and walked one, allowing two earned runs. Alfredo Aceves pitched a 1-2-3 ninth to lock down the win.
The Sox have now won 8 of 10, but gained no ground on New York, who beat the Mets last night. The Sox remain 5 1/2 back, tied with Toronto for fourth.
Aaron Cook comes off the DL today to make the start in place of Clay Buchholz, who maybe heading to the DL with an undisclosed illness. Let's hope that's not the case, as the Red Sox don't need any more pitchers/players occupying a DL slot.