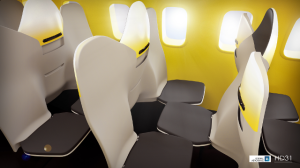 The middle seat. Just about nobody likes it. It's virtually impossible to get comfortable. Of course, you could argue that no seats on the plane are comfortable, with the exception of the legroom-friendly emergency exit row seats.
But, the middle seat takes the cake.
You're wedged between two people, possibly both strangers, with a limited view of the window and having to ask your row-mate to move to get out of your seat. If you're stuck between two strangers, you may even feel like you can't move out of fear of impolitely bumping into them or stealing their arm rest.
Frighteningly, that middle seat may be about to get worse. Or at least weirder.
A new patent by Zodiac Seats France shows that airplane seat manufacturers may be heading backwards, with backward-facing middle seats situated between two other people who are facing the front of the plane.
This potential seating arrangement, being called "Economy Class Cabin Hexagon," is designed to increase airplanes' capacity without reducing your personal space, or what little space you already have. Reports are stating that this Hexagon design can add up to 80 passengers to a typical Boeing 767, depending on the layout.
Aside from simply looking a bit confusing and outlandish, if you're stuck in the middle seat, you won't just be staring at the back of the seat in front of you – you'll also be making eye contact with your row-mates.
If something looks like it's missing in the picture of what could be the future of airplane economy seating, you may be right. This new design doesn't appear to include arm rests. Rather than viewing this as a negative, the company behind the design boasts that the new seating arrangement eliminates those dreaded elbow fights.
This new idea for seating may not be all that bad for you though. If airlines can utilize it, they can fit more travelers on their flights, which could cause ticket prices to remain steady.
But, when it comes to your space and flight experience, these seats increase the amount of space for each passenger's shoulders and arms by creating an overlap in shoulder areas of adjacent seats.
And, as for your legs, the design offers 4-inches of added leg room. Overall, the design claims to increase room between seats by 15 percent.
To make getting in and out of these rows convenient, the design features flip-up seats, similar to the ones you see in movie theaters.
Will it work? Who knows? Will it be more comfortable? Maybe you get more legroom, but the idea of being eyeball-to-eyeball with the person at your shoulder seems a little… well… uncomfortable.
Photo from Zodiac Aerospace.