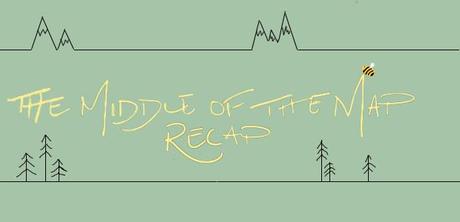 Graphics Olivia Angst/Photos Austin Pulliam
Now in its 3rd year, Middle of the Map has expanded into 3 consecutive weekends of music, film, and panel discussions, utilizing 5 venues and 1 centralized outdoor stage area, all co-presented by local weekly Ink Magazine and Kansas City music label The Record Machine, as well as Alamo Drafthouse and local radio sponsors. It's a spectacular and vibrant local event that truly is putting Kansas City on the culture map.

Weather: If you want the weather to turn sour, organize a music festival. The temperature dropped to unseasonable lows early the first day, but fortunately conditions improved little by little as the weekend progressed. With most of the events taking place indoors, there was less reason to worry about evading roving tribes of "mud people"
Food Options: Not enough food trucks! There were actually *fewer* meals on wheels than nearly any given weekend in the Westport area of Kansas City, which also hosts entire festivals solely devoted to airstream cuisine throughout the year.

Best All-Around Performance: Those Darlins – The Nashville band's throwback garage-pop filled the intimate setting of the Riot Room's indoor stage, providing a perfect close to Friday night's festivities with head-bobbing, toe-tapping tunes as lean and tight in composition as they are rough-and-tumble in a live setting.
Pleasant Surprise: Gary Numan – The new-wave godfather turned goth-industrial powerhouse songs hit like sledgehammers to an audience full of trenchcoats and tophats. It was, however, equally enjoyable to casual fans — even upstaging the new crop of keyboard-heavy "chillwave" indie rock acts playing in competing timeslots.
Best Costumes: Of Montreal / Reggie & the Full-Effect / Peelander-Z – How do you choose between the costumed theatrics of Kevin Barnes, James Dewees and neon Japanese super-heroes Peelander-Z? There were dia de los muertos flower-children, blood covered nuns and skeletons and high expectations for everyone's favorite giant lizard to come stomping out on stage at any given moment.
Best Dance Party: !!! – Frontman Nic Offer has the moves, and he's not afraid to share them. He gyrated through the crowd while his bandmates put down a tight set of party jams, stirring even the most cross-armed "over-it" sticklers into an uninhibited frenzy.
Best Mood: The Tontons – The Austin four-piece plays a buzzworthy blend of indie rock, bluesy soul, and post-punk. Led by confident singer Asli Omar, whose sultry vocals leave audiences stunned in their wake, the band was impressive even on a self-described "off night" from their road-weary touring.
Most Underrated: Jack Oblivian – The frontman of Memphis garage rockers The Oblivians played a late Saturday set backed by a rousing trio of young rabblers raised on his music and clearly proud to be supporting their idol. Granted, it wasn't all hero worship — they kept their light humor intact as they waxed about important matters like the regional differences in BBQ.
Most Over-Crowded: Shabazz Palaces – Headlining a showcase of mostly local-hip hop on the Riot Room patio, Shabazz Palaces was also an exception to the festival's otherwise clock-work scheduling. The audience packed into the small smoking patio in anticipation of the show, but their late arrival meant many had no choice but to leave in order to catch other acts without experiencing the groups pioneering future-funk.
Best Reunion: The Get-Up Kids – Local heroes and emo stalwarts The Get Up Kids officially broke-up in 2005, though they reunited just four years later to tour in support of the tenth anniversary of their landmark Something to Write Home About and released an album of new material in 2011. The whole band appearing live together, and sharing a bill with bandmate James Dewees' Reggie and the Full Effect, though, is still a special occasion, especially in their hometown.
Best Locals: Josh Berwanger Band – The former frontman of The Anniversary has taken detours into punk, power-pop and alt-country, but his current outfit plays a sugary sweet concoction all their own. With Heidi Gluck lending impressive guitar and back-up vocals, it makes it all the more powerful.
Best Stand-In: Noise FM – Local boys made good and current Chicago transplants the Noise FM were originally scheduled to play early Saturday afternoon on the outdoor stage, but a last-minute cancellation led to the opportunity to play an additional more intimate set at the Riot Room Friday night, where the band pulled no punches and left the crowd hungry for more.
Best Cover Song: Kishi Bashi / Peelander-Z – This was a close one, but it comes down to either indie rock violinist Kishi Bashi closing his captivating and lively set with a spot-on cover of "Whole Lotta Love" by Led Zeppelin or Japanese "action comic" superheroes Peelander-Z offering energetic covers of "Girls Just Wanna Have Fun" and "All the Young Dudes" (moments before pulling Kishi Bashi on stage to join the fun, letting him shred on a bright yellow flying V guitar).

!!!








Cowboy Indian Bear








Gary Numan









Jack Oblivian



Josh Berwanger Band





Kishi Bashi








Mime Games




Noise FM






Of Montreal












Peelander-Z




Psychic Heat








Small Black







Snowmine









The Get Up Kids











Tontons







William Elliot Whitmore