HOUSEKEEPING: Wednesday's Mid Day update will also be the weekend newsletter. Markets are closed Thursday and only open a half of day on Friday. If we do anything Friday it would be a walking away/ locking gains type of trade. We'll be monitoring things in the morning a bit and if we need to do anything you'll hear about it. Might be best to monitor your email if anything that morning. 
So Far So Good – TESTING TESTING TESTING In a morbid sort of way today's action is exactly what you want to see. BIDU's one minute chart shows exactly what we want to see develop from here.  And as I post I must say that is exactly what we are seeing currently.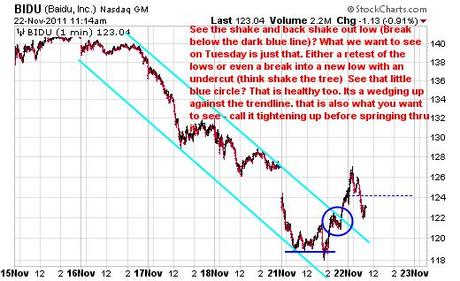 There are three things we want to be on the lookout for from here in the short term. all three can be found in the BIDU chart above. 1. Retest of lows and bounce away from (think micro double bottom).  (12:05 EST. YEP we're seeing that now too in some indexes. See one min charts below) 2. Retest of lows with a shake and bake undercut to shake the tree of more weak holders. Which is what we are getting here.  ( 12:05 EST. Yep, saw that a few minutes ago in some indexes and AMZN. See one min  charts below)  To see us retest the lows is actually healthy.  Because we need to see how strong these lows actually are. Call it a back to the scene of the crime if we are going to make a run to trend channel resistance. 3. Then An upside break of the mini pink channel after a tightening up along it.  Which is the blue circle in the BIDU chart above.  Call it Testing Testing Testing for A low, notice I said A low not the low? We won't know for a bit if these are going to be any sort of lasting lows till after we attempt a rally.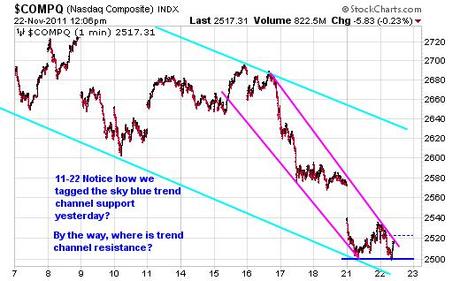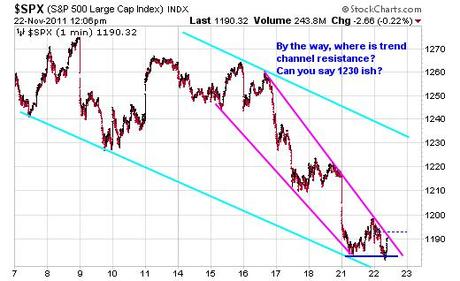 The game plan for the day is to again do nothing but sweat it out in here AFTER we've already sold off hard the last few days.  If anything the name that most has my attention is that of NUS on the longside