When I look at the short term index charts I key in on two things that makes me want to stay away on the longside today.
1. Closer to trend channel support
2. This could be a 4th wave (Red D)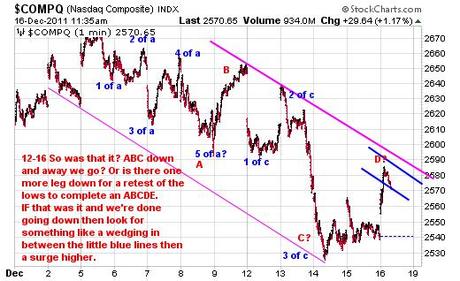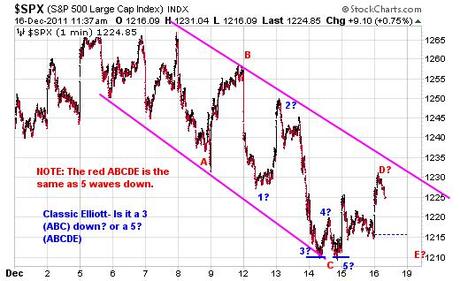 If true?  We've got one more trip to a retest of the lows for a 5th wave down to complete this pattern.  That is unless? Unless it was a 3 (Red ABC) down affair and that's it here comes Santa Claus.  Lets get to that last half hour shall we? Its just a really hard call right here. The micro charts below say sit back here for a bit BUT the daily charts are right there for a potential crossover.  Here are the daily charts.  Whether one is bullish or bearish doesn't matter, its all about the DAILY CHART FREQUENCY 123 in blue.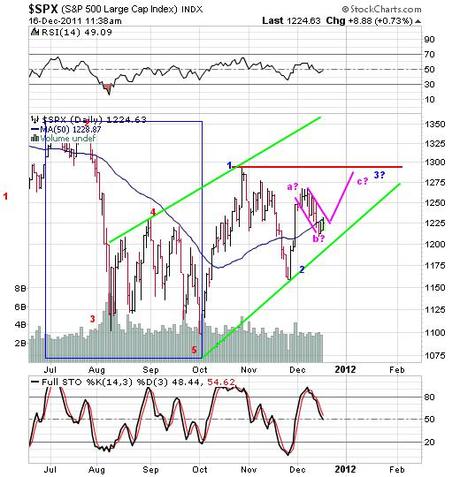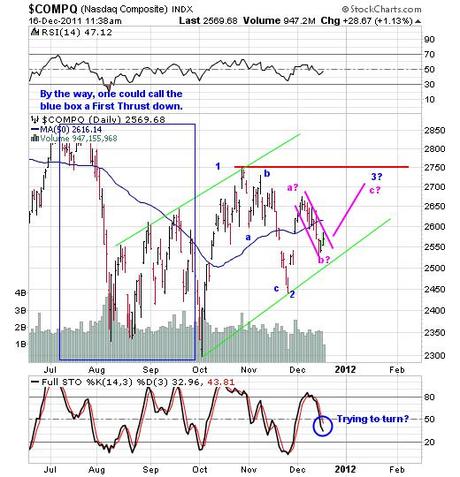 What you'll also notice  when looking at it from a bigger picture perspective is this whole blue 123 could be one big snapback rally. This is why yesterday I said in the shortside section any run could be a last dash higher. Why do I say that?  Just take a look at the chart below and the date of course.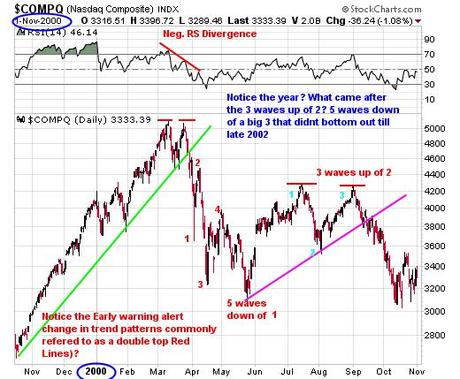 And the rest is history as they say.  So what do we do? Well we hold our long positions for now. What we will also do is WISELY spend this time getting prepared in advance for next year by getting our skills honed in on the short sell patterns we want to focus upon. I mentioned yesterday that we'd look at the bullish and bearish counts but I gotta level with you they really haven't changed.  In my humble honest opinion I'm leaning still towards the best we see is a retest of the  October 2011 highs with maybe an overcut that ends up being a shake and bake shake out high. Should this occur? YES we will be doing Inverse Index ETF's for short exposure for those of you who can not short individual stocks.  IRA folks this applies to you too. As for 401k's?  Nothing wrong with moving out of equity mutual funds for a bit
…