Along with the launch of Microsoft Office 2013, the company introduced a new cloud-based app service, Office 365 that allows users to subscribe to Office apps under monthly or yearly basis. Apparently, they haven't heard about Google Docs.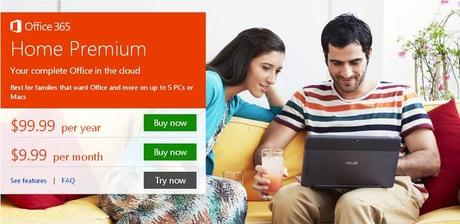 Prices for Office 365 packages varies based on your needs. For $9.99 per month, you can subscribe for Home Premium package and use the same software that you get at a retail store. And it costs $99.99 for a per year subscription. Prices goes even higher for Business packages.
What do you get with a $100/year Office 365  subscription - New Office 2013 apps including Word, Excel, PowerPoint, OneNote, Access, Publisher, Outlook. Which basically has the same features of Office 2010. Ability to use Office on up to 5 PCs or Macs. Ability to work on the cloud and 60 minutes of Skype calls each month.
Tagline on the official Microsoft Office 365 website reads "Best for families that want Office and more on up to 5 PCs or Macs". Well, yeah best for families full of  idiots who are stupid enough to spend $100 every year on this cloud-based apps when they could use the same kind of apps for FREE!
Microsoft Office 365 may be better than Google Docs in some ways, but that doesn't make me wanna pay for it. I still prefer Google Docs over Office 365.  60 minutes of Skype calls and 20 GB SkyDrive space isn't enough to change my mind.

(All the images, trademarks, logo's shown on this post are the property of their respective owners)
Roshan Jerad Perera