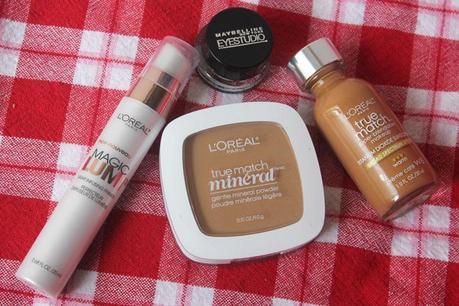 BLOGLOVIN'// INSTAGRAM//FACEBOOK// YOUTUBE//TWITTER//TUMBLR
L'OREAL MAGIC LUMI LIGHT INFUSING PRIMER
Use Studio Secrets Magic Lumi Primer to instantly boost skin's natural luminosity for a more lively complexion that is full of life. Skin texture is smoothed & toned to provide a perfect canvas.(ulta.com)
The last primer I used was like four maybe more years ago and it was the regular smashbox one but I think my skin was in such horrible condition that it wouldn't get along with any primer and I didn't have much luck with it. But currently I can happily say my pores aren't so angry and I'm eager to see how I get on with this one. I've loved the results I've seen on the women using it on youtube and I've heard mostly only positive thoughts on it.
I've only used it once myself and the pores on the sides of my nose had all but disappeared! I'll definitely do a separate post on it as I'm able to test it about more but I have a good feeling about it.
L'OREAL TRUE MATCH FOUNDATION W8 CREME CAFE
Formulated with True Match Technology so you can control coverage and fine-tune it. Ultra-pure formula contains no oils, fragrances, or pore-clogging fillers, so all you see is beautiful, radiant, flawless skin. With Vitamins A and C, wheat germ and grapefruit extract to keep your skin nourished, protected and healthy.(ulta.com)
Had to purchase another true match now with the season change my other one was looking a bit light. This is my favorite drugstore foundation and I used to be such a Revlon colorstay girl but true match is just so amazing. I love how lightweight it is and the coverage is amazing definitely medium to full coverage.
L'OREAL TRUE MATCH MINERAL POWDER SUN BEIGE 
How do your minerals measure up? True Match mineral skin improving powder contains flash purifying minerals to help skin achieve an instant oil-free complexion. Pearlite minerals work instantly and over time to absorb oil and prevent makeup meltdown from heat, humidity, and sweat. The result is a fresh, shine free look all day. After 4 weeks of use, skin appears cleaner and less oily. (ulta.com)
This is a relatively new I think the first time I was it was a couple months ago. Mainly picked it up because there was a buy two get one free. I did need a new pressed powder so we'll see how this goes for me too.
MAYBELLINE GEL EYELINER 
Get the precision & intense color of a liquid liner in a smudgeproof, waterproof gel formula by Maybelline. 24 hour wear.
Have you tried any of these products or hauled any thing recently?