0 Flares
0 Flares
×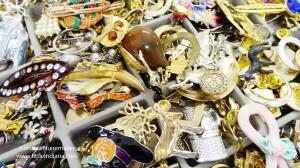 Mick's Flea Market in Gas City, Indiana
Mick's Flea Market in Gas City, Indiana is absolutely full of neat items!
With more than twenty years in the business, you can bet you can find a bit of everything in this Grant County town.
Mick's Flea Market in Gas City, Indiana
You won't know where to head first! There are two floors to Mick's Antiques.
The first floor contains a lot of different vendors. You'll find a table that is absolutely FULL of hats! There's boxes and boxes of comic books that are definitely priced to sell. Salt and pepper shakers like you've never seen before!
Shelves hold knick knacks of old kinds, collectible items, and awesome Indiana antiques. Vintage books, bottles, even a box of baseballs, and another one filled with bats, can be found right here.
Indiana Antique Shop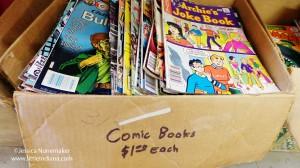 Mick's Flea Market in Gas City, Indiana
Okay, so it isn't necessarily all Indiana antiques–but that is definitely what adds to the appeal of Mick's Flea Market. You just don't know what you are going to find.
Make sure to poke around by the counter. It's located in the middle of the shop and has a lot of neat images of Gas City, Indiana from back in the day. There's some really neat Indiana history there. Don't miss it!
Then? Head upstairs! Located right near the counter, you'll enjoy the gobs of furniture up there. Vintage and newer stuff, there's a whole lot here. This could be another great destination to visit when you are furnishing an apartment for your college-bound kid!
Go There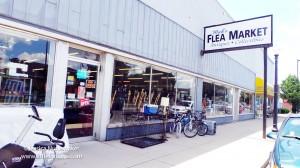 Mick's Flea Market in Gas City, Indiana
It's easy to see why Mick's Flea Market has been around for so long! With stuff that good, well, it would certainly keep me coming back!
I know you'll enjoy it too. Just be sure to give yourself plenty of time to browse! It's a huge, huge shop.
I'm Jessica Nunemaker and THIS is little Indiana!
Find pictures in Indiana on my Flickr photostream or on the new little Indiana Tumblr blog.
Just don't forget to tell 'em that  little Indiana sent you!
Mick's Flea Market
212 E Main Street
Gas City, Indiana 46933
765.677.0281

View Larger Map
Don't miss a moment. Subscribe to little Indiana and receive instant updates to stay on top of everything "little."
little Indiana: Where to Stay, Play, and Eat in Small Towns in Indiana. Discovering Indiana's best small towns! Now get little Indiana on your Kindle.
Targeted. Relevant. Affordable! little Indiana advertising.