Today we share with you "The Art Army Royalty" by Michael Leavitt now open at Jonathan LeVine Gallery NYC.  Michael was born in 1977 in Seattle, Washington, where he is currently based. He studied at Pratt University in New York and Evergreen University in Washington State. His work has been exhibited by galleries in New York, Los Angeles, Seattle and London and published in numerous books and magazines such as TimeOut New York and Juxtapoz.  We spoke to Michael a week before his show about his creativity and using paper as a medium for his work.  Here is a snippet of the interview …
What do you love most about paper? It's cheap, pliable and readily available. It's also quick. Even if it takes a while to elaborate details, you can fill volumes relatively fast with paper. For an old school sculptor like me, it's magic. This makes me think I should be studying more origami techniques to incorporate with my work.

With unlimited budget or geographic reach what is your ultimate art material/materials?  My long-term goals are to do large-scale architecture, outdoor public sculpture, or design playgrounds. Building a theme park from scratch would envelope all of the above. In this way, I love burly materials that tax my body, that are larger than my body wood, stone, metal. I guess I'm just a normal man. Breaking a sweat and a long day of labor are deeply satisfying to my soul.

What is your relationship to paper? How different is working on paper to any other medium. What freedoms does it allow and what limitations?  I relate to paper at its source. I love hanging out in nature and enjoying trees. I appreciate nature aesthetically, but I use paper in my work figuratively. I do a strange re-doubling of itself. I use the products of nature to represent nature. A traditional goal of art is to make things look effortless, as if nature (not humans) created it. Paper is an ideal medium to achieve this goal. It's different from other media because it's so easy to manipulate and acquire. In a way, it's almost limitless. With enough glue, staples and tape you can amass just about anything. The only limitations are pragmatic paper breaks down over time, and it can't get wet!
stay tuned for the full interview with Michael.
Michael's exhibition opened on 10 September 2011 at Jonathan LeVine Gallery (529 West 20th Street, 9th floor; New York, NY 10011. ph. 212-243-3822) and will run through to 8 October 2011.
This group of hand-made action figures depicts the most famous artists still alive today.* No living visual artist today is a household name with even the cache of a reality TV celebrity. If you're familiar with these names, you've participated with a statistical minority known as the 'art world'. If you know none of these artists, you're part of the vast majority substantively disconnected from art. Most could only name a living artist by token-izing a friend or family member.

It can be argued that any Left-leaning commentator satirizing the rich & famous is jealous. Even if unconsciously, they want money they don't have. Yes, the gap between the ultra rich & poor has room to shrink. I also believe in the organic nature of a free market. I'm competitive. I enjoy the value assigned by process of elimination.

The art market is unique from other markets. When the manufacturers die, the products become exponentially more valuable. An artist's family almost never actively produces more of the actual art itself. And since the 1980's, the art market has polished a particularly brazen form of Capitalism. This contradicts most of art's subject matter. The most common non-disclosure: a commercial gallery's standard 50% sales commission. There are also living artists consistently setting sales records nowadays at high end galleries and auction houses. For all the astronomical money trading hands, the most rich & famous living artists are still unrecognizable. This circumstance provided more impetus to elevate this shows' refined portraiture.

Action figures are a traditionally mass-market product. For many, these realistic toys represent a bittersweet mix of pungent nostalgia and corporate marketing. The format is one of several vehicles that have intoxicated children of recent generations with consumer culture at the earliest stages of development. Since the 1950's, fine art has a lush history of satirizing consumer culture. The action figure medium is rarely used to effectively bridge the gap between mainstream commerce and fine art.

"HOW DO YOU DECIDE WHO TO MAKE?"
This show encompasses nearly 3 years of research. "The Art Army" project began in 2002 to journal my personal influences. I don't love many of the artists in this show. This is a testament to the long-running project's healthy evolution and neutrality as a form of important cultural record. I pour every ounce of blood and sweat into everything I do. It's a challenge to spend so much time on biographies of people I don't necessarily like. The Art Army selection criterion usually hinges on 3 major factors, in order: an artist's relevance and historical importance, whether they make for a cool-looking action figure, and their personal influence on me. If anyone has issues with who did or didn't make this show: the highly debated, edited, researched and deliberated list of potential names consisted of more than 100 entries. Those 100+ names are in addition to the ongoing to-enlist docket of nearly 500 names that began with the project's 2002 inception. If nothing else The Art Army reflects one artist's passion for representation in all forms, from figurative realism to anthropological biography and journalism.

"WHAT ARE THESE MADE OUT OF? HOW LONG DOES IT TAKE?"
Despite appearances, these action figures were not manufactured in cheap plastic. Each of these figures is an original one-off sculpture fabricated from scratch solely by Mike Leavitt with no outsourced manufacturing, cheap labor or interns of any kind. The time it takes to make a masterpiece is a magician's secret. If you look at them with the understanding that they're made by hand, it should be clear that they take many, many days. Each is made with polymer clay encasing steel and Styrofoam armatures. Each articulates with moving body parts assembled for mobility with internal elastic cord. They are designed for articulation, a privilege of the buyer to behold (please ask for assistance to demonstrate moving parts). Each is a touch-able toy, an interactive sculpture, an irreplaceable and functional object all at the same time.

*Artists passed during the creation of this show, after their figures had already been made. Cy Twombly died on July 5, 2011. Lucian Freud died on July 20, 2011. R.I.P. to you both."  Words by Michael Leavitt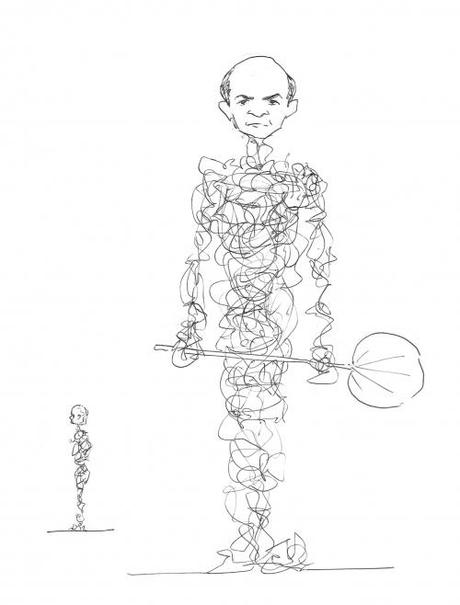 the beginning of the Cy Twombly figurine – a sketch on paper and below the finish product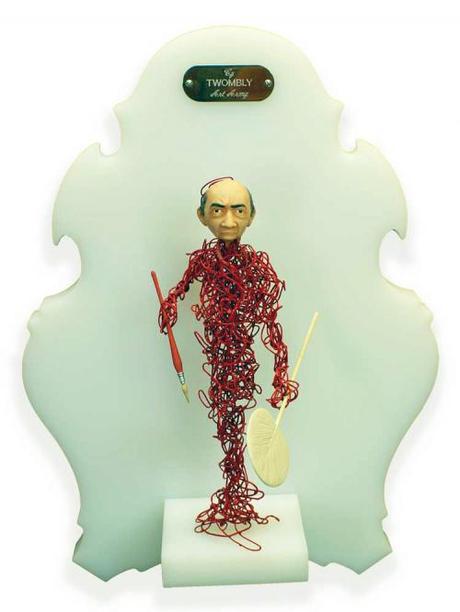 you can view the collection at Jonathan LeVine Gallery