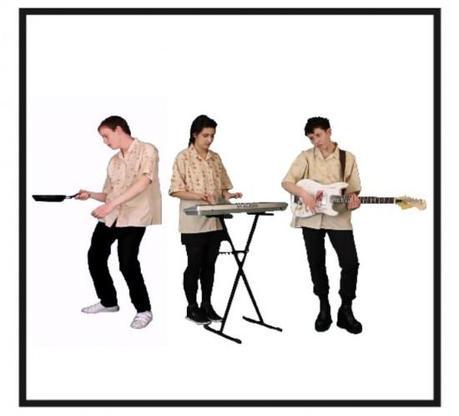 Fresh off a tour with Animal Collective and last Saturday's canceled show at Williamsburg Park, Micachu and the Shapes (@m_a_t_h_e_s) headlined Le Poisson Rouge on Monday night. The first thing I noticed when the doors to the venue were opened was that the stage had transported itself to the middle of the floor and changed shape! Surrounded by spatterings of people, the now-circular stage held the night's opener, Mykki Blanco. The tall, shirtless Blanco, sporting what looked to be shorts over plaid pajama pants (hey, it was a cold night!), four pigtails, black lipstick, and black face paint around his eyes, was joined by a DJ and rapped over his pre-recorded songs while he literally ran around the stage — once even falling over. The energy was high, and the crowd seemed to enjoy the half-hour set.
The crowd tripled from about 50 to more than 150 by the time Micachu stepped on stage with her band members, the Shapes. Though it was still a smaller crowd than what I've seen at Le Poisson Rouge, the positioning of the stage in the center made the performance seem much more intimate. Spectators surrounded the band on all sides, and Micachu commented that it felt like the walls were closing in on her (which she thought was a good thing). Wearing matching white, collared, button-down shirts with their own respective shapes on them, the trio positioned themselves in a triangular formation facing one another. Clearly, there were a lot of shapes going on that night.
Micachu, who normally plays a modified, beat-up-looking guitar, was seen sporting an equally beat-up electric variation that looked as though it had been covered in finger paint — a detail that resembles the band's playfulness. Known for their alternative, avant-garde pop music, the trio definitely have a harmony and a smoothness that flows among them. Drummer Marc Pell's playing was extremely tight, and he did an excellent job at putting his arsenal of percussion instruments (bongos, wood blocks, electronic drum pad, and standard drum kit) to good use. The band bounced in unison onstage in a way reminiscent of early Hot Chip performances. The crowd was definitely digging the positive vibes of the young band, shouting out that they'd come to see them, and didn't care to see Animal Collective.
The hour-long set flew by, and the band humbly returned for a one-song encore of "Low Dogg" from their July release, Never. Though the thousands of people who had tickets for the Animal Collective show were sorely disappointed by its last minute cancellation, the intimate group at Le Poisson Rouge definitely witnessed a version of Micachu and the Shapes they physically wouldn't have been able to see in the massive space of Williamsburg Park.