0 Flares
0 Flares
×
New to little Indiana? Subscribe for free to my RSS feed. Thanks for stopping by!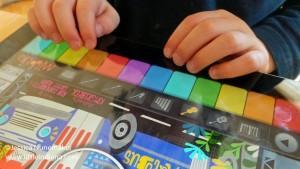 Mibblio iPad App Review
Our three year old son is obsessed with music–the Mibblio iPad app is the perfect fit.
More than just a static piano-based app, the Mibblio app for iPad is completely interactive and so entertaining!
Mibblio iPad App Review
When I say that our youngest son is very musical, I am not exaggerating. We listen to music often and he runs and grabs the kid-size guitar to join in.
He sings made up little songs all the time and heads to the playroom to accompany himself on his kid-size drum set. But would an iPad app catch this future musician's attention?
You betcha! The Mibblio iPad application is colorful, engaging, and so much fun!
Musical Fun with Mibblio
The free version includes your choice of one "mibblet" which is just a cutesy way of saying you get to choose one song.
They call it a "musically interactive children's storybook" and that's a very good way of describing the heart of the iPad application. Yes, it's teaching reading skills and layering music, but  it's just plain fun!
The bright colors and snappy beat even snagged the attention of our 7 year old son. Targeted for kids 3- 8, he was still interested even if he would normally call Wheels on the Bus (the mibblet we chose for our trial song) a "baby song" behind the back of Kid #2. But with all those buttons begging to be pushed, even he was engaged.
As it stands now, Kid #2 has played The Wheels on the Bus so many times I've lost count! I can't wait to try out other kid classics new and old. They've got a handful to choose from like On Top of Spaghetti and new songs like Monkey Jam. They all share the same interactive, colorful component!
Music on the Go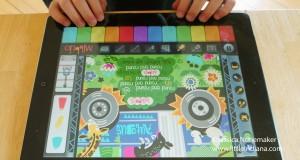 Mibblio iPad App Review
In case you haven't noticed, we tend to do a ton of traveling together as a family. This may be the perfect way to give Kid #2 the hands-on musical time he needs while on the road!
It's a harp, a banjo, an electric guitar, a ukulele, a piano, and so much more all rolled into one kid-friendly app! Find the Mibblio App on iTunes.
little Indiana and family were provided the opportunity to review the new Mibblio iPad App (a free download) in exchange for a $25 iTunes gift card to be used as desired. Opinions remain mine and mine alone. 
The Apple iPad was provided to little Indiana by Verizon Wireless as a loaner device to use and discuss at will. My opinion remains mine and mine alone (as always). 
Find pictures in Indiana on my Flickr photostream or on the new little Indiana Tumblr blog.
Just don't forget to tell 'em that  little Indiana sent you!
Don't miss a moment. Subscribe to little Indiana and receive instant updates to stay on top of everything "little."
little Indiana: Where to Stay, Play, and Eat in Small Towns in Indiana. Discovering Indiana's best small towns! Now get little Indiana on your Kindle.
Targeted. Relevant. Affordable! little Indiana advertising.