What You Need to Know About Sourcing South of the Border.
This is the second of two posts providing a 360-degree view of the market conditions, economic trends and opportunities making Mexico a strategic link in North American supply chains. In this post, Eugene Sevilla-Sacasa profiles Mexico's global competitiveness and economic indicators. He also explores the industries setting up manufacturing and distribution nodes in Mexico, infrastructure growth and growing pains and five key factors to consider when relocating to Mexico.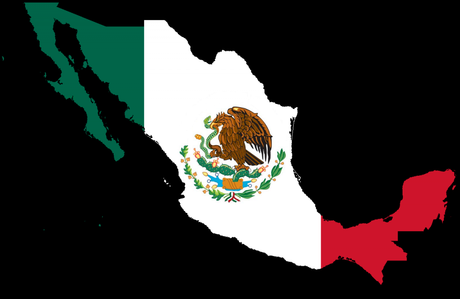 High rankings in global competitiveness, but challenges remain
In 2013, the World Economic Forum published a Global Competitiveness Report based on 12 pillars. In it, Mexico's competitiveness profile ranked high: 55 out of 148 countries, with a comparatively stable macro-economic environment. Mexico also scored high across several indices: a sound banking system, a substantial internal market, reasonably good transportation infrastructure, and several sophisticated businesses.
The GCI report also cites challenges: a skills gap resulting from low educational standards and labor market limitations. The report also highlights other areas that require improvement: institutional corruption, security and innovation. Likewise, the World Bank publishes the Logistics Performance Index (LPI), an interactive benchmarking tool that identifies trade logistics challenges and opportunities, measuring 160 countries across six dimensions. In the 2014 LPI, Mexico ranked 50th:
Country LPI Rank Customs Infra-
structure Int'l shipments Logistics competence Tracking
& tracing Timeliness
Mexico 50 70 50 46 47 55 46
Source: World Bank Logistics Performance Indicator 2014: http://lpi.worldbank.org/international/scorecard/radar/254/C/MEX/2014#chartarea
Mexico: an economy on the upswing
Another check in Mexico's favor: strong economic indicators. Mexico has the 14th largest nominal GDP in the world and the 10th largest by purchasing power parity. By sector, Mexican's GDP has agriculture at 3.9%; industry at 32.8% and services at 63.4% (2011 estimate). Inflation (CPI) has been below 4% for the last three years.
According to World Bank research, Mexico's key economic indicators are:

Source: World Bank, World Data Bank World Development Indicators
 A manufacturing hub for a diversity of industry groups
Mexico is home to thousands of world-class production facilities, all part of an expanding industrial supply chain for the automotive, aerospace, retail, consumer packaged goods, electronics, appliances, chemical, pharmaceutical and food manufacturing industries. While Mexico is a hub for virtually every vertical, automotive leads the pack.
Mexico produces more automobiles than any other North American nation except for the US……..so is this worth saying???  Maybe we should say that Mexico produces about 2 million units per year (note that Mexico car production is behind the US, Japan, Germany, China, and Brazil….and maybe others??). The "Big Three" auto manufacturers (General Motors, Ford and Chrysler) have operated in Mexico since the 1930s. Volkswagen and Nissan built plants in the 1960s (mainly small plants for the domestic market as the Mexico economy was largely controlled by the government and was largely closed to foreign trade and investment.  Mexico started to privatize and open its economy in the late 1980s. Today, most leading auto manufacturers (OEMs) have assembly plants in Mexico for the domestic and export markets. More are underway. And, in Puebla alone, 70 industrial part-makers cluster around the Volkswagen plant.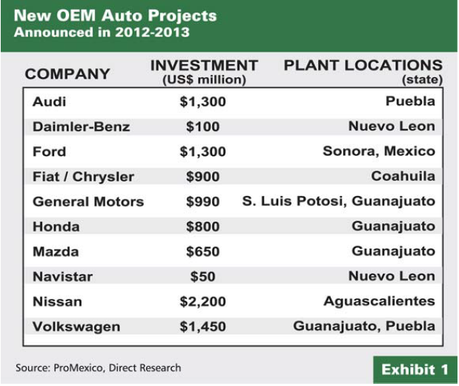 Source: ProMexico, Direct Research via "Mexico's Auto Industry Outlook, Growth Impresses But Challenges Linger" Sergio L. Ornelas, MEXICONOW
Mexico's electronics industry grew by leaps and bounds over the last 10 years, increasing 20 percent from 2010 to 2011. Today, Mexico has the sixth largest electronics industry in the world (behind China, the U.S., Japan, South Korea, and Taiwan) and is the second largest exporter of electronics to the U.S. Electronics accounts for 30 percent of Mexican exports, with a focus on the manufacture and OEM design of TVs, displays, computers, mobile phones, circuit boards, semiconductors, electronic appliances, communications equipment and LCD modules.
As for the retail and consumer packaged goods sectors, Mexico offers a potential consumer base of more than 115 million individuals whose average yearly income continues to steadily rise, as does their appetite for high-end consumer products.
Infrastructure: growth and growing pains
A key benefit of sourcing in Mexico is its infrastructure, which includes a network of industrial parks and growing utility infrastructure. Since 2006, the country has made significant investments in rail and other transportation modes and that focus continues.
In July 2013, the Mexican government announced a massive National Infrastructure Program. Of an estimated $346 billion, $42 billion is slotted for transportation-related investments. These include $16 billion in new highways, $17 billion in railways and the rest on port and airport projects. Here's a closer look at the initiative by mode:
Ports: the port of Veracruz will be expanded and new facilities built in the ports of Lazaro Cardenas, Manzanillo, Altamira, Dos Bocas and Tampico.
Railroads: according to the Mexican Association of Railroads, the new administration will invest in railway infrastructure to boost the use of the cargo system and intermodal terminals and re-develop the passenger railway network
Trucking: the vast majority of trade with Mexico is still by truck. While most states are modernizing transportation systems and replacing old units, customs clearance remains an issue that must be addressed to facilitate trade.
Airports: plans for seven projects over the next six years are underway.
The sheer size of the investments confirms Mexico's commitment to its infrastructure. And that's good news. While much of the country's infrastructure is advanced, many roadways are not. Most of the country's 227,000 miles of highway must be modernized, maintained or expanded. What's more, there's a fairly severe TL capacity crunch (for every three loaded trailers heading north, only one loaded trailer heads south) and LTL network deficit. These issues underscore the importance of working with qualified partners who know the terrain.
Want to do business in Mexico? Know these 5 key dimensions.
Given the potential benefits – global competitiveness, strong economic indicators, large skilled workforce, low labor costs, growing infrastructure, and proximity to the U.S., doing business in Mexico is undeniably appealing. However, it's important to know the ins and outs of doing business in Mexico or team up with a third-party logistics partner that does five key dimensions:
Social/cultural: this includes market size, demographics, the labor pool, health, education, the skills of the workforce and security
Political: it's important to understand how domestic institutions and international players work and be familiar with fiscal, monetary, trade and FDI policies
Economic: macroeconomic indicators, geographic locations and infrastructure
Market: structure, competition, logistics providers (3PLs), services and efficiencies
Technology: including innovation, business sophistication and infrastructure
What factors do you consider enablers or roadblocks impacting the economic boom in Mexico? What challenges have you encountered navigating the Mexican market and cross-border operations?
About the Author
Written by Eugenio (Gene) Sevilla-Sacasa, Vice President –  Ryder International Supply Chain Solutions. Mr. Sevilla-Sacasa oversees Ryder's International Supply Cahain Solutions operations, including Mexico and  all cross-border operations. Ryder has more than 2,000 employees in 30+ locations throughout Mexico. Mr. Sevilla-Sacasa joined Ryder in November 1983 as a staff financial analyst. He holds a Master's of Business Administration in Finance from the Wharton School of Business at the University of Pennsylvania and a Bachelor of Science degree in Industrial and Systems Engineering from the Instituto Tecnologico de Monterrey in Monterrey, Mexico.