Sweet Potatoes and Black Beans just kind of go together…..like Peanut Butter and Jelly.  So it was only fitting they top this incredibly delicious  Mexican Rice Bowl.  And with a drizzle of my AMAZING Green Chile Avocado Dressing?  Pffft…. send in the Mariachi Band 'cause THIS dinner's going to be GOOD!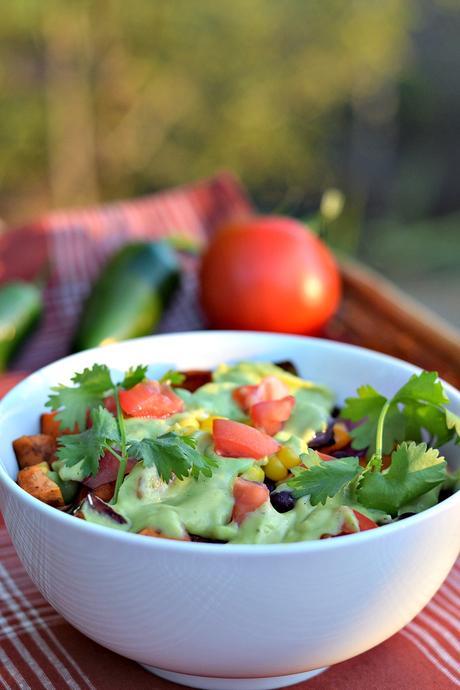 I LOVE RICE BOWLS!
Especially with a good helping of fresh veggies and some insanely incredible sauce to marry it all together.
So for last night's dinner I made this Green Chile Avocado Dressing that is out of this WORLD good.    And once I had THAT – it was just a matter of assembling my bowl.
Fluffy Brown Rice
Roasted Sweet Potatoes
Tangy Black Beans
Fresh Sweet Corn, right off the Cob
And a blend of Roasted Onions & Peppers
This is another one of those meals that is SO easy to make……absolutely loaded with vitamins, minerals, and healthy starches….and that tastes AMAZING.
Hey all you non-vegans…..does this look like rabbit food to you?
Heh, I'll bet ALL your family members will be coming back for more!
Mexican Rice Bowl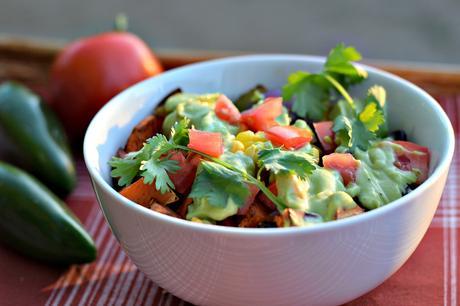 Tangy Mexican Rice Bowl | Brand New Vegan
The Dressing
The dressing is the secret ingredient to this amazing dish, and it's SO easy to make.
In a blender we're going to mix some Avocado, Vegan Buttermilk, Green Chiles, Garlic, Lime, and a little Cilantro until it's thick and creamy.  Season with a little salt and ground cumin and you're good to go.
Vegan Buttermilk?  If you whisk plain Almond Milk with a little Apple Cider Vinegar it makes a tasty Dairy-Free Vegan Buttermilk.  
Yum!
The Veggies
We're going to chop 2 medium-sized Sweet Potatoes (or Yams – or whatever you call them – you know, those orange things!)  and place them on a parchment lined cookie sheet.  Be sure to spread them out evenly.
On the other half of the cookie sheet, arrange your roughly cut Onions and Bell Peppers.
Now, sprinkle with a good helping of salt and pepper and drizzle a light coating of Balsamic Vinegar over everything, potatoes and veggies.  Roast in a 425° F oven for 20-25 minutes.
The Corn
I used a fresh ear of Sweet Corn from the grocery store.  Peel off the outer leaves and remove as many of the silk tassels as you can.  Rinse well with water, close up the inner leaves around the corn, and wrap in a damp paper towel.
Microwave for 4 -5 minutes (depending on microwave wattage)
The Beans
In a small saucepan, add a 15oz can of Black Beans, ¼ tsp Chili Powder, ¼ tsp Ground Cumin, and 2 Tbs of your favorite Salsa.  Mix well and stir until bubbly.
The Assemble
Now, to put this bad boy together…….spoon a good amount of your favorite rice in the bottom of a large bowl.  Top that with the Sweet Potatoes, some Black Beans, some Corn, and the Peppers.
And finally, drizzle a good helping of the Green Chile Avocado Dressing over everything.
Garnish with french Cilantro and Tomatoes.
Oh yeah.  This is going to be GOOD.
Enjoy!

Save
Print
Mexican Rice Bowl
Prep time:  20 mins
Cook time:  20 mins
Total time:  40 mins
Serves: 6-8 Servings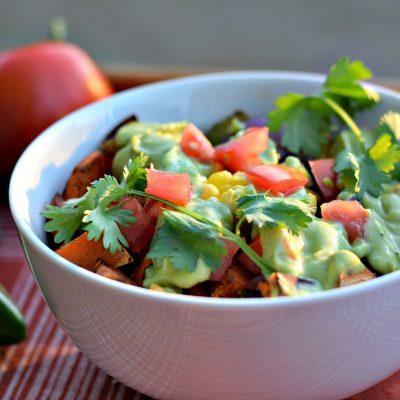 Sweet Potatoes, Black Beans, Corn, and Roasted Veggies make up this amazingly delicious Mexican Rice Bowl, with a dreamy Green Chile Avocado Dressing Ingredients The Dressing
1½ Large Avocados
¾ cup Almond Milk
1 tsp Apple Cider Vinegar
4 oz Green Chile (fresh roasted Hatch will give you a better flavor and zing)
2 Tbs Lime Juice
1 tsp Minced Garlic
½ tsp Salt
⅛ tsp Ground Cumin
1 Tbs Chopped Cilantro
The Veggies
2 Sweet Potatoes, diced
1 Green Bell Pepper, roughly chopped into large pieces
1 Red Bell Pepper, roughly chopped into large pieces
1 Medium Red Onion, roughly chopped into large pieces
¼ tsp salt
¼ tsp pepper
1-2 Tbs Balsamic Vinegar
The Beans
15oz can Black Beans
2 Tbs Salsa
¼ tsp Chili Powder
¼ tsp Ground Cumin
Extra Toppers
Fresh Corn
Fresh Tomatoes
Fresh Cilantro
Instructions
Begin preparing your rice.
Preheat oven to 425 degrees F
Dressing
Add all Dressing ingredients to blender and mix until creamy
Add 1 Tbs water at a time to reach desired consistency
Veggies
Chop 2 sweet potatoes and add to parchment lined cookie sheet
Chop Peppers and Onion and add to cookie sheet
Season with salt and pepper and drizzle with Balsamic Vinegar
Roast for 20 minutes
Beans
Simmer Black Beans in a small sauce pan with Chili Powder, Cumin, and Salsa
The Bowl
Add rice to large bowl and top with veggies, beans, and corn
Add dressing to coat and garnish with cilantro and fresh tomatoes
3.5.3208