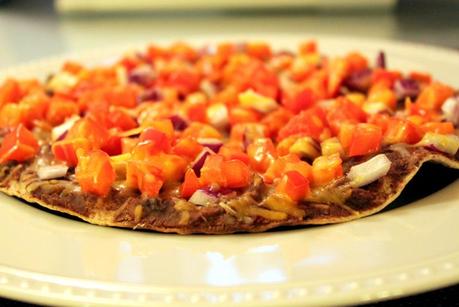 Before I met my husband, he used to eat Taco Bell every single week.
And what was his go-to order at Taco Bell?
"Mexican Pizza, no meat, with beans instead of the meat." (he would have ordered it with meat when he was a kid, but he turned vegetarian at age 15).
Full disclosure: when I was a kid, I had my share of veggie Mexican Pizzas too, and I remember really liking them! I mean, the crispy fried shells, the salty, seasoned filling, it's everything that makes fast food addictive.
The hubby likes them too – it's like a treat for him these days since he eats Taco Bell way less often now, compared to his past cadence of Taco Bell dinners. I actually like the concept of a Mexican Pizza – but the Taco Bell one has 550 calories for one tiny 6-7 inch pizza, with 30g fat and 870mg sodium.
I decided to give the Mexican Pizza a makeover in my kitchen, and my version is JUST as crispy as the original, but has only ~300 calories, at least 10g fiber (even more depending on how much veggies/beans you use), and at most 50 calories from fat (depending on how much cheese you use).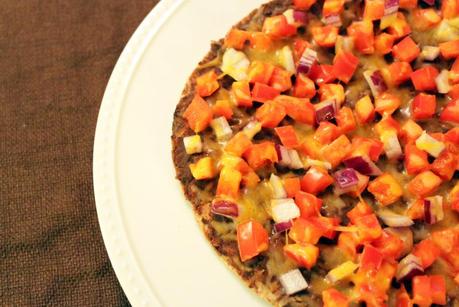 I swear, it's delicious and with salsa and guac, tastes just like a Mexican Pizza!
The Ingredients (makes one pizza, which is one serving)
1/3 cup refried black beans, heated through with taco seasoning stirred in to taste
1/4 cup mexican 4 cheese blend
1 whole wheat tortilla (100-120 calories, with at least 5g fiber – I like the ones from Trader Joe's: they are delicious and crisp up perfectly – picture below).
1/4 red onion, diced
1 roma tomato, diced
1/2 red bell pepper, diced
Salsa (I like Pace Picante)
Guacamole – 2 Tbsp
Here's the Trader Joe's tortilla I used: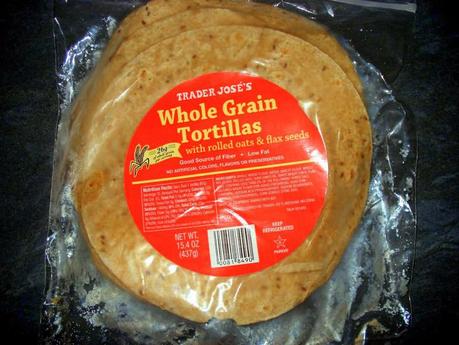 The Directions
Step 1: Crisp up the whole wheat tortilla in either a toaster oven or a regular oven at 350 degrees for 10 minutes (or until it's crispy like a chip).
Step 2: Spread the beans on the tortilla, top with veggies, top with cheese. Heat in a toaster oven or under a broiler until the cheese has melted
Step 3: Top with salsa and guac, and enjoy!
This whole recipe takes 15 minutes to make (max), and is a delicious, filling and healthy dinner. The husband doesn't like to admit it, but it does taste a lot like a Taco Bell Mexican Pizza. It's such an easy swap and it's so much better for you than the original. This recipe has become a staple in our kitchen – I literally eat it almost every week. I hope you enjoy this recipe as much as I do, and the best part is, it's totally guilt-free!