I usually plan my meals for two weeks prior to grocery shopping. However, sometimes plans change and we have people over for dinner or do this and that, and I use some ingredients that I had planned for other meals. 
When that happens, I'm left with a whole bunch of randomness and the need to make up a new recipe! 
This one was a winner! It made a ton so we ended up eating it for a few days (don't say I didn't warn you)!
The best part about it? It's a Crock Pot recipe and we all know how much we love those types of recipes. Throw it all together and come home to a (almost) fully cooked meal!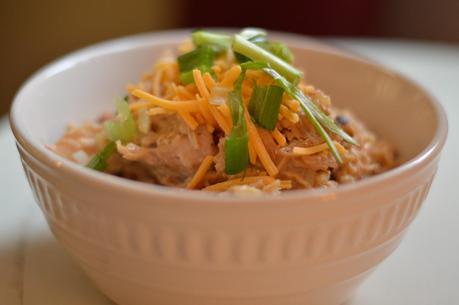 Ingredients:
Cooking spray1 can of Rotel1 can Cream of Mushroom soup1 can black beans (rinsed and drained)2-3 frozen chicken breasts1/2 block reduced fat cream cheese1 cup milk2 cups cheddar cheese plus some for topping1 packet Knorr Chicken Flavor Rice Sides (this can be substituted for any rice)Green onions to add on top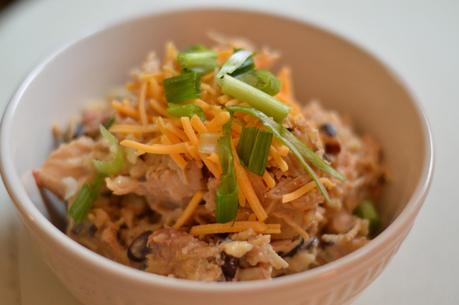 1. Spray Crock Pot with cooking spray to avoid sticking. 
2. Place frozen chicken in bottom of Crock Pot. 
3. Mix together Rotel, soup, milk and beans in large bowl. Pour mixture over chicken. 
4. Slice cream cheese into small blocks and add on top. 
5.Cook on low for 4-6 hours. 
6.In a separate pan, cook rice according to instructions. (This can be done ahead of time and refrigerated until use.)
7.  Remove chicken from Crock Pot and shred with forks. Return to Crock Pot.
8. Add rice to Crock Pot, along with shredded cheese. Cook 30 min or until rice is heated and cheese is melted.
9. Spoon into bowls, top with green onions and shredded cheese and serve!
Like I said, this was the type of rice I had but it can certainly be replaced with white or brown rice as well. Hope you enjoy it as much as we did!