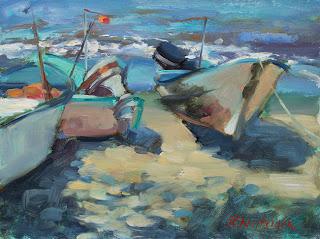 Fishing Boats
12 x 16
Well it's all over but the laundry.
The
Casa Buena Retreat
went swimmingly: the paint, conversation, and Corona flowed freely and what started as a group of individuals quickly became a close-knit team of painters and friends.  By the end we were all talking about "next year when we come back" so it looks like this is the start of a tradition.
Jane was impressive in her energy, warmth and cooking abilities.  She and fellow artist Carolyn Adams kept us well supplied with local specialities and Carolyn's famous brownies and cinnamon rolls.  The secret, apparently, is that there's no cinnamon in them.
But most impressive was the landscape and what the painters did with it.  We started the retreat slowly with a first-day, comprehensive demo of a palm tree that I painted from the veranda overlooking the sea.  Everyone tackled the same scene and we had some very lovely trees by the end of the day.
On the second day we painted under the shelter of a local restaurant and worked at beach scenes all day.  It's testimony to the work ethic of the students that they got right up after their meal of fish and oysters and returned to the easels.  Our focus for the day was relative values: the sea, sky, distant bluish mountains and close, dark rock formations had to be keyed to just the right tone in order to read correctly.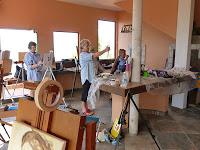 Portrait painting in the casa
By the third day we were warmed up enough to tackle a portrait of a local lady, Minerva, and the fourth painting day saw us set up under the palms, painting fishing boats in Miramar.  Believe it or not, some of the painters were complete beginners.  How intrepid is that?
In between, we took a couple of days for excursions to shop and to take a boat ride through a croc and bird-filled wildlife preserve.  It was just like Disneyland's jungle boat ride but everything was real, not plastic.
In all, it was an adventure and I can't wait to do it again next year!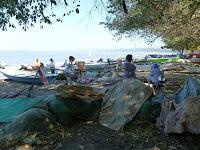 The fishing boats of Miramar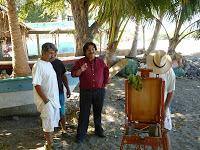 Local art appreciators.  They deemed Fred's work  hermosa!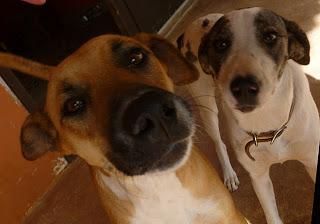 Bruno and Pinta the retreat mascots