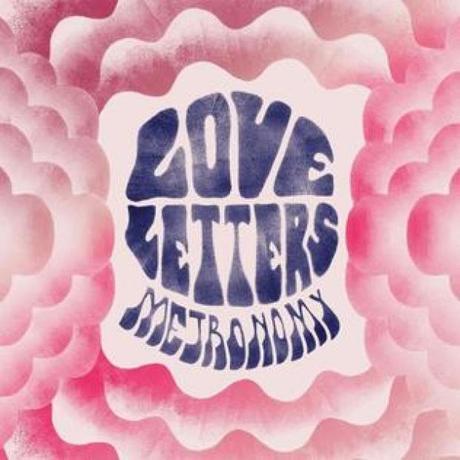 Metronomy – I'm Aquarius
SoundCloud
For Metronomy's fourth full-length release, Love Letters, the foursome took to the all-analog Toe Rag Studios in Hackney (made famous by The White Stripes) to satisfy front man Joseph Mount's desire for a challenge. The decision is an interesting one seeing as Metronomy are electronic auteurs. However, it makes sense in that it serves the new retro sound they're aiming to achieve. The aesthetic switch up is also curious considering the pressure Metronomy must have felt in following up the success of 2011's The English Riviera. Glamour and digitalia be damned, Metronomy wanted to try on 60s psychedelia this time around. And so they did — but did it work?
Love Letters is the story of a man obsessed with holding onto someone who is letting go, and by the end of the first track we already feel sorry for the poor guy who's "alone and so in love." As a result, Love Letters is largely mopey with sudden bursts of determined energy, all of which are contained within the first half of the album. After the album's drum machine intro, Mount makes his intentions known — "I've gotta beam my message to ya/Straight from the satellite" — and goes on to wax nostalgic as he details both his misery and innocence in the relationship's ruination. "I'm Aquarius" explains how the lovers were literally star-crossed (she was a Taurus) via a smooth R&B beat, 18 repetitions of "I'm Aquarius" and even more repetitions of backup singer "shoop doo doo ahh's." All of these create a fascinating blend of retro and modern, leaving you with looped melodies glued to your cortex. "Hold on tight to everything you love/Honestly, it's all I care about," Mount wistfully incants on the baroque "Monstrous".
The title track opens with moody horns that abruptly get shoved aside by some massive Motown moxie, with the backup singers again creating the most memorable aspect. However, while the track is energetic, it isn't soulful like a Motown track should be. It ends up leaving us grateful for the vibrant attempt but also a little disappointed that they didn't nail it. "Month of Sundays" feels like the most well-constructed song of the album. The chill, downer vocals mesh really well with the psych guitar and subtle but sweet melody. "Boy Racers" is next, a Pip Paine-esque instrumental that could easily be the background music for some avant-garde video game. The last four songs mostly drown in dysphoria with Mount sounding as if he's abandoning any previous hope of reconciliation.
Suffice it to say, experimentation is risky as it holds the power of polarization, but that's what Metronomy is known for. Their grasp on electropop is still just as strong as ever, but Love Letters ultimately comes across too stiff and straight edged for something paying respect to the age of the loose and spaced out. Maybe it's just not the right era for Metronomy. Or maybe the progressively-minded Mount was hoping to cultivate a new genre altogether and just got caught up majoring on the minors. Their obvious middle finger at convention and expectation is to be applauded, but in the end, Love Letters feels lackluster and fails to really connect for lack of passion. However, it does contain some surprising moments that inform us that Metronomy has maintained their flair for defying pop preconceptions, something that could very well dominate their next body of work.