LOS ANGELES – A strange medicine man passing through the California desert once said, "Buy the ticket, take the ride … and if it occasionally gets a little heavier than what you had in mind, well … maybe chalk it off to forced conscious expansion:" Hunter S. Thompson, Fear and Loathing in Las Vegas.
However, public officials also take "conscious expansion" into consideration when it's time to restructure transit fares for the humble commuter – or so it was announced.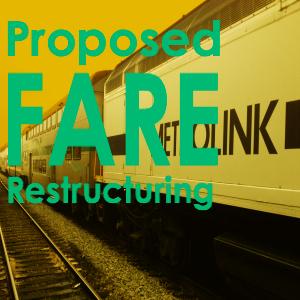 The Los Angeles County Metropolitan Transportation Authority on Thursday approved a public hearing for March 29 to review two fare restructuring proposals from its staff.
A Metro news release said the effort is to address a "quickly growing operating deficit" where the proposed fare restructuring options "would raise fares gradually over the next eight years and help avoid a budget deficit that could occur as soon as 2016 if fares are not revised."
The report notes that current Metro fares cover just 26 percent of the cost of operating the buses and trains, and Metro faces an unsustainable operating deficit of $36.8 million in two years, growing to $225 million in 10 years unless changes are made.
Board members are scheduled to vote on the changes at its May 22 meeting to realign fares with service this year and to conduct a more comprehensive study of services next year, according to the Metro staff report.
The report said the board proposes to minimize financial impact to customers by incorporating gradual and periodic fare changes.
The fare restructuring has been proposed in three phases, with incremental $0.25 base fare changes occuring every three years, and pass fares increasing accordingly, the report stated.
The first fare restructuring option would raise the base fare from the current $1.50 to $1.75 for the next four years, with an eventual rise during the eight-year period to $2.25, according to the media release.
The second would keep the base fare at $1.50 during off-peak hours and raise it to $2.25 during peak hours for the next four years, eventually raising it to $3.25 during peak hours. Off-peak hours are defined as weekdays from 9 a.m. to 3 p.m. and 7 p.m. to 5 a.m. and all day on weekends and Federal holidays, according to the release.
However, officials said no changes can occur before the Metro Board votes to approve them. The first possible opportunity for this will be in May, while the earliest date new fares could take effect is Sept. 1.
Metro asks that interested members of the public attend the upcoming public hearing and provide testimony. Additional fare forums also will be held at the regularly scheduled Service Council meeting during the month of March.
Members of the public who are unable to attend the public hearing or the fare forums may submit a written testimony postmarked through March 29. Correspondence should be addressed to the attention of Michele Jackson, Los Angeles County Metropolitan Transportation Authority, One Gateway Plaza, Los Angeles, CA 90012-2932.
Comments may also be submitted by email to [email protected]
The Metro Board of Directors is expected to take up the issue of fare restructuring following the public hearing at its May 22 board meeting.
A complete list of proposed fare changes under consideration is available at thesource.metro.net.
* * *
Also at Thursday's board meeting, the Executive Management Committee recommended the development of two possible ballot measures for the November 2016 election – proposing either a new sales tax or a sales tax extension for transit projects.
The proposed measures were withdrawn by Metro staff due to the lack of popularity with voters surveyed.
The first measure would have been a "new sales tax that would enable acceleration of Measure R highway and transit projects and address other priority transportation needs throughout Los Angeles County," according to the staff report. The second measure was to be a "sales tax extension that would enable acceleration of Measure R highway and transit projects and possibly address a limited amount of high priority transportation needs throughout Los Angeles County."
It was noted in a Metro update to the board meeting that staff would continue to work with local Councils of Governments and stakeholders on developing a list of local transportation projects that require funding.
According to the staff report at media.metro.net, a telephone survey was conducted in late December 2013 to obtain insight into voter popularity with either an extension of the existing tax or a new sales tax.
The study found that voters are "very tax-sensitive," with 58 percent surveyed viewing the current level of local taxes in Los Angeles County as "too high."
The study also showed that "a plurality believe the county currently has enough revenue for transportation," representing 40 percent of the voters surveyed. Thirty-four percent of those surveyed thought the county does not have enough revenue, while 26 percent were "not sure."
The study summarized the results, stating that the current "attitudinal environment is at best mixed" for passage of proposed transportation ballot measures, while noting, "Voters do not YET perceive the necessity for more revenue."
Information from the survey is available at media.metro.net/…handout.pdf.
Measure R was approved by Los Angeles voters in 2008 and raised the sales tax by a half-cent for 30 years to pay for an overabundance of transportation projects. The tax expires on June 30, 2039.