Konami has officially announced the release date for its upcoming sequel, Metal Gear Solid V: The Phantom Pain, along with a special Day 1 Edition and a cool collector's edition of the game.
The Day 1 edition includes a Map and a few DLC's. The collector's edition of the game comes with lots of cool toys including a half-scale replica of Snake's bionic arm, a collectible SteelBook, behind the scenes documentary and a ton of DLC's.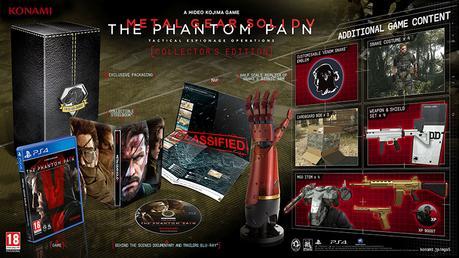 Collector's Edition Features -:
Half Scale Replica of Snake's Bionic Arm
Collectible SteelBook
Behind the Scenes Documentary & Trailers Blu-ray Disc
MAP
Exclusive Packaging
Weapon & Shield Pack
Windurger S333 Combat Special Revolver
Adam-ska Special Handgun
Maschinen aktische Pistole 5 Weiss Special Handgun
Rasp Short-Barreled Shotgun Gold
Personal Ballistic Shield (Olive Drab)
Personal Ballistic Shield (Silver)
Personal Ballistic Shield (White)
Personal Ballistic Shield (Gold)
Cardboard Boxes
Cardboard Box (Rocky Terrain)
Cardboard Box (All-Purpose Dryland)
Cardboard Box (Wetland)
Snake Costumes
Fatigues (Black Ocelot)
Fatigues (Gray Urban)
Fatigues (Blue Urban)
Fatigues (All-Purpose Dryland)
Other
'VENOM SNAKE' Emblem
Metal Gear Online Boost
Metal Gear Online XP Boost
Metal Gear Online Items
Metal Gear Rex Helmet
AM MRS-4 GOLD Assault Rifle
WU S. PITSOL GOLD
In Addition, a special Metal Gear Solid V-themed PlayStation 4 console was announced for the Asian region.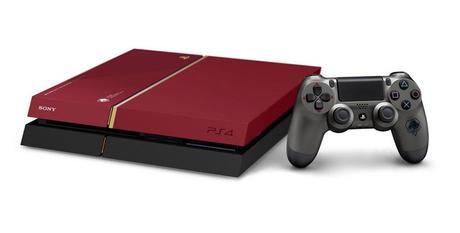 The PS4 console that comes with the bundle is colored the same way as Snake's red prosthetic left arm (Bionic Arm). In addition, the golden connector part of the artificial arm has also been reimagined in meticulous detail, giving the console a sense of sturdiness. The DualShock 4 wireless controller sports the color of Snake's right-hand gun, which is embellished with Snake's unit logo.
Read Also: Funny Fan Film Shows Metal Gear Solid in Real-Life
Metal Gear Solid V: The Phantom Pain will head out for PS4, Xbox One and PC on September 15th, 2015.
[Via: All Games Beta ]
(All images, trademarks shown on this post are the property of their respective owners)
Follow @nrjperera – Roshan Jerad Perera