The Best is Yet to Come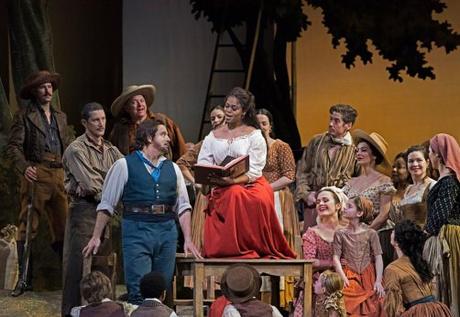 Matthew Polenzani as Nemorino & Pretty Yende as Adina in
L'Elisir d'Amore
(Photo: blog.onopera.com)
Much has happened this season at New York's Metropolitan Opera House. Some of it good, some of it bad, some of it very, very good and bordering on the divine. That's to be expected.
As for the others? Um, not so good, I'm afraid. The casting, the singing, the old and the new, the tried and the true; surely, a lot of what one "expects" from the country's most expensive and financially lucrative repertory theater left much to be desired.
What really got me was the routine programming for the upcoming season. I'll address that issue at the proper time, but for now a few choice words are in order with regard to the 2017-2018 season, so far as it went.
To say there was nothing memorable about it would be a falsehood. Indeed there were some welcome niceties to my Saturday afternoon listening schedule. One of them was the February 10, 2018 broadcast of Donizetti's L'Elisir d'Amore, or The Elixir of Love, in Bartlett Sher's heartwarming production. The raison d'être for this production rested on the shoulders of tenor Matthew Polenzani as Nemorino. His assumption of this part was (to coin a much abused term) a revelation. His facial expressions alone were enough to elicit high praise. That his vocal performance this time around was even more exemplary stands as a testament to Polenzani's continuing development as an artist of quality.
In seasons past, Polenzani has undertaken some of the more strenuous of lyric tenor assignments, including a pair of German poets in two French works, Hoffmann in Offenbach's The Tales of Hoffmann and Werther in Massenet's Werther.  He partnered with colleague Mariusz Kwiecien in the long-awaited revival of Bizet's The Pearl Fishers at the Met; and he also appeared in Donizetti's Tudor Trilogy as Robert, Earl of Essex, in the same composer's Roberto Devereux — all of them winning portrayals.
In L'Elisir, Polenzani was ably seconded by the descriptively named Pretty Yende, the perky South African soprano who lately has caused a stir in Lucia di Lammermoor, another of Donizetti's chirpy heroines (see below). The supporting cast for The Elixir included baritone Davide Luciano as the pompous Sgt. Belcore and bass Ildebrando D'Arcangelo as the charlatan Dulcamara. All were sheer icing on this Italian dessert tray as they covered themselves in glory (or gaiety, as the case may be).
The next broadcast work, Wagner's mammoth Parsifal in a revival of François Girard's critically acclaimed production, was heard on February 17. It went a long way toward solidifying this author's impression that the Met is still one of the world's premier Wagner houses, rivaling the best that Europe and Bayreuth could muster (even if Wagner has been given short shrift these past few seasons at the house).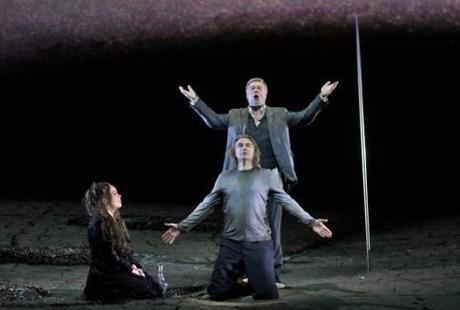 Evelyn Herlitzius, Klaus Florian Vogt & Rene Pape in Act III of
Parsifal
While the critical reception in the media for maestro Yannick Nézet-Séguin's conducting was generally enthusiastic (a bit too overboard in praise, I suppose), it did not take away from his accomplishment of the impossible. And that is, as the Met Opera musical director designate Yannick established and maintained a high standard with regard to Wagner's most difficult stage piece. Still, I missed the spiritual essence of the work as expressed by Daniele Gatti, the previous conductor, who set his own standard of excellence and led a truly mesmerizing performance (from memory, if memory serves me).
It helped that some of the original cast members were on hand: bass-baritone René Pape showed profound depths of emotion and tonal variety in his assumption of the garrulous Gurnemanz; histrionically, he was beyond complaint, if vocally a tad low-key at the outset. His third act Good Friday Spell dispelled any doubts that Pape was a star of the first magnitude. We look forward one day to his Wotan and Wanderer, if the gods allow.
Another tremendous asset was baritone Peter Mattei as the most movingly sung Amfortas in anyone's memory. The emotional and physical toll this role takes on a performer must be counted among the standard repertoire's most challenging. Still, Mattei came through like the trouper that he was, his tall and lanky frame seemingly paralyzed by his affliction. This was a masterful interpretation for the ages, one where the endurance of pain and suffering became both a blessing and a curse.
My only complaints, if I may be so bold, were with the other two leads, tenor Klaus Florian Vogt's lightweight (on the radio) Parsifal and soprano Evelyn Herlitzius' wildly inconsistent and widely fluctuating Kundry. Dramatically, Vogt has delivered some solid portrayals of note, first in Wagner's Lohengrin, then as Florestan in Beethoven's Fidelio. Here, his sturdy lirico-heroic tenor was simply overwhelmed by this arduous assignment. True, he was more than capable of presenting Wagner's "guileless fool" in Act I — the innocence and naiveté were plaintively conveyed in honeyed tones; and his confrontation in Act II with the "formidable" Flower Maidens was perfectly realized. When the going got rough, however —after Kundry's wickedly enveloping kiss — the tenor's temperature hardly rose above the boiling point. And his outcry of "Amfortas! Die Wunde!" went totally by the wayside.
Past  exponents of this part, to include Wolfgang Windgassen, along with Met stalwarts Jess Thomas, Helge Brilioth, and James King, as well as the voluminous Jon Vickers (weighty and a force of nature when paired with Leonie Rysanek or Christa Ludwig), and the eloquent baritonal-sounding Jonas Kaufmann, all proved their mettle, each in their various ways. Vogt, to these ears, was simply not in their league. I'm sure it all comes down to personal taste, in that you either love his not unattractive voice or loathe it. Honestly, the voice itself was not the problem; it was the manner in which it was wielded.
I have more-or-less the same view of Herlitzius' Kundry, although histrionically she was leaps and bounds ahead of her partner. Her basic problem was in controlling a voice that fluctuated in every direction at once. That long and grueling second act sequence with Parsifal, where the temptress tries every trick in the book to seduce this ignoramus of a boy, displayed the sheer abandon this creature of antiquity had in her possession. It was Kundry's only armor, her sole defense against her wicked master Klingsor's machinations — and Evelyn let it all hang out.
In that respect, Herlitzius shaped this Kundry very much in the Rysanek mold. Yes, it was thrilling in the extreme; yes, she scaled the heights of music and drama; and yes, it was inconsistent and tiring on the ears. Her trips above the staff grated at times, but from chaos a definite character emerged. As an actress, Herlitzius mowed down her rivals. As a singer, well, about the best we could say was that she was the original Elektra in Patrice Chéreau's remarkable take on Strauss' eponymously titled masterwork (see the revival below).
Elsewhere, in Europe, she has been a striking Brünnhilde in Wagner's Ring cycle, which bodes well for future assignments in this repertory. Speaking of the evil Klingsor, Evgeny Nikitin's black-as-night villainy continued to hold sway, his very features bathed in stage blood in conformance to director Girard's vision.
Italian, Anyone?
On the Italian front, spinto tenor Michael Fabiano made for an outstanding Rodolfo in the February 24 broadcast of La Bohème, which also starred the Met's latest workhorse, Sonya Yoncheva, as Mimì. Lucas Meachem was a heart-on-sleeve Marcello, and Matthew Rose a basso profundo Colline. Alexey Lavrov excelled as Schaunard, the ever-popular Susanna Phillips pitched her patented reading of Musetta (a thrice familiar interpretation) to the stands, and that veteran scene-stealer Paul Plishka did double duty as the tipsy landlord Benoit and the cuckolded sugar-daddy Alcindoro. Marco Armiliato lit up the Met Orchestra from the pit, despite some coordination problems with the on-stage chorus.
Not much to be said for the next Puccini work, Madama Butterfly on March 3. Headed by soprano Ermonela Jaho and accompanied by tenor Roberto Aronica as Pinkerton, Roberto Frontali as Sharpless, and the always-dependable Maria Zifchak as Suzuki and Tony Stevenson as Goro, this was a routine performance of the lavish Anthony Minghella production.
The March 10 broadcast of Rossini's rarely heard Semiramide had already been cut to ribbons by critics who complained of similarly egregious snips to the score and the depressingly snail-like pace of the venture as a whole. The only, and I do mean only, saving graces were the fine coloratura singing of Mexican tenor Javier Camarena and the sepulchral sounds that emanated from bass-baritone Ryan Speedo Green.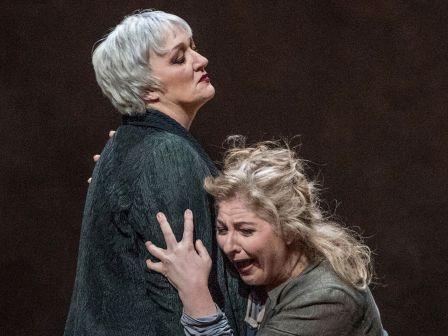 Michaela Schuster as Klytaemnestra & Christine Goerke as Elektra
Strauss' Elektra (speak of the devil) on March 17 featured, among others, a completely individual interpretation of the title role by that formidable American soprano Christine Goerke. Vastly different from her predecessor Nina Stemme's view, Goerke's rock-steady ranting and monumental depiction of the tragic heroine had some solid foundations. Boasting an immense voice of comparably Wagnerian proportions, her soul-searching, compelling performance anchored an excellent supporting cast, which spotlighted some telling moments throughout this 100-minute work.
Of particular interest was Elza van den Heever's vulnerable Chrysothemis, sung with womanly warmth and distinguished by its slimness and variation from Goerke's more potent instrument. There was no difficulty at all telling the two sisters apart. Michaela Schuster was a Klytämnestra of notable presence, a psychologically warped interpretation that somehow made one relate to this harridan's dilemma.
As Elektra's brother and chief rescuer, Mikhail Petrenko's Orest profited from his richer, more varied delivery than prior interpreters in this part. When the brother-sister duet is given complete (as it was here) this all-too-brief episode gains immeasurably; it rises or falls, depending on the artists involved. In that, both he and Goerke played against each other superbly.
The same could be said for the cameo part of Aegisth, conveyed with strength by the stentorian Jay Hunter Morris in a welcome return to the Met after too many seasons away. An equally strong secondary cast rounded out the proceedings (we give a shout-out to Tichina Vaughn as the Serving Woman, Susan Neves as the whip-wielding Overseer, Scott Scully and James Courtney as the Two Servants, and Kevin Short as Orest's Guardian).
It was held together by the rigidity of maestro Yannick Nézet-Séguin. I'm not knocking his tempo choices or his swamping of the singers by the mighty Met Orchestra's brass and percussion section. I'm just pointing out that I preferred his predecessor's more measured approach to this score as a whole. Of course, that predecessor happened to be Esa-Pekka Salonen, an experienced hand at symphony conducting and one of tremendous prestige. Nézet-Séguin's interpretation was a viable alternative, although I felt that a few more rehearsals might have smoothed out those overpowering climaxes.
Some of these miscues might have arisen from Nézet-Séguin's last-minute takeover of the company from disgraced former Met musical director James Levine, who was summarily fired earlier in the season for alleged sexual misconduct in years past. That detestable state of affairs continued to leave a sour taste in everyone's gut months after these accusations had first surfaced. They sullied what could have been a most rewarding season overall.
Repertoire Your Way to Health
Instead, some slapdash performances resulted, two of them being a lame and bloodless (!) revival of Puccini's Turandot on March 24 under the baton of the ubiquitous Marco Armiliato; and an unfunny, over-the-top carnivalesque outing of Mozart's Così fan tutte from March 31, originally scheduled with Mr. Levine in mind, but taken over by David Robertson.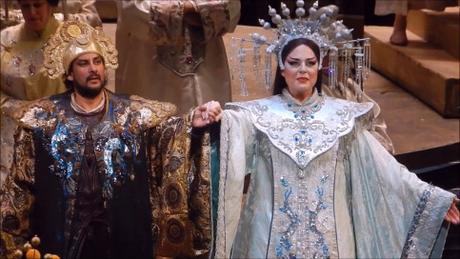 Marcelo Alvarez & Martina Serafin on
Turandot
Casting on paper for this Turandot seemed promising, with soprano Martina Serafin as the icy princess and tenor Marcelo Álvarez as the Unknown Prince. The loyal slave girl Liù was taken by Guanqun Yu, Timur by Alexander Tsymbaluk, the Mandarin by robust-voiced Patrick Carfizzi, and the ministers Ping, Pang, and Pong by Alexey Lavrov, Tony Stevenson, and Eduardo Valdes. The ancient Emperor Altoum's duties were handled by Ronald Naldi.
Trouble started from the start when Álvarez appeared to be having an off day. He completely ducked most of Calaf's money notes, including the famous high Cs in the Act II Riddle Scene, something I have never heard in all my years of radio listening. OK, one of those notes is an alternative, but the other is definitely called for in the score. On the other hand, Ms. Serafin acquitted herself well as Princess Turandot, although her assumption is a relatively brief one; the same for Ms. Yu and Mr. Tsymbaluk in their respective roles. The Trio of the Masks would have stirred the bones a shade better had the three vocalists been more closely blended — something that additional rehearsals would have remedied before air time.
The less said about the burlesque that Così fan tutte put on for audiences on March 31, the better for all concerned. I must say that British baritone Christopher Maltman, as Don Alfonso, rose above it all with his upstanding stiff-upper-lip interpretation. Broadway's Kelli O'Hara, a riot in the Met's disastrous Merry Widow, did what she could with director/producer Phelim McDermott's circus-like atmosphere, which included a fire breather, assorted acrobats, a sword swallower, and all manner of distracting non sequiturs. Just because David McVicar was able to loosen up Leoncavallo's Pagliacci with slapstick straight out of vaudeville was no excuse for this sorry mess.
On a higher note, the April 7 performance of Lucia di Lammermoor came off better than expected, thanks to decent casting, a successful revival of this thought-provoking, Gothic ghost story, and the presence of hunky lead Vittorio Grigolo as Edgardo of Ravenswood. We have been watching Grigolo's career over the years with interest. I remember him mostly for his shirtless Cassio in Willy Decker's spare reading of Verdi's Otello from the Teatro Liceu, with José Cura as the Moor. Soon after, the steadily improving artist made a film version of Verdi's Rigoletto with Plácido Domingo (in his baritone guise) as the hunchbacked jester and Grigolo as the womanizing Duke of Mantua.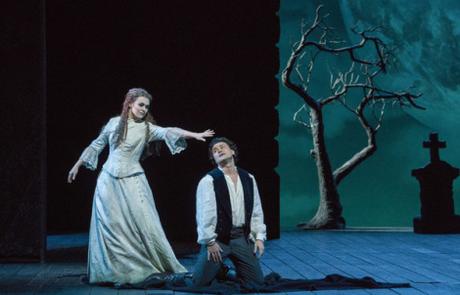 Olga Peretyatko-Mariotti & Vittorio Grigolo in
Lucia di Lammermoor
It goes without saying that the Italian-born Grigolo was the star attraction of Saturday's Lucia broadcast: his elegantly assayed Edgardo was thrilling in its vitality and passion, as well as lovingly enunciated in perfectly phrased Italian. High notes were there in spades, but remained part of the drama. There was a noticeable correlation between what the artist was singing and how he transmitted those feelings via his golden-throated expressions on the stage. His was another performance that belonged in the record books.
It is hard — nay, impossible — to imagine that such a singer, had he been part of the so-called Golden Age at the Met, would have been able to accomplish this feat had his prima donna been someone of Lily Pons' ilk. As most knowledgeable opera fans are aware, Pons had the nasty habit of insisting that the tenor's stirring scena ed aria in Act III be cut from the performance. Thus, Lucia would end with the ditzy damsel's Mad Scene. Finito and Kaput! Scandalous and sacrilegious, I say, but that was par for the course back then. Aren't you glad those "good old days" are over?
If only the other cast members were up to Grigolo's sterling example. Olga Peretyatko-Mariotti (the Mariotti portion of her surname was added when she married Italian conductor Michele Mariotti) took the challenging name part. Mushy diction was the order of the afternoon. She even flubbed her final high note, but within the confines of the story I guess this Lucia went cuckoo long before they called it a matinee.
Good old-fashioned barnstorming, then, came from her partners, Massimo Cavaletti as Enrico Ashton and Vitalij Kowaljow as Raimundo. Gregory Schmidt made a real character out of Normanno, as did a solidly-voiced Mario Chang (impressive as Narraboth in last season's Salome) as the hapless Arturo Bucklaw. Roberto Abbado gave Signor Armiliato a break by ably leading the Met Orchestra.
The over-achieving Señor Domingo was the attraction in extremis of the April 14 transmission of Verdi's rarely heard Luisa Miller. Melodically flavorful, with a ripe dramatic context, fine scoring, and a healthy mixture of solo voices, this Verdian version of Sturm und Drang ("storm and stress") became the talk of the town back in 1968 when Attilio Colonnello's production first made the rounds. It served to boost the budding careers of both soprano Montserrat Caballé and baritone Sherrill Milnes (then only into their third season at the Met), and gave a new spring to the step of veteran tenor Richard Tucker, who experienced an autumnal rebirth as Rodolfo. Fausto Cleva was the seasoned conductor.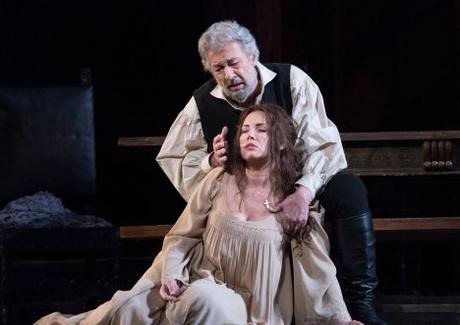 Sonya Yoncheva & Placido Domingo in
Luisa Miller
But this late-season revival of the Elijah Moshinsky production needed more sparkle, especially with a dry and over-the-hill Mr. Domingo as Miller, Luisa's father. The role demands the vocal richness and dramatic fireworks of a true, dyed-in-the-wool baritone (i.e., such as Milnes, Cornell MacNeil, Vladimir Chernov, Renato Bruson, and Leo Nucci), something the once and future tenor was unable to achieve. He simply sounded too much like the tenor that he was, and not the baritone that he wanted to be. His acting, however, was splendid, which salvaged the performance.
As Luisa, the Maria Callas-sound-a-like Sonya Yoncheva portrayed a character with gumption, but few distinctions. The bass pairing of Dmitry Belosselskiy as the villainous Wurm (egad, what a moniker!) with Alexander Vinogradov as Count Walter struck a chord with listeners, and tenor Piotr Beczała let his fine, rich voice ring out with thrilling vibrancy, in particular with the popular aria, "Quando le sere al placido."
Mezzo Rihab Chaieb as Laura (she sang Lola in the Met's Cavalleria Rusticana) was wasted in the under-developed part of Rodolfo's fiancé. There was some fine orchestral playing under Bertrand de Billy's baton, but otherwise this performance failed to catch fire.
We'll save the best for last in our next post about the broadcast premiere of another rarely heard work, Massenet's Cendrillon.
Copyright © 2018 by Josmar F. Lopes
Advertisements