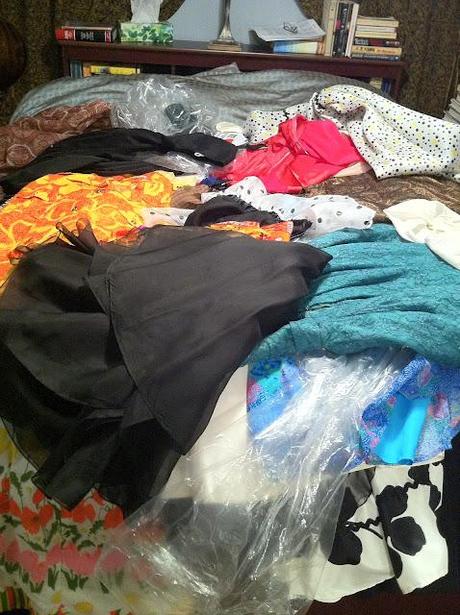 Ah....the aftermath!  My friend and I went to Veronica's place one Saturday afternoon for some serious female bonding.  We preened in front of a mirror and tried on a lot of pretty dresses in Veronica's inventory, in preparation for our trip to Las Vegas, where I will play the vintage inspired bride, and they, the retro maids of honor.  I don't remember the last time I did such an indulgent and fun thing with just the girls.
We anticipate this trip to be a lot of fun as well as an opportunity to bond with Elvis and to showcase what "Some Like It Vintage" has to offer!  The five of us will all be perfectly decked out.  Even the men will be festive in their vintage Hawaiian shirts.
Well, IT'S NOW OR NEVER.  I won't be CRYING IN THE CHAPEL as I CAN'T HELP FALLING IN LOVE with the notion of being a little DEVIL IN DISGUISE.  I'm ALL SHOOK UP and my little WOODEN HEART will grow 3 sizes bigger on the big day!  MY WISH CAME TRUE when this trip became a reality.  So I'm gonna ROCK-A-HULA BABY!  You'll read all about it when it's all said and done!
Thank you, thank you very much...
Carol