Prologue: I wrote a poem featuring

m

e

r

m

a

i

d

s

just six weeks ago for my 'Essence' (water) blog - poor forward planning, I know. I also wrote one back in the earlier days of the Dead Good Blog (linked here:

The Poet and the Mermaid

). Consequently, for the sake of variety I thought this Saturday I'd go with a piece of flash fiction - though given its setting, it might more appropriately be labelled 

splash fiction

. I hope you'll like it.đŸ'§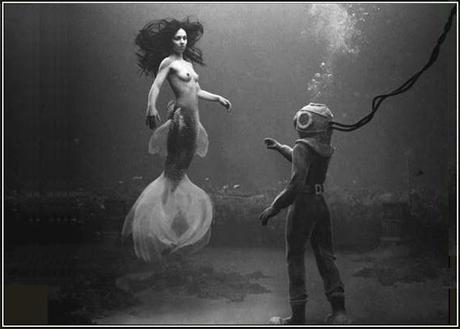 Featuring: Ocean Stream
Seven years on, several seas later, and here they were on a Sunday morning, face to face again. Well, almost. She couldn't see much of the man behind the glass in the diving-helmet, but she knew it was Buck from his stance.. Who else, forty-five feet deep with umbilical air supply snaking up to his sneaky boat
Chasing Tail
? "Don't you try following me neither, Buck Brocket you fucker", she had screamed at him way back in 1934, the night she'd stormed out of their married quarters at the Naval Base in Honolulu. She'd arrived home a day early from visiting her folks to find him in bed with the flirty redhead from the General Store. Of course, he had. Followed her that is. Only not straight away, not while he was naked. "God damn you Mary Lou", (that was her name then). "I love you bitch, get back here", he'd bellowed after his departing wife, while the other woman in his life leaped from the bed, pulled on her clothes and fled. Brocket, riled by the turn of events, poured himself a stiff bourbon and cursed his bad luck. Then he searched for her, and again later that day and the next, and the next week too. Nothing. No word, no trace. His name disgraced.
When she'd walked distraught into the ocean off Waikiki beach, Mary Lou had intended to die, felt so pained she just wanted to end it all, fully expected to drown. Possibly she had. How else to explain her transformation than as some sort of reincarnation? And yet she remembered all of her past life until that moment of immersion. A baptism then? Magical metamorphosis from human being to mermaid. And a new identity as Ocean Stream. None of the mermaid company, her new family of companions, could enlighten her. They too had past lives on dry land which they could recall to greater or lesser degree, but how they made the switch from earthly to sea creatures was a mystery to them all. Still, they were free to swim hither and there as they pleased, seeming never to age at all, only mindful to steer clear of humankind in their paradise beneath Pacific waves.
A couple of years after Mary Lou had fled, Buck Brocket was sitting in a dentist's waiting room, idly flicking through a back-copy of
National Oceanographic
, when he came across an article titled 'Mermaids - more than a myth?' purporting to claim that divers looking for sharks off the coast of Necker had picked up on the ship's primitive sonar a cluster of fish that appeared to have extremely elongated front flippers, almost limb-like. None of them had ever seen anything like it before and the thought struck all of them that these were something other than dolphins, porpoises or manatees. They tried to home in on whatever was down there but they were too late and found nothing. However, they had all independently witnessed the phenomenon and they weren't ashamed to say what they thought they'd seen. 
Buck was so galvanised by what he read that he left the dentist's surgery without waiting for his appointment. "Mr Brocket? Mr Brocket?" Of course he took the magazine with him and pored over the article several times more in the days following until he'd convinced himself that Mary Lou was out there somewhere in those waters round the islands. Whether he was looking for reconciliation or retribution he wasn't sure, but he was going to find her first and figure the rest out later. He enrolled at diving school and got trained. He bought all the gear and a boat. He acquired an assistant, called his company Brocket Brothers (there was no brother but it sounded better) and began hiring himself out on diving operations to earn a living and subsidise his search. For five years he'd been working all over the world, dividing his time between client work and dives in search of Mary Lou. It had become a seemingly hopeless infatuation, this search, and yet suddenly here he was standing not six feet away from his wife-turned-mermaid while she floated in front of him like a vision, at the bottom of Pearl Harbour. He laughed to himself at the irony of searching the sea-beds of every ocean only to find her not five miles from where he'd lost her. Then his laughter turned to anger as he remembered the day she'd run out on him. "Found you, bitch", he said as he reached out to grab her. She couldn't hear what he said, of course, but she instinctively manoeuvred out of range.
As they stared at each other, he began to contemplate the fame and fortune he might accrue if he could just capture her and display her to the world. She was after all his by right of marriage. But first he had to prevent her swimming away. If he could only find some way to communicate, he might for instance tell her he loved her so desperately that he'd searched the world's oceans for her. He placed one hand on his heart and held out the other in what he hoped resembled supplication. She showed no reaction, although there swept through her a sense of bitterness, such as she had not felt for many years, triggered by the remembrance of how he had betrayed her love for him. He thought he might kneel, like he had done the time he'd proposed to her. What a happy day that had been. She watched as he laboured to drop to one knee on the harbor floor, raising a cloud of sand. She knew what was about to happen. Above the waves, three hundred and fifty aircraft of the Imperial Japanese Navy were approaching swiftly from the north. Just time for her to swim away.
Epilogue: No illusions were harmed nor living creatures mistreated in the making of this feature. By the way, if you've not seen Guillermo del Toro's masterpiece of movie-making '
The Shape Of Water
' (2017), do search it out, an absolutely brilliant film, well worthy of its twelve Oscar nominations and the four Oscars it scooped, including Best Picture and Best Director. I would have given Sally Hawkins the Best Actress Oscar as well, but I'm biased. I leave you with these lines from Neil Young's song '
Milky Way
':
There's a mermaid in the Milky Way
With an ocean liner
There's no moon tonight so you might see her
And her ocean liner
Up in the stars
Thanks for reading, my deep divers, S ;-)
Email This
BlogThis!
Share to Twitter
Share to Facebook