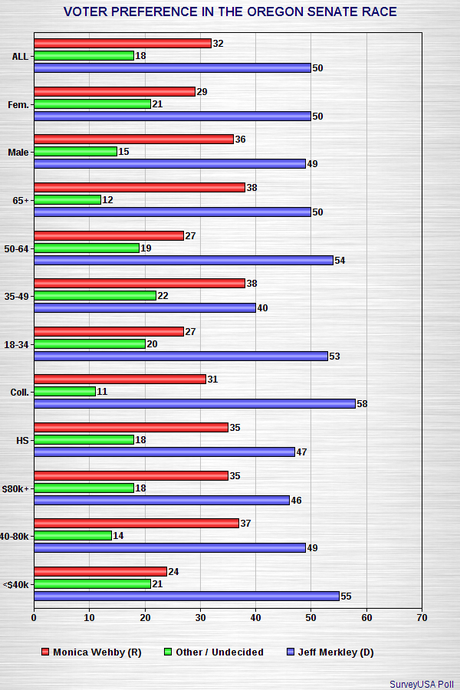 The Republican's senate candidate in Oregon (Monica Wehby) seems to be living in a dream world -- either that, or she's not averse to telling a huge lie to get voters to believe her campaign is not already in deep trouble. A couple of days ago, she told the Oregon media that she had closed the gap with incumbent Senator Jeff Merkely according to her own internal poll, and was only 2 points behind (41% to 39%). If that was true, then the race would be a dead heat (because 2 points is within the margin of error for nearly any poll).
Unfortunately for Wehby, her "internal poll" results are far from the results shows by nonpartisan polls on the race. Previously, two of these polls have shown Merkley with a double-digit lead over Wehby -- one by 10 points and the other by 13 points.
Now a new poll shows she may actually be losing ground instead of gaining it. It is the SurveyUSA Poll that was done between June 5th and 9th of 560 Oregon likely voters (with a margin of error of 4.2 points).  The results of this survey are shown in the chart above.
Note that it shows Merkley has a huge 18 point lead (50% to 32%). In addition, Merkley is leading among both sexes, all income levels, all age groups, and with both high school and college graduates. This is starting to shape up as one of the safest Democratic seats in the country.