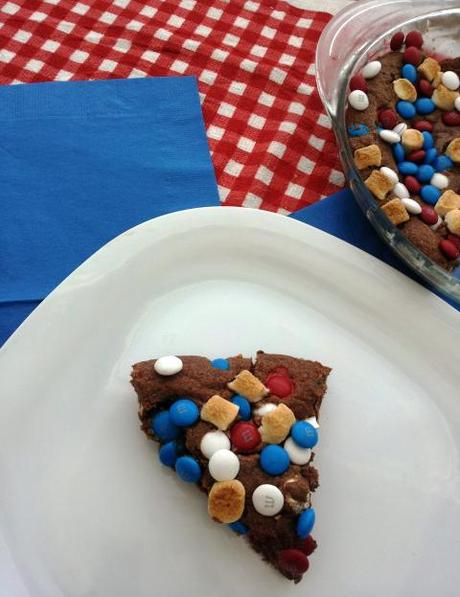 Happy Memorial's Day!
Most are celebrating this holiday with cookouts, beach trips, etc. For me it's a 3 day weekend of relaxation. I have been going every weekend of this month so I am enjoying this 3 day weekend in the house, no out of town trips because I'm tired of driving and could just REALLY use the rest.
I hope all is having a safe and happy holiday weekend. This is a day to remember the ones that have died while serving

in the US Armed Forces. I have a few family members that were part of the US Army but none that died while serving; I'm thankful for all that the US Armed Forces has done for the USA.
While walking into the grocery store yesterday morning I saw these M&M's and decided to bake something up in celebration of this holiday with them. Didn't want to do just an M&M cookie, so I took my sister's suggestion and made brownies.
They are rather tasty!
J
Enjoy your holiday all and be safe!
J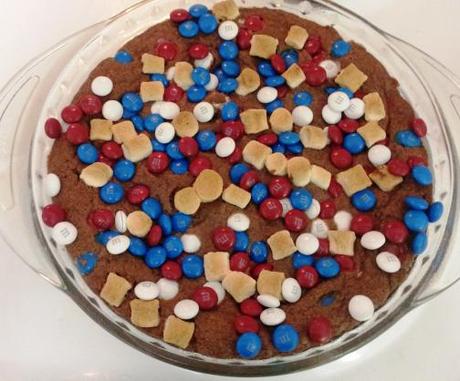 Ingredients:
12 tablespoons of unsalted butter, room temperature
1 cup sugar
1 egg
1 teaspoon vanilla extract
1 & ½ cups unbleached all purpose flour
¼ cup cocoa powder
½ teaspoon baking powder
¼ teaspoon salt
½ cup milk
1 cup peanut M &M's
¼ cup marshmallows
½ cup milk chocolate M&M's
Directions:
Pre heat the oven to 350 degrees F.
Spray a 9 inch pie pan with baking spray or lightly grease with butter.
In a large bowl beat the butter and sugar until light and fluffy.
Add in the egg and vanilla extract and beat until combined. In a medium bowl sift the flour, cocoa powder, baking powder, and salt; Beat into the butter mixture alternately with the milk until combined. Stir in the peanut M&M's.
Pour the batter into the prepared pie pan; sprinkle on the marshmallows and m&m's.
Bake for 20-25 minutes or until a toothpick inserted near the center comes out clean. Cool for 10 minutes then cut in and serve.
*8 slices*
Recipe adapted from:

Taste of Home Baking Classics