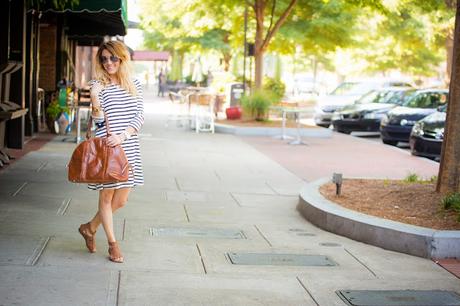 The Dandy Lion Boutique dress (use thesamanthashow for 25% off)// Baby Beau Eden bag c/o// Marshall's sandals// Walmart sunnies// Michael Kors watch// Express bracelet// Cents of Style necklace c/o// Photo credit: Amy Hess Photography
I started writing about Memorial Day and realized it didn't feel right to be posting outfit pictures on a post that holds a place near and dear to my heart. So I'm saving that one for Monday and going to keep it lighthearted here today. 
When I saw this patriotic dress from the Dandy Lion Boutique, I knew I had to have it. The subtle American flag elbow patches make it the perfect dress for any patriotic holiday. Or any day if you love America as much as I do ;) 
I'm always wearing brown or nude colored shoes when I wear something with navy in it. There's no rule on that or anything but I guess I just think that's what looks best with it. I've yet to master the whole navy and black thing (is that a thing?) so I usually play it kind of safe with nude or brown. 
We have no real plans this weekend and to be honest, I'm kind of excited for it. Y'all know I've been a little overwhelmed with my devil children (seriously, is something in the air?) so I'm excited to have Z home to help corral them and give me a minute to breathe. Or shower. Or go to the bathroom alone. Let's not get carried away though...
Wishing you all a fabulous weekend
xoxo