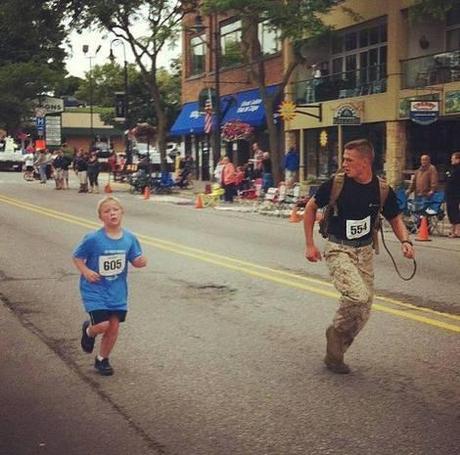 Have you seen this photo?  I had to share it today because it's so touching.  If you didn't see it or know the story, a 19 year-old Marine noticed a 9-year-old boy struggling to finish a race.  The boy had become separated from his group and was having a hard time finishing.  The Marine took the boy under his wing, and ran alongside of him, after the boy asked him, "Sir, will you please run with me?"  The Marine, Lance Cpl. Myles Kerr finished the race with the boy, even though he was dead last in his age group.  How cute is this?
Photo courtesy of Yahoo Images
AND CONGRATULATIONS TO BERTY MORALES WHO WON THE VINTAGE MARQUEE LIGHT!!!!  SO EXCITED FOR YOU HONEY!  OVER 2,800 HUNDRED ENTRIES, I'D SAY YOU NEED TO GO TO VEGAS!